CoMingl Review: $10-$20 a month MLM social network
CoMingl (pronounced "co-mingle") appears to have entered into a concept phase last year before finally launching in mid 2014.
There is no information on the CoMingl website indicating who owns or runs the company.
The CoMingl website domain ("comingl.com") was registered on the 3rd of August 2013, with the domain registration listing "Karma Holdings SA" as the owner. An address in Belize (a known tax-haven) is also provided.
Karma Holdings have their own website over at "karmaholdings.com", however no information about who runs the firm is provided.
Karma Holdings is led by a team of talented men and women whose expertise and enthusiasm drive our superior financial performance.

Our Board of Directors sets the direction and our executive leaders motivate, manage and inspire our employees to improve continuously in everything they do.
The company describes itself 'a diversified company that provides a broad range of high-tech products and systems'.
As far as I can piece together, Karma Holdings are representing that CoMingl is owned by someone else and in some sort of partnership with them. A "recent posts" entry on their website however clashes with their 7th of November 2014 "CoMingl is on board" announcement: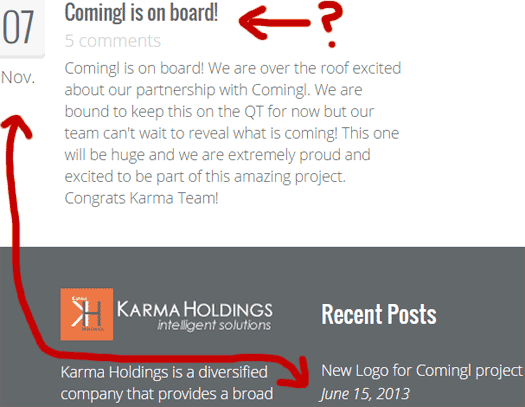 Curiously, the CoMingl Terms and Conditions states:
By agreeing to these Terms you are giving your permission to Panache International, LLC. and the CoMingl system to send you email notifications related to your account activity.
Panache International claim they are based out of Dubai, and on their website state they
produce a wide range of disposable plastic products and packaging that are highly appealing to consumers worldwide, and rank among the world's leading manufactures in terms of the quality and support we provide to our partners anywhere in the world.
What that has to do with CoMingl or why the company is sharing their affiliate details with Panache International I have no idea.
It does appear though that whoever is behind Panache International is also behind CoMingl. Again, taken from CoMingl's Terms and Conditions:
Any notice to you will be effective when we send it to the last email or physical address you gave us or posted on our Website. Any notice to us will be effective when delivered to us along with an emailed copy to our corporate office:

Panache International, LLC
Naturally there's no information about who owns Panache International on their website, and their domain registration is also set to private.
The only information linked to management of Panache International I was able to find is the crediting of "Vishaal S. Shah" as the company's Managing Director:
In other marketing videos Shah is credited as the CEO of Panache:
With CoMingl using the corporate address for Panache International in their Terms and Conditions, it would follow on that Shah is likely the owner of CoMingl.
That said, I wasn't able to find anything directly tying Shah to the company.
As always, if a MLM company is not openly upfront about who is running or owns it, think long and hard about joining and/or handing over any money.
The CoMingl Product Line
CoMingl has no retailable products or services, with affiliates only able to market affiliate membership to the company itself ($10 a month to $1000 one-time).
Bundled with CoMingl affiliate membership is access to the company's social network.
The CoMingl Compensation Plan
The CoMingl compensation plan revolves around affiliates signing up, paying their affiliate fee and then recruiting others who do the same.
Commissions in CoMingl are paid out using a unilevel compensation structure.
A unilevel compensation structure places an affiliate at the top of a unilevel team, with every personally recruited affiliate placed directly under them (level 1):

In turn if any of these level 1 affiliates go on to recruit new affiliates of their own, they are then placed on level 2 of the original affiliate's unilevel team If any level 2 affiliates recruit new affiliates they are placed on level 3 and so on and so forth down a theoretical infinite number of levels.
CoMingl cap payable unilevel levels at twenty, with how many levels an affiliate is paid down determined by how much they pay/paid in affiliate fees.
Co10 ($10 a month)
level 1 – $3.33 for a Co10 affiliate and $7 for a Co20 affiliate
level 2 – $1.50 for a Co10 affiliate and $3.50 for a Co20 affiliate
level 3 – 75 cents for a Co10 affiliate and $1.75 for a Co20 affiliate
level 4 – 40 cents for a Co10 affiliate and 80 cents for a Co20 affiliate
Co20 ($20 a month) and Founder1000 ($1000 one-time fee)
level 1 – $2 for a Co10 affiliate and $5 for a Co20 affiliate
level 2 – $1 for a Co10 affiliate and $2 for a Co20 affiliate
level 3 – 50 cents for a Co10 affiliate and $1 for a Co20 affiliate
levels 4 and 5 – 25 cents for a Co10 affiliate and 50 cents for a Co20 affiliate
levels 6 to 20 – 12 cents for a Co10 affiliate and 25 cents for a Co20 affiliate
Note that there doesn't appear to be a commission paid out on the recruitment of Founder1000 affiliates.
Joining CoMingl
Affiliate membership with CoMingl is available at three price-points:
Co10 – $10 a month
Co20 – $20 a month
Founder1000 – $1000 one-time fee
The primary difference between the three affiliate options is potential income via CoMingl's compensation plan.
Conclusion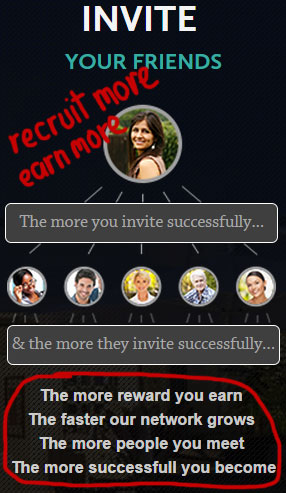 With nothing being sold to retail customers, 100% of CoMingl's commission revenue paid out of affiliate fees and said commissions paid on the recruitment of new affiliates, CoMingl functions as a pyramid scheme.
As far as the social network goes, yet again we have another "just for network marketers" social network that will fail because it lacks any appeal to "outsiders". Leave alone the fact that they can't join without becoming an affiliate anyway.
What tends to happen with these types of networks is you get people signing up and then spamming whatever their latest opportunity is to members of the network.
As such most members simply ignore the social network and focus on recruitment which, let's face it, is what they're paid for.
Sign up, pay your fees to qualify to earn commissions on those you recruit who also pay their affiliate fees.
With how much an affiliate pays determining income potential (pay more, earn more), there's also an additional "pay to play" element evident in CoMingl's compensation plan.
As with all recruitment-driven schemes, once affiliate recruitment dries up those at the bottom of the company will stop paying their monthly fees (or lose $1000 if they opted for Fortune1000 membership).
When this happens those above them find their commissions drying up and they too stop paying their fees.
Eventually this effect trickles far enough up the compensation plan genealogy to trigger an irreversible company-wide collapse.