Coince Review: bitcoin mining & wholesale electricity?

There is no information on the Coince website specifically indicating who owns or runs the business.
The Coince website domain ("coince.com") was first registered on the 22nd of January 2004. The registration was last updated on the 7th of January 2016, with this likely when the current owner(s) took possession of the domain.
Joseph Miller of "Power Supplies & Equipment" is listed as the owner of the Coince domain, with an address in London, UK also provided.
The Coince website states that
Power Supplies & Equipment Limited is a British multinational corporation headquartered in London that was founded on January 2008 and rapidly became one of the major leaders in the wholesale electricity market by boasting professional traders and a highly experienced engineering team with well-diversified areas of expertise to allow for participation in the business market within a safe and non-risk investment environment.
While the company name sounds totally bogus, turns out there's a Power Supplies & Equipment registered with the UK Companies House.
The company was incorporated back in 2008 and lists Amr Mahmoud Fawzy Dessouky and Ahmed Abouelmagdas Elsayed as Directors.
According to the listing, Dessouky and Elsayed are Egyptian and based out of Egypt. "Joseph Miller" doesn't seem to exist outside of the Coince domain registration, meaning it's probably a fake name.
I wasn't able to find any MLM information on Dessouky, suggesting Coince is their first MLM opportunity.
There is a Facebook listing for an Ahmed Elsayed in Egypt. I can't say for sure it's Coince's Ahmed Elsayed but this guy was busy promoting the Zeek Rewards and Wealth4AllTeam Ponzi schemes back in 2012: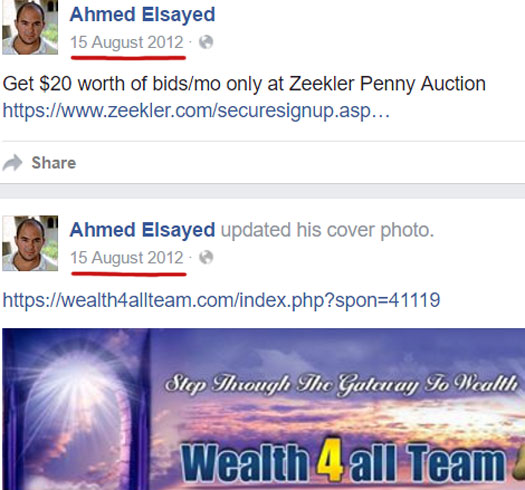 What are the odds?
As always, if an MLM company is not openly upfront about who is running or owns it, think long and hard about joining and/or handing over any money.
The Coince Product Line
Coince has no retailable products or services, with affiliates only able to market Coince affiliate membership itself.
The Coince Compensation Plan
The Coince compensation plan sees affiliates invest a minimum of $10 on the promise of a "guaranteed" 2% a day ROI for 60 days.
Referral commissions are available on funds invested by recruited affiliates, paid out down three levels of recruitment:
level 1 (personally recruited affiliates) – 5%
level 2 – 2%
level 3 – 1%
Joining Coince
Affiliate membership with Coince is free, however affiliates must invest at least $10 to participate in the attached income opportunity.
Conclusion
The premise presented on the Coince website is that the 120% 60 day ROI is tied to bitcoin mining.
This makes little sense, seeing as bitcoin mining difficulty increases over time. Diminishing returns are a fact of life when it comes to bitcoin mining, yet here we have Coince "guaranteeing" a 120% ROI every two months.
That doesn't add up.
In an effort to address power consumption, Coince represent that Power Supplies & Equipment is 'one of the major leaders in the wholesale electricity market'.
A wholesale electricity supplier might reduce the cost of bitcoin mining… that much is true. But if you go to the UK Companies House page for Power Supplies & Equipment, you'll see the official nature of the business is "74990 – Non-trading company".
A non-trading company has no significant accounting transactions, which simply means no entries in the company´s accounting records. (UK Data)
Power Supplies & Equipment doesn't actually do any actual business. For all intents and purposes they exist in name only.
Furthermore the UK Companies House reports there are 121 companies registered at the address Power Supplies & Equipment use.
That reeks of a virtual office space, which fits in with Power Supplies & Equipment not conducting any business.
What we appear to have is a shell company being used to operate a bogus bitcoin mining operation which, let's face it, is probably just a Ponzi scheme.
You invest at least $10, sit on your bum and collect a 120% ROI after 60 days.
The only verifiable source of revenue entering Coince is affiliate investment, ergo it's probably what they're using to pay off existing investors.
The fluff about bitcoin mining and wholesale electricity suppliers simply doesn't hold up to scrutiny. Throw in Ahmed Elsayed's apparent Ponzi past and there's not really much you can give Coince the benefit of the doubt over.
As with all Ponzi schemes, once new investment flowing into Coince dries up, the scheme will be unable to meet its rolling 60 day ROI obligations.
When that happens Amr Dessouky and Ahmed Elsayed do a runner and investors lose out. Not that anyone is going to track them  down in Egypt anyway…