Clar8ty Review: Nutrigenomics and recruitment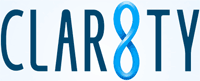 Clar8ty launched in late 2013 and operate in the health and wellness MLM niche.
Operating out of the US state of California, Clar8ty was founded by Robin Hoffman Haack.
According to Haack's Clar8ty bio,
Robin developed an interest in direct sales approximately 9 years ago, instantly recognizing the field's potential for helping others succeed.

Soon after her introduction to a fast-growing direct sales company, she accepted the challenge of building her own part-time direct sales business — even though she lacked previous experience in the field.

Amazingly, she rose to a top-level position while still managing her corporate career. All the while, Robin dreamt of the day she would start her own direct sales company.
I'm not sure about nine years ago, but in 2010 Haack created a Facebook profile called "Robin Haack Arbonne Independent Consultant".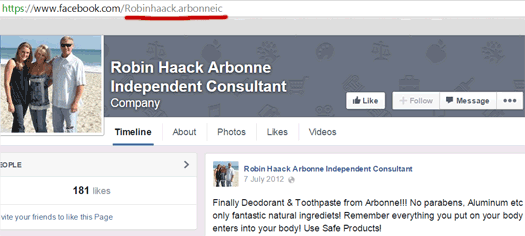 When exactly Haack joined Arbonne is unclear but the last update on the profile wall was made in July 2012.
At the time of publication the Arbonne affiliate link cited in the profile no longer works, indicating Haack probably left Arbonne around the time of her last update.
By late 2012 Haack had joined Global One:
Initially intended to be a Zeek Rewards reload scam, Global One original business model saw them emulate Zeek Reward's penny auction Ponzi scheme formula.
After the SEC shut down Zeek Rewards and revealed it to be an $850 million Ponzi scheme (only weeks after GlobalOne went into prelaunch), GlobalOne then announced they were abandoning their penny auction plans.
The company floundered for months before eventually fizzling out.
After Global One died Haack then got involved in Penny Matrix:

Penny Matrix charged affiliates $7 a month to participate and paid them 30 cents an affiliate in recruitment commissions.
In 2013 Haack got involved in TeamVinh:

TeamVinh is essentially a downline builder for its owner, Vinh H. Le.
With a focus on recruitment-driven schemes, affiliates join Team Vinh in the hope they will have their downlines built for them in schemes Le recommends they join.
Haack's TeamVinh affiliate splash-page is still live, however whether or not she is still active in the company is unknown.
Read on for a full review of the Clar8ty MLM business opportunity.
The Clar8ty Product Line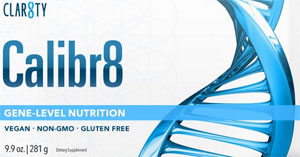 Billed as "gene-level nutrition", Clar8ty's two flagship products are "Calibr8" and "Calibr8 Kids".
As per the Calibr8 product brochure,
Recent discoveries in the emerging science of Nutrigenomics have revealed exciting findings – our bodies can 'switch on' protective genes and 'switch off' inflammation and disease-promoting genes.

What helps throw the switch are bioactive compounds found in certain foods. Think of it as specialized nutrition talking to your genes.

When these bioactive compounds signal our genes, the body responds by activating its own defenses – producing primary antioxidants and detox enzymes.

Superoxide Dismutase, Glutathione Peroxidase, and Catalase are the key primary antioxidants which are millions of times  more powerful at neutralizing free radical damage and eliminating toxic waste than antioxidants absorbed from our diet.

Primary antioxidants are made by our own cells, thus they are immediately available to help reduce oxidative stress before it can take hold. This process is far more efficient than ordinary absorption.

Simply compare this with externally derived sources found in foods and supplements that must pass through the digestive tract with limited absorption – before even reaching our cells.

Protect your family's health and promote short-term and long-term  wellness with Calibr8 and Calibr8 Kids. Pure vegan, non-GMO, and gluten free, Calibr8 and Calibr8 Kids is a convenient, great tasting powdered drink mix. Simply add water, stir, and enjoy.
For reference, here's an excerpt on the Wikipedia entry for Nutrigenomics:
Nutrigenomics is a rapidly emerging science still in its beginning stages. It is uncertain whether the tools to study protein expression and metabolite production have been developed to the point as to enable efficient and reliable measurements.

Also once such research has been achieved, it will need to be integrated together to produce results and dietary recommendations. All of these technologies are still in the process of development.
Calibr8 retails for $99 and Calibr8 Kids for $69. There is no indication on the Clar8ty website as to how long a box of Calibr8 might last.
The Clar8ty Compensation Plan
The Clar8ty compensation plan offers affiliates retail commissions on the sale of Calibr8 products. It is however much more heavily weighted towards the recruitment of new affiliates and their generation of at least 70 PV in sales volume a month.
Commission Qualification
A Clar8ty affiliate must maintain a monthly sales volume of at least 70 PV in order to qualify for commissions.
PV stands for "Personal Volume" and includes an affiliate's own product purchases and sales made directly to retail affiliates.
Clar8ty Affiliate Membership Ranks
There are seven affiliate membership ranks within the Clar8ty compensation plan.
Along with their respective qualification criteria, they are as follows:
Bronze – 500 monthly GV
Silver – 2000 monthly GV
Gold – 10,000 monthly GV
Ruby – 25,000 monthly GV
Emerald – 50,000 monthly GV
Platinum – 100,000 monthly GV
Diamond – 250,000 monthly GV
GV stands for "Group Volume" and is the sales volume generated by an affiliate and their entire unilevel team.
Note that only 40% of qualifying GV can come from any one unilevel leg.
Retail Commissions
Retail commissions are offered by Clar8ty, however the company's compensation plan documentation makes no indication as to what the retail commission payout is.
Additionally, the document also incorrectly identifies affiliate purchases of product as retail sales:
Enroll as a Clar8ty Affiliate and build a retail customer base by purchasing products wholesale and selling retail.
The only true retail Clar8ty engage in are orders placed by retail customers directly with the company or through an affiliate's online replicated storefont.
Preferred retail customers agree to place a monthly standing order in exchange for a wholesale discount.
A 15% commission is offered on the recurring orders of preferred customers.
Recruitment Commissions
Clar8ty pay out recruitment commissions when an affiliate joins the company by purchasing a pack.
The three packs on offer along with their associated recruitment commissions are as follows:
Personal Pack ($239) – $40
Culture Pack ($539) – $100
Founder's Pack ($839) – $140
To qualify for recruitment commissions a Clar8ty affiliate must have either purchased a pack themselves or generated at least 200 PV of sales volume.
Residual Unilevel Commissions
Residual commissions in Clar8ty are paid out using a unilevel compensation structure.
A unilevel compensation structure places an affiliate at the top of a unilevel team, with every personally recruited affiliate placed directly under them (level 1):

In turn, if any personally recruited affiliates on level 1 go on to recruit new affiliates of their own, they are then placed on level 2 of the original affiliate's unilevel team.
If any level 2 affiliates recruit new affiliates, they are placed on level 3 and so on and so forth down a theoretical infinite number of levels.
Clar8ty track sales volume throughout an affiliate's unilevel team, and pay out $100 per 500 GV generated within it.
Note that only sales of affiliate packs and any volume over 70 PV generated by affiliates in a unilevel team count as volume in Clar8ty's unilevel commissions
Leftover volume is carried over provided an affiliate has purchased either a Founder's or Culture Pack, or generated at least 500 PV in accumulated product sales (or purchases).
Clar8ty cap affiliate unilevel earnings depending on their membership rank. Unranked affiliates are able to earn up to $5000 a week and Emerald or higher ranked affiliates can earn up to $10,000.
Also note that in calculating total unilevel GV, only 40% of the total volume can come from any one unilevel leg (50% in an affiliate's first 90 days).
Recruitment Bonuses
If a Clar8ty affiliate generates $400 in recruitment commissions within their first 30 days of joining the company, Clar8ty will increase the commission paid out to $1000.
Clar8ty suggest affiliates achieve this goal by "enrolling 2 who get 2".
A second bonus, referred to as the "Clear Path Incentive", is also available.
An affiliate qualifies for the Clear Path Incentive by signing up with either a Culture or Founder's Pack.
They then must recruit two affiliates who also recruit two affiliates each (all of which must sign up with either a Culture or Founder's Pack), all within thirty days of the original affiliate joining the company.
Two additional affiliates must then be recruited over the next 60 days (both of which again must sign up with either a Culture or Founder's Pack).
If this is achieved, Clar8ty pay out a 15% bonus on the sales volume generated via the 30-day recruitment requirements and 25% on the sales volume generated by the 90-day requirements.
If the qualifying affiliate signed up with a Founder's Pack ($839), they are paid 30% on the 30-day volume and 40% on the 90-day volume.
Monthly Residual Recruitment Bonus
Clar8ty pay out a $5 commission per affiliate personally recruited each month, as long as the qualifying affiliate and those recruited remain commission qualified (generate at least 70 PV a month).
A commission is also paid on all non-personally recruited affiliates in a downline.
This commission is paid according to their membership rank as follows:
Bronze – $2
Silver – $4
Gold – $6
Ruby – $8
Emerald – $10
Platinum – $15
Diamond – $20
Commissions on non-personally recruited affiliates are paid out using the unilevel downline geneology, with each unilevel leg counted independently from the others.
Commissions are paid at an affiliate's rank, with ranked affiliates in any given unilevel leg reducing the commision payout.
Eg. An Emerald affiliate is paid $10 per affiliate in a unilevel leg, a Gold affiliate in that downline leg would reduce commissions paid out on affiliates deeper than the Gold affiliate to $4.
Any affiliates ranked higher than the qualifying affiliate effectively stop commissions in the particular unilevel leg they are in (an affiliate is still paid up to the level the ranked affiliate is placed on though).
Monthly Residual Recruitment Bonus Match
A matching bonus is paid out on the monthly residual recruitment bonus earned by affiliates in a downline.
Once a Clar8ty affiliate qualifies at the Silver rank, a 25% commission is paid out on the monthly residual recruitment bonus earned by personally recruited affiliates.
Once a Clar8ty affiliate qualifies at the Gold rank, the Silver matching bonus continues to pay out, with an affiliate then also earning 15% on their first personally recruited affiliate who qualifies at the Gold rank.
Once a Clar8ty affiliate qualfies at the Ruby rank, the Silver and Gold matching bonuses continue to pay out, with an affiliate also earning an additional 10% on their first personally recruited Ruby ranked affiliate.
Bonus Pools
Clar8ty offer four bonus pools to qualifying affiliates, each pool is made up of 1% of Clar8ty's company-wide sales volume.
Retention Bonus Pool
Affiliates qualify for a share in Retention Bonus Pool by maintaining commission qualified status for three consecutive months.
Additional shares are earnt per three personally recruited affiliates who also qualify for an initial share in the pool.
Builder's Bonus Pool
An affiliate must be at the rank of Silver or higher to qualify for shares in the Builder's Bonus Pool.
Shares in the pool are allocated per 1000 GV generated by an affiliate's personal recruits.
Shares in the Builder's Bonus Pool are generated monthly, as per the volume generated by an affiliate's personally recruited affiliates.
Platinum Bonus Pool
The Platinum Bonus Pool is split equally among all commission qualified Platinum ranked affiliates.
Diamond Bonus Pool
The Diamond Bonus Pool is split equally among all commission qualified Diamond ranked affiliates.
Car Bonus
Clar8ty offer Ruby ranked affiliates a $400 a month Car Bonus.
The idea is that an affiliate save the money to be put towards a car, however Clar8ty pay the bonus into an affiliate's bank account.
Despite the name, what an affiliate ultimately spends their Car Bonus on is ultimately up to them.
LifeStyle Bonus
Replacing the Car Bonus at Emerald or higher affiliate ranks, the Lifestyle Bonus pays an affiliate $800 a month.
Clar8ty suggest affiliates call this bonus "fun money".
Joining Clar8ty
Basic affiliate membership to Clar8ty is $29.
An affiliate can also choose to join via one of the following three pack purchase options:
Personal Pack – $239 + $29 affiliate fee
Culture Pack – $539 (affiliate fee waived)
Founder's Pack – $839 (affiliate fee waived)
Conclusion
I don't know what Robin Hoffman Haack learnt during her time at Arbonne, one look at the type of opportunities she was attracted to after them however clearly reveals the inspiration behind Clar8ty.
Retail commissions are offered on the sale of the Calibr8 product, but htis is clearly an after-thought to what is otherwise a ridiculously recruitment tilted compensation plan.
The major give-away are the unilevel commissions, where only the sale of Personal, Culture or Founder's packs generates commissionable volume.
In addition to the direct commissions paid out on the sale of these affiliate packs, this squarely drags Clar8ty into pyramid scheme territory.
An affiliate signs up with a $239 – $839 pack and is then paid to recruit affiliates who do the same.
No corresponding PV amount is provided to a pack of Calibr8, but I'd imagine 70 PV is either what the purchase of one box of Calibr8 generates or close to.
As such I'd be extremely surprised to learn that any significant number of affiliates in Clar8ty weren't obtaining commission qualified status off of anything other than their own monthly autoship order.

With the Recruitment Bonus amounts increasing to 30% and 40% on the purchase of a Founder's Pack, there's also an additional "pay to play" element within the scheme.
Due to the heavily recruitment-reliant nature of Clar8ty's business model, once recruitment stops or slows commissions will grind to a halt.
Much rides on an affiliate spending enough to generate 70 PV a month, without which those above them stop earning monthly commissions.
They too then stop placing their monthly order and before you know it the whole scheme has collapsed.
A shame really as I did like the way Clar8ty counted unilevel volume. I've never seen it counted company wide in a cycle format. With actual retail activity taking place they might be onto something, but sadly that doesn't seem to be the case.
A quick legitimacy check by a prospective affiliate would be to ask a potential upline how they generate their required 70 PV a month. If they answer autoship and not retail sales, you're probably looking at recruitment being your primary method of commission generation.
And if that's the case, it's probably best to give this one a miss.