CashFeeder Review: $34.5 million dollar cash gifting?

Identified as President of the company on the Cash Feeder website is "Selva Athithan K.".
My Name is Selva Athithan.K from Tamil Nadu, and I am the Managing Director of Cash Feeder Program.
Tamil Nadu is a state in southern India, which is presumably where CashFeeder is being operated from.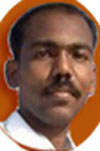 Earlier this year Athithan K. (right) was advertising Merchant Shares, a forex scheme he claims pays 'daily 1% – 2% profit for your Forex investment, up to 150%'.
Through his website Padugai, Athithan K. promotes a number of suspect HYIP schemes. CashFeeder though appears to be his first venture as an admin.
Read on for a full review of the CashFeeder MLM business opportunity.
The Cash Feeder Product Line
CashFeeder has no retailable products or services, with affiliates only able to market CashFeeder affiliate membership itself.
Once signed up, CashFeeder affiliates can then purchase matrix positions and participate in the income opportunity.
Bundled with each of these positions are a series of "digital products", which mostly appear to be marketing ebooks.
The CashFeeder Compensation Plan
The CashFeeder compensation plan, as presented on the CashFeeder website, makes little sense.
CashFeeder identify their matrix as a 10×5, which is true – but it is also supplemented by two additional matrices, a 10×3 and 10×2 (identified as Matrix 1 and Matrix 2 below). This is poorly explained on the CashFeeder site.
In any event, the basic idea is that there are three matrices to buy into, with commissions paid as positions in those matrices are purchased by other CashFeeder affiliates.
How much of a commission is paid out is determined by which matrix and what level of it a newly purchased position is placed:
Matrix 1 (10×5)
level 1 (positions cost $11) – $110 commission (10 positions)
level 2 (positions cost $32) – $3200 commission (100 positions)
level 3 (positions cost $103) – $103,000 commission (1000 positions)
level 4 (positions cost $354) – $3,540,000 commission (10,000 positions)
level 5 (positions cost $305) – $30,500,000 commission (100,000 positions)
Matrix 2 (10×3)
level 1 (positions cost $110) – $1,110 commission (10 positions)
level 2 (positions cost $212) – $21,200 commission (100 positions)
level 3 (positions cost $313) – $313,000 commission (1000 positions)
Matrix 3 (10×2)
level 1 (positions cost $421) – $4210 commission (10 positions)
level 2 (positions cost $522) – $52,200 commission (100 positions)
Joining CashFeeder
Affiliate membership with CashFeeder is free, however affiliates must purchase at least one matrix position in order to participate in the income opportunity.
As such, the defacto minimum cost of CashFeeder affiliate membership is $11 (one position in Matrix 1).
Conclusion

I've seen some pretty outrageous MLM income claims in my time, but a $34.5 million dollar ROI off an $11 matrix position?
The maths in CashFeeder is pretty terrible, with a staggering 3.1 million $11 position purchased required for just one person to hit $34.5M.
Tier 2 affiliate investors then require 9.8 trillion position purchased to realize their advertised CashFeeder ROI.
To put that into perspective, in the CashFeeder domain registration, Selva Athithan K. lists his location as Gummidipoondi.
Gummidipoondi is a town in Tamil Nadu, population 32,665. Athithan K. could recruit every single person in his town and still not have enough positions purchased to complete one cycle.
Not that it matters, as the core problem with CashFeeder isn't so much the ridiculous income claims, but rather it's fraudulent business model.
Basic math reveals affiliates in CashFeeder are gifting eachother, with the entire amount paid to unlock matrix levels (purchase positions) paid to the recruiting affiliate.
As with all cash gifting schemes, once recruitment of new affiliates dies down, so too will payments within the system.
What typically happens in gifting schemes is those who get in early walk away with most of the gifted funds (Athithan K. and friends), with everybody else losing out once the initial recruitment bubble bursts.
Expect CashFeeder to turn out no differently.