Capitalvest Pro Review: 25% in 14 days Ponzi scheme

Capitalvest Pro fails to provide ownership or executive information on its website.
Capitalvest Pro's website domain ("capitalvestpro.com"), was privately registered on June 11th, 2023.
In an attempt to appear legitimate, Capitalvest Pro represents it is registered in New Zealand as "ProFx & Crypto Trading Company PLC".
Due to the ease with which scammers are able to incorporate shell companies with bogus details, shell company registration in any jurisdiction is meaningless.
Beyond paying a small fee to register a shell company there, it is unlikely Capitalvest Pro has any actual ties to New Zealand.
As always, if an MLM company is not openly upfront about who is running or owns it, think long and hard about joining and/or handing over any money.
Capitalvest Pro's Products
Capitalvest Pro has no retailable products or services.
Affiliates are only able to market Capitalvest Pro affiliate membership itself.
Capitalvest Pro's Compensation Plan
Capitalvest Pro affiliates invest funds on the promise of advertised returns:
Starter – invest $50 to $500 and receive 7% in 24 hours
Standard – invest $501 to $2000 and receive 10% over 2 days
Premium – invest $2001 to $5000 and receive 12.5% over 3 days
Professional – invest $5001 to $10,000 and receive 15% over 5 days
Mercury – invest $10,001 to $20,000 and receive 20% over 10 day
Venus – invest $20,001 to $50,000 and receive 25% over 14 days
Capitalvest Pro pays referral commissions on invested funds down three levels of recruitment (unilevel):

level 1 (personally recruited affiliates) – 10%
level 2 – 20%
level 3 – 30%
Joining Capitalvest Pro
Capitalvest Pro affiliate membership is free.
Full participation in the attached income opportunity requires a minimum $50 investment.
Capitalvest Pro solicits investment in USD and various cryptocurrencies.
Capitalvest Pro Conclusion
Capitalvest Pro represents it generates external revenue via trading.
No verifiable evidence of Capitalvest Pro paying withdrawals with trading revenue is provided.
Furthermore, Capitalvest Pro's business model fails the Ponzi logic test.
On its website, Capitalvest Pro represents it has $208 million deposited into it.
At 25%, $208 million becomes $260 million. Give it a few months and Capitalvest Pro will have easily cracked a billion.
This sort of revenue generation is record-breaking. Yet here we have Capitalvest Pro, a cloned website run by anonymous scammers.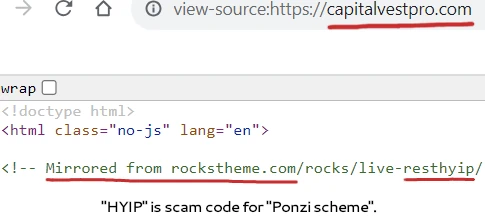 As it stands, the only verifiable source of revenue entering Capitalvest Pro is new investment.
Using new investment to pay affiliate withdrawals would make Capitalvest Pro a Ponzi scheme.
As with all MLM Ponzi schemes, once affiliate recruitment dries up so too will new investment.
This will starve Capitalvest Pro of ROI revenue, eventually prompting a collapse.
The math behind Ponzi schemes guarantees that when they collapse, the majority of participants lose money.
Update 23rd November 2023 – Capitalvest Pro has collapsed. As at the time of this update, Capitalvest Pro's website is no longer accessible.
This signals that the Ponzi scheme has collapsed. Additionally in a scam warning published on November 20th, the FMA affirmed Capitalvest Pro had no actual ties to New Zealand.