BTC Team Profits Review: Ten-tier matrix bitcoin gifting

BTC Team Profits provide no information on their website about who owns or runs the business.
The BTC Team Profits website domain ("btcteamprofits.com") was privately registered on August 19th, 2017.
As always, if an MLM company is not openly upfront about who is running or owns it, think long and hard about joining and/or handing over any money.
BTC Team Profits Products
BTC Team Profits has no retailable products or services, with affiliates only able to market BTC Team Profits affiliate membership itself.
The BTC Team Profits Compensation Plan
BTC Team Profits gift bitcoin to each other each month via a 5×10 matrix.
A 5×10 matrix places an affiliate at the top of a matrix, with five positions directly under them: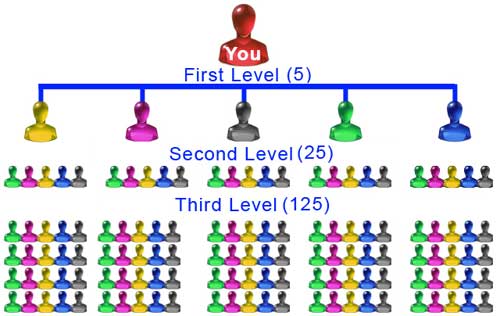 These five positions form the first level of the matrix. The second level of the matrix is generated by splitting these five positions into another five positions each (25 positions).
Levels three to ten of the matrix are generated in the same manner, with each new level housing five times as many positions as the previous level.
A BTC Team Profits affiliate signs up and gift 0.0005 BTC to an existing BTC Team Profits affiliate.
This gifting payment in turn qualifies the affiliate to receive 0.0005 BTC gifting payments from affiliates recruited after them.
Each level of the 5×10 matrix requires a gifting payment be made to qualify to receive gifting payments.
These payments increase per matrix level as follows:
level 1 – gift 0.0005 BTC and receive 0.0005 BTC from 5 affiliates
level 2 – gift 0.0002 BTC and receive 0.0002 BTC from 25 affiliates
level 3- gift 0.0001 BTC and receive 0.0001 BTC from 125 affiliates
level 4 – gift 0.00005 BTC and receive 0.00005 BTC from 600 and twenty-five affiliates
level 5 – gift 0.00005 BTC and receive 0.00005 BTC from 3125 affiliates
level 6 – gift 0.00001 BTC and receive 0.00001 BTC from 15,625 affiliates
level 7 – gift 0.00001 BTC and receive 0.00001 BTC from 78,125 affiliates
level 8 – gift 0.00001 BTC and receive 0.00001 BTC from 390,625
level 9 – gift 0.00001 BTC and receive 0.00001 BTC from 1,953,125 affiliates
level 10 – gift 0.00001 BTC and receive 0.00001 BTC from 9,765,625 affiliates
Note that gifting payments with BTC Team Profits (both paid and received) are monthly recurring.
Joining BTC Team Profits
BTC Team Profits affiliate membership is tied to a minimum 0.0005 BTC monthly gifting payment.
Full participation in the BTC Team Profits income opportunity costs 0.54 BTC a month.
Conclusion
BTC Team Profits refers to itself as 'a member to member referral platform'.
In the MLM underbelly, "member to member" is code for cash gifting.
The bitcoin gifting matrix model exploded in 2016 and for the most part has largely died out. Some greedy admins however are evidently still willing to give it a crack.
Matrix-based gifting schemes primarily benefit the admin(s) running them.
This is achieved through one or more preloaded admin positions, which are first to advance through the matrix.
This enables the admin(s) to receive the majority of funds deposited into the scheme, through larger and larger gifting passups on each matrix level.
Considering positions in just one complete BTC Team Profits matrix runs into the tens of millions, it stands that gifting payments to regular BTC Team Profits affiliates will be slim to none.
The end result is a maximum return for the BTC Team Profits admin and widespread losses for affiliates.