BTC Investments Review: Five levels of bitcoin cash gifting fraud

There is no information on the BTC Investments website indicating who owns or runs the business.
The BTC Investments website domain ("btcinvestments.co.za") was registered to "BTC Investments" on December 2nd, 2016.
The South African address used to register the BTC Investments domain, "67 Wessels Str, Johannesburg, Western Cape, 2128", ZA, has previously been linked to 419 advance fee scams and fake online retailers.
As always, if an MLM company is not openly upfront about who is running or owns it, think long and hard about joining and/or handing over any money.
The BTC Investments Product Line
BTC Investments has no retailable products or services, with affiliates only able to market BTC Investments affiliate membership itself.
The BTC Investments Compensation Plan
The BTC Investments compensation plan sees affiliates gift bitcoin to eachother via a 2×5 matrix.
A 2×5 matrix places an affiliate at the top of a matrix, with two positions directly under them: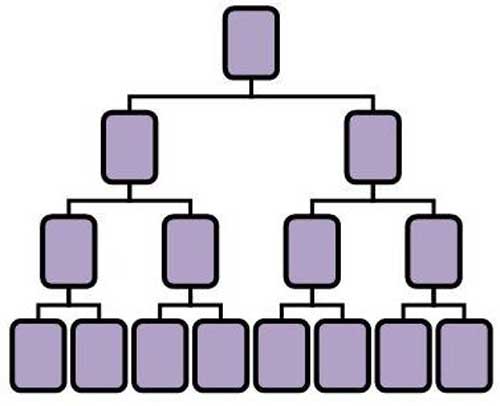 These two positions form the first level of the matrix. The second level of the matrix is generated by splitting each of the first level positions into another two positions each (4 positions).
Levels three to five of the matrix are generated in the same manner, with each new level housing twice as many positions as the previous level.
Each level of the matrix is its own cash gifting tier, with a gifting payment required to unlock the level.
Payment of this fee then qualifies a BTC Investments affiliate to receive gifting payments from new and existing BTC Investments affiliates as follows:
level 1 – gift 0.002 BTC to the affiliate who recruited you and receive 0.002 BTC from two subsequently recruited affiliates.
level 2 – gift 0.003 BTC to your second level upline and receive 0.003 BTC from four affiliates
level 3 – gift 0.01 BTC to your third level upline and receive 0.01 BTC from eight affiliates
level 4 – gift 0.05 BTC to your fourth level upline and receive 0.05 BTC from sixteen affiliates
level 5 – gift 0.5 BTC to your fifth level upline and receive 0.5 BTC from thirty-two affiliates
A second level upline is the affiliate who recruited the affiliate who recruited you. A third level upline is the affiliate who recruited your second level upline and so on and so forth.
Joining BTC Investments
BTC Investments affiliate membership is tied to a 0.002 BTC gifting payment to the affiliate who recruited you.
Full participation in the BTC Investments MLM opportunity costs 0.565 BTC.
Conclusion
Looks like the long-term scammers operating out of the Western Cape address have moved on from 419 scams and operating fake retail stores to cash gifting fraud.
BTC Investments is another non-remarkable entry into the crowded bitcoin cash gifting MLM underbelly niche.
Affiliates sign up, gift bitcoin to the affiliate who recruited them and proceed to scam money out of those who join after them.
Sitting at the top of the BTC Investments company-wide matrix are the scammers running the show, who through direct payments and passups receive the lion's share of deposited funds.
The rest of the BTC Investments affiliate-base receives what's left, with the scheme collapsing once new affiliate recruitment slows down.
By then it's too late to do anything about affiliate losses, with the use of bitcoin as a vehicle for payments adding an extra layer of protection to the BTC Investments admin(s).
Whether you send money to a African price, purchase products from a bogus retail store or deposit funds to a cash gifting admin, the end result is the same;
You lose your money.