BonanzaU Review: $1000 investment packages

There is no information on the BonanzaU website indicating who owns or runs the business.
The BonanzaU website does have an "About Us" section, with vague marketing copy suggesting the company is headquartered in Hong Kong:
BONANZA SYSTEMS.LTD's holding company PRIME MARKET SERVICE.LTD is established in Hong Kong.
If that is to be believed, then it's likely that those running BonanzaU are from Hong Kong itself (Chinese).
The BonanzaU website domain ("bonanzau.com") was registered on the 18th of July 2014, however the domain registration is set to private.
As always, if a MLM company is not openly upfront about who is running or owns it, think long and hard about joining and/or handing over any money.
The BonanzaU Product Line
BonanzaU has no retailable products or services, with affiliates only able to market affiliate membership to the opportunity itself ($50).
The BonanzaU Compensation Plan
The BonanzaU compensation plan revolves around affiliates signing up for $50 and then "immediately" investing in a $1000 "package".
Investment into a package qualifies a BonanzaU affiliate to participate in the company's compensation plan.
Note that 30% of any commissions paid out to affiliates must be reinvested back towards new position investment.
Recruitment Commissions
Recruitment commissions in BonanzaU are paid out on the recruitment of new affiliates, who also purchase $1000 packages.
This is tracked via a unilevel compensation structure.
A unilevel compensation structure places an affiliate at the top of a unilevel team, capped at ten positions wide.
Each personally recruited affiliate (up to 10) is placed directly under the recruiting affiliate, making up level 1 of the affiliate's unilevel team.

If any level 1 affiliates go on to recruit new affiliates of their own, they are placed on level 2 of the original affiliate's unilevel team. If any level 2 affiliates recruit new affiliates, they are placed on level 3.
Typically a unilevel can extend down a theoretical infinite number of levels, however as with the width capping, BonanazaU cap payable unilevels levels to three.
Personally recruited affiliates (level 1) pay out a 10% commission ($100). With a maximum of ten positions available per package, this equates to a total payout of $1000.
Level 2 (any affiliates recruited by level 1 affiliates) pays out 1% ($10) and level 3 0.5% ($5).
In order to generate additional commissions beyond an initial ten recruits, a BonanzaU affiliate must invest in additional $1000 positions.
Leadership Bonus
BonanzaU's Leadership Bonus uses a binary compensation structure to pay out on positions invested in by an affiliate's downline.
A binary compensation structure places an affiliate at the top of a binary team, with two positions directly under them: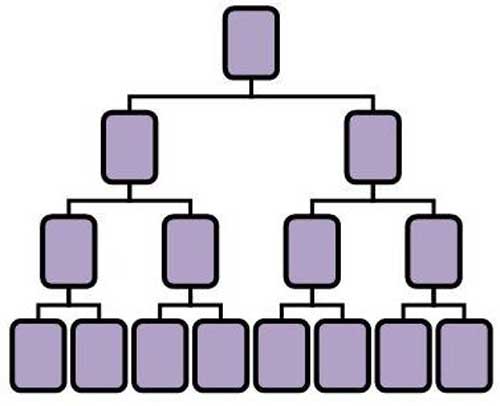 These two positions correspond to the first two affiliates recruited, with each position then branching out into another two positions under it.
This process repeats itself over and over again down a theoretical infinite depth.
Position investment is tracked on each side of the binary (left and right, as defined by the first two positions), with pairs of investments matched to generate commissions.
How much of a commission is paid out depends on how many investment pairs are matched daily:
1 Star (recruit 5 affiliates who invest in a package) – 5%
2 Star (have at least six 1-Star ranked affiliates in your binary, 3 on each side) – 10% ($100 per pair)
3 Star (have at least six 2-Star ranked affiliates in your binary, 3 on each side) – 15% ($150 per pair)
4 Star (have at least six 3-Star ranked affiliates in your binary, 3 on each side) – 20% ($200 per pair)
5 Star (have at least six 4-Star ranked affiliates in your binary, 3 on each side) – 25% ($250 per pair)
Matrix Commissions
BonanzaU's matrix commissions are paid out on the recruitment of new affiliates.
When an affiliate joins and pays their $50 fee, they are placed at the top of a 2×15 matrix.
A 2×15 matrix places an affiliate at the top of two positions, which in turn branch out into another two positions: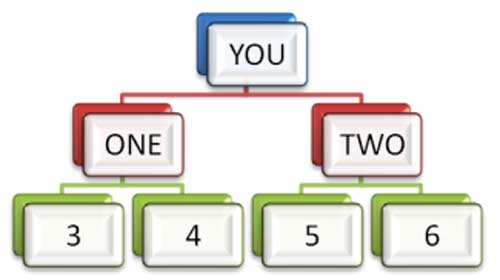 This process continues down for a total of 15 levels (65,518 positions), with each position in the matrix representing a recruited affiliate.
Positions in the matrix can be filled either via direct recruitment, or the recruiting efforts of an affiliate's upline and downline.
Commissions are paid out based on filled positions in the matrix, paying out $30 per filled position (recruited affiliate).
Revenue Sharing
BonanzaU share 5% of their global affiliate revenue with their top recruiters as follows:
1 Star affiliates – 1%
2 Star affiliates – 1%
3 Star affiliates – 1%
4 Star affiliates – 1%
5 Star affiliates – 1%
Each of these bonus pools is shared out equally among all BonanzaU affiliates of the applicable rank.
Joining BonanzaU
Affiliate membership with BonanzaU is $50.
Note that participation in the full BonanzaU compensation plan will also require a minimum $1000 package investment.
Conclusion
There's mention of forex and some sort of "smart campus" program on the BonanzaU website, however these are poorly explained and appear to be unrelated to the compensation plan.
The core of the BonanzaU business is affiliate investment in $1000 packages, and the sharing of these funds among existing investors.
Recruitment incentives are paid out via the matrix and binary, with those that recruit more rewarded with higher binary percentage payouts.
Ditto the matrix, which pays out both on direct and indirect recruitment.
Meanwhile the packages themselves, through the three-level unilevel pay out, equate to a conditional ROI. $1000 investments are made, with a ROI paid out from subsequent investments, tied to the original investor via the recruitment of ten new investors.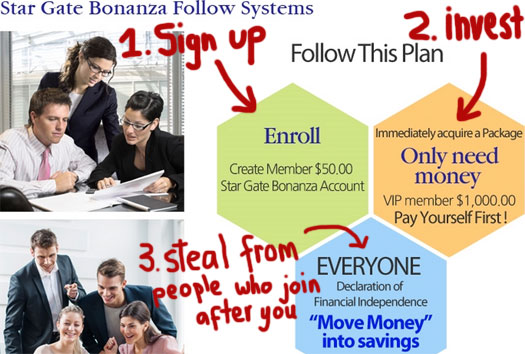 As with all Ponzi schemes, when recruitment of new BonanazaU investors slows down (along with new investment funds), the system will slowly collapse.
Due to the conditional nature of BonanazaU's ROIs, it's unlikely that those investing will have any warning of this happening. By the time they realize what's gone on, the anonymous admin(s) running BonanazaU will have likely fled back to China.