BNBSmartPool Review: Already once collapsed BNB Ponzi

A visit to BNBSmartPool's website reveals the original version of the scheme collapsed.
BNBSmartPool 2.0 promises "this time we'll do this right".
BNBSmartPool fails to provide company ownership or executive information on its website.
BNBSmartPool's website domain ("bnbsmartpool.com"), was privately registered on January 15th, 2022.
BNBSmartPool's official FaceBook page is managed from the Philippines. This strongly suggests whoever is running BNBSmartPool is based out of the Philippines.
The US is another possibility (Philippine support staff to manage the FaceBook page), as Alexa ranks the US as the top source of traffic to BNBSmartPool's website (35%).
The second and third largest sources of traffic are India (24%) and Canada (13%) respectively.
As always, if an MLM company is not openly upfront about who is running or owns it, think long and hard about joining and/or handing over any money.
BNBSmartPool's Products
BNBSmartPool has no retailable products or services.
Affiliates are only able to market BNBSmartPool affiliate membership itself.
BNBSmartPool's Compensation Plan
BNBSmartPool affiliates invest 0.005 or more binance coin (BNB), on the promise of an "unlimited ROI".
In actuality BNBSmartPool offers up to 405% on one investment.
BNBSmartPool ROI rates are determined by how long an affiliate invests for:
7 days pays 175%
30 days pays 405%
There is a sliding scale between 7 and 30 days, allowing an affiliate to fine tune their ROI if they wish.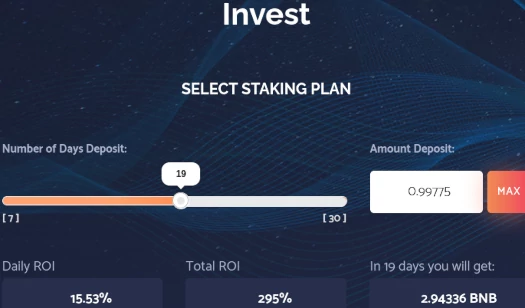 BNBSmartPool pays referral commissions via a unilevel compensation structure.
A unilevel compensation structure places an affiliate at the top of a unilevel team, with every personally recruited affiliate placed directly under them (level 1):

If any level 1 affiliates recruit new affiliates, they are placed on level 2 of the original affiliate's unilevel team.
If any level 2 affiliates recruit new affiliates, they are placed on level 3 and so on and so forth down a theoretical infinite number of levels.
BNBSmartPool caps payable unilevel at five.
Referral commissions are paid as a percentage of BNB invested across these five levels as follows:
level 1 (personally recruited affiliates) – 25%
level 2 – 15%
level 3 – 10%
level 4 – 5%
level 5 – 2.5%
Note that BNBSmartPool only allows affiliates to withdraw up to 1 BNB at a time.
50% of all BNBSmartPool withdrawals must be reinvested for 7 days.
Joining BNBSmartPool
BNBSmartPool affiliate membership is free.
Full participation in the attached income opportunity requires a minimum 0.005 BNB investment.
BNBSmartPool Conclusion
This means the original BNBSmartPool collapsed in less than two months.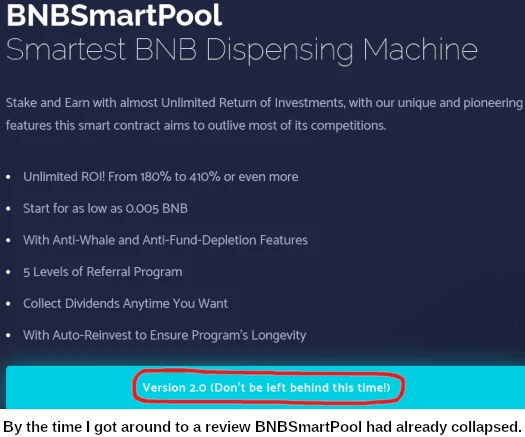 This is ironic seeing as the company makes a big deal about "guaranteeing longevity".
BNBSmartPool program is equipped with anti-whale and anti-fund-depletion features to guarantee longevity and keep investors' sentiments positive.
BNBSmartPool's first iteration collapsed because it was a Ponzi scheme. Math is math and every Ponzi heads to collapse once withdrawals inevitably exceed new investment.
One interesting thing to note is BNBSmartPool's original Ponzi contract still has $138,043 worth of BNB in it.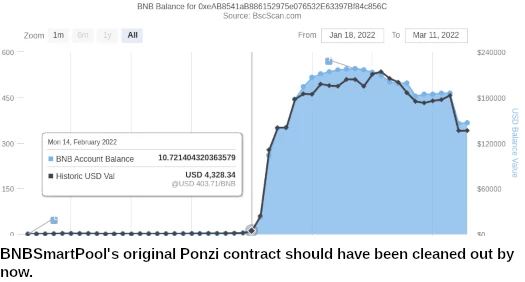 If we take a look at the contract we see didn't actually take off until February 14th.
No idea what the story is there but something fishy is going on. If there's a bunch of investors waiting to withdraw on March 14th, that's just two days away.
What we know for sure is new investment is dead, hence the new version.
Curiously, BNBSmartPool's 2.0 contract only has $480 in it. The contract was created on March 4th.
BNBSmartPool's collapse ties into the company's 30 day max investment window.
Rather than those affiliates getting paid, those who invested and reinvested across smaller timeframes should have cleaned out invested funds.
Instead you've got a contract waiting to be cleaned out, and a new one nobody seems interested in.
Whatever crypto bro shenanigans are going on math is math and, regardless of whether it's happened yet, the majority of BNBSmartPool investors will lose money.