Bitwabi Review: 400% annual ROI bitcoin Ponzi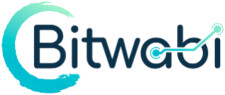 Bitwabi operates in the cryptocurrency MLM niche. The company is headed up by CEO Oscar Costa.
Costa, full name Oscar Costa Revienta Cerebros, is based out of Granada, Spain.

Prior to running Bitwabi, Costa (right) was running an pet kennel and animal shelter.
Possibly due to language barriers, I wasn't able to ascertain whether Costa has an MLM history.
Update 26th August 2020 – Following a tipoff from a reader below in the comments, I was able to confirm that prior to Bitwabi, Oscar Costa was promoting the ArbiStar Ponzi scheme.

Since leaving ArbiStar, Costa has all but scrubbed evidence of his involvement across the internet. /end update
Read on for a full review of Bitwabi's MLM opportunity.
Bitwabi's Products
Bitwabi has no retailable products or services, with affiliates only able to market Bitwabi affiliate membership itself.
Bitwabi's Compensation Plan
Bitwabi affiliates invest funds on the promise of advertised annual returns:
Bronze – invest €250 EUR and receive €83 EUR a month for 12 months
Silver – invest €500 EUR and receive €166 EUR a month for 12 months
Gold – invest €1250 EUR and receive €416 EUR a month for 12 months
Diamond – invest €3000 EUR and receive €1000 EUR a month for 12 months
Premium – invest €6000 EUR and receive €2000 EUR a month for 12 months
Premium Plus – invest €12,000 EUR and receive €4000 EUR a month for 12 months
Referral Commissions
Bitwabi pays referral commissions using a unilevel compensation structure.
A unilevel compensation structure places an affiliate at the top of a unilevel team, with every personally recruited affiliate placed directly under them (level 1):

If any level 1 affiliates recruit new affiliates, they are placed on level 2 of the original affiliate's unilevel team.
If any level 2 affiliates recruit new affiliates, they are placed on level 3 and so on and so forth down a theoretical infinite number of levels.
Bitwabi caps payable unilevel team levels at ten.
Referral commissions are paid out as a percentage of funds invested across these ten levels as follows:
level 1 (personally recruited affiliates) – 30%
levels 2 to 10 – 2%
Note that to unlock commissions across levels 6 to 10 of the unilevel team, a Bitwabi affiliate must personally recruit affiliates who together invest €50,000 EUR.
Leadership Bonus
When a Bitwabi affiliate generates €150,000 EUR in investment volume by personally recruited affiliates, they receive €15,000 EUR worth of bitcoin.
The Leadership Bonus is qualified each time €150,000 EUR is generated.
As a bonus, the first time the Leadership Bonus is qualified for, a Bitwabi affiliate receives a 15-day trip for two to the Dominican Republic.
Global Bonus
Bitwabi affiliates are designated VIPs when they
qualify for residual commissions across all ten levels of their unilevel team;
qualify twice for the Leadership Bonus; and
generate €5 million EUR in investment volume across the first ten levels of their unilevel team.
Bitwabi sets aside 5% of company-wide investment volume and divides it among VIP affiliates each month.
Joining Bitwabi
Bitwabi affiliate membership is free.
Full participation in the attached income opportunity however requires a minimum €250 EUR investment.
Payments within Bitwabi appear to be in bitcoin.
Conclusion
Bitwabi markets itself as "a cryptocurrency platform created to offer all kinds of services related to the crypto space."
The company represents it generates external revenue via trading.
We have a unique product, as our methods and our team are unique.

The trading application will be strictly controlled by professionals accompanied by an automatic radar of signals, which will be filtered manually to ensure their effectiveness by our staff who will also be responsible for guaranteeing risk management that reduces our potential losses to the minimum possible, achieving thus, that the final balance is ALWAYS positive at the end of each accounting.
Guaranteeing no losses ever in any legitimate trading is of course baloney.
Furthermore Bitwabi's business model fails the Ponzi logic test.
Bitwabi's Premium Plus investment plan pays a €48,000 annual return off an initial €12,000 investment (400%).
If Oscar Costa had access to trading that paid 400% annually, why would he share that for as little as €250 EUR?
Costa obviously has a love of animals, so why not do the trading and inject the funds into his animal shelter?
The answer is of course because there is no trading.
Bitwabi provides no evidence of trading taking place, or external revenue of any kind being used to pay advertised returns.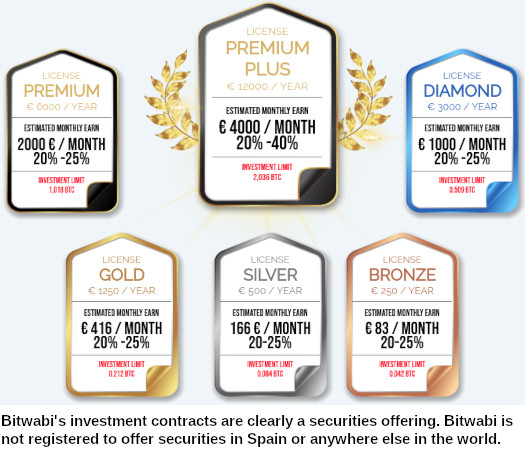 On the regulatory front, neither Bitwabi or Costa are registered with Spain's CNMV. This means that at a minimum, Bitwabi is committing securities fraud.
As it stands the only verifiable source of revenue entering Bitwabi is new investment.
Using new investment to pay affiliates 400% annual returns makes Bitwabi a Ponzi scheme.
As with all MLM Ponzi schemes, once affiliate recruitment slows down so too will new investment.
This will starve Bitwabi of ROI revenue, eventually prompting a collapse.
The math behind Ponzi schemes guarantees that when they collapse, the majority of participants lose money.