BitFundZA Review: 3×5 matrix bitcoin gifting scheme

BitFundZA provide no information on their website about who owns or runs the business.
The BitFundZA website domain ("bitfundza.co") was privately registered on August 16th, 2017.
Further research reveals The BitFundZA website uses a favicon hosted on the Loop and Beyond website domain: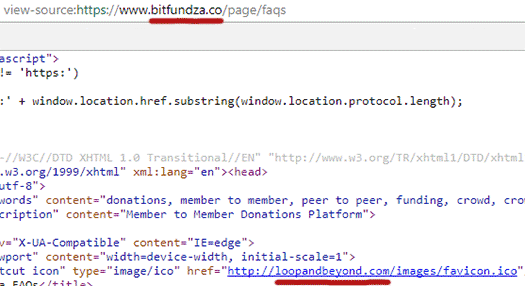 A visit to the Loop And Beyond website reveals it to be a 1:1 clone of the BitFundZA website.
The Loop and Beyond website domain was registered prior to BitFundZA on July 6th, 2017, suggesting it was a staging site before the main site went live.
The Loop and Beyond website domain is registered to Ketan Singh through an apartment address in the US state of New Mexico.
Whether Singh, as represented on the Loop and Beyond domain registration, exists is unclear. The name is that of a well-known Indian actor and the Loop and Beyond domain uses Indian name-servers.
BitFundZA is likely on the same server as Loop and Beyond, however it's behind CloudFlare so I can't verify for sure.
No information connecting Singh to BitFundZA outside of the domain registration is available, so it's entirely possible he doesn't exist. In that case whoever is actually running BitFundZA is likely based out of India itself.
The UK is another possibility, with Alexa currently estimating the country is the largest source of traffic to the BitFundZA website (23%).
As always, if an MLM company is not openly upfront about who is running or owns it, think long and hard about joining and/or handing over any money.
BitFundZa Products
BitFundZA has no retailable products or services, with affiliates only able to market BitFundZA affiliate membership itself.
The BitFundZA Compensation Plan
BitFundZA affiliates gift bitcoin to each other via a 2×5 matrix.
A 3×5 matrix places a BitFundZA affiliate at the top of a matrix, with two positions directly under them: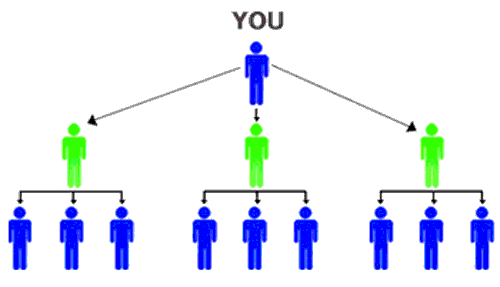 These three positions form the first level of the matrix. The second level of the matrix is generated by splitting these three positions into another three positions each (9 positions).
Levels three to five of the matrix are generated in the same manner, with each new level housing three times as many positions as the previous level.
A BitFundZA affiliate signs up and gifts 0.0035 BTC to the affiliate who recruited them.
This payment in turn qualifies them to receive 0.0035 BTC gifting payments from three subsequently recruited affiliates.
The remaining four matrix levels operate in the same manner, with each new level increasing gifting payments paid and received.
level 1 – gift 0.0035 BTC to the affiliate who recruited you and receive 0.0035 BTC from three subsequently affiliates
level 2 – gift 0.0075 BTC to your second upline and receive 0.0075 BTC from nine affiliates
level 3 – gift 0.05 BTC to your third upline and receive 0.05 BTC from twenty-seven affiliates
level 4 – gift 1 BTC to your fourth upline and receive 1 BTC from eighty-one affiliates
level 5 – gift 4 BTC to your fifth upline and receive 4 BTC from two hundred and forty-three affiliates
An affiliate's second upline is the affiliate who recruited the affiliate who recruited them.
The third upline is the affiliate who recruited the second upline and so on and so forth.
Joining BitFundZA
BitFundZA is tied to a minimum 0.0035 BTC monthly gifting payment.
Full participation in the BitFundZA income opportunity costs 5.061 BTC every thirty days.
Conclusion
BitFundZA refers to itself as a "Global Peer to Peer Platform".
"Peer to peer" payments is MLM underbelly code for cash gifting.
This is laid out in BitFundZA's "no refunds" refund policy:
All payments and/or donations you willingly and directly send to a fellow participant [sic] are final. No Refunds.
With affiliates paying affiliates, BitFundZA will operate for as long as new affiliates gift funds through the bottom of the company-wide matrix.
Sitting at the top of the matrix is Ketan Singh or whoever is running the scam. Each new matrix level funds larger amounts of bitcoin towards the top of the company-wide matrix.
Through preloaded admin position(s), the BitFundZA admin thus collects the majority of funds deposited.
A few early adopters might also manage to earn a bit. However the math behind a gifting scheme ensures that when it collapses, the majority of participants lose money.