BitBirth Review: 2-10x your bitcoin?

BitBirth provide no information on their website about who owns or runs the business.
The BitBirth website domain ("bitbirth.com") was privately registered on December 30th, 2017.
As always, if an MLM company is not openly upfront about who is running or owns it, think long and hard about joining and/or handing over any money.
BitBirth Products
BitBirth has no retailable products or services, with affiliates only able to market BitBirth affiliate membership itself.
The BitBirth Compensation Plan
BitBirth affiliates buy positions in a 3×2 matrix cycler.
A 3×2 matrix places a BitBirth affiliate at the top of a matrix, with three positions directly under them: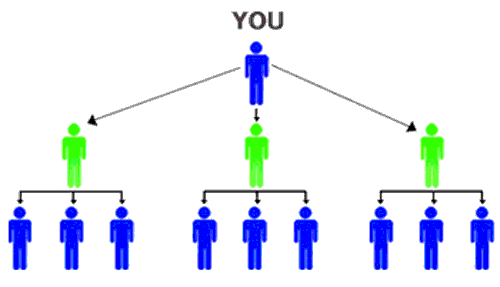 These three positions form the first level of the matrix.
The second level of the matrix is generated by splitting these first three positions into another three positions each (9 positions).
Commissions are paid as positions in the matrix are filled.
Positions in the matrix are filled via position purchases by other BitBirth affiliates.
How much of a commission is paid out is determined by with cycler tier a BitBirth affiliate buys in at:
Basic – positions cost $50, pays a $300 commission
Starter – positions cost $100, pays a $585 commission
Premium – positions cost $200, pays a $1200 commission
Deluxe – positions cost $500, pays a $3000 commission
Gold – positions cost $1000, pays a $5100 commission
Diamond – positions cost $2000, pays a $10,200 commission
Referral commissions are also paid when personally recruited affiliates buy a cycler position:
Basic – $5
Starter – $10
Premium – $20
Deluxe – $30
Gold – $100
Diamond – $150
Joining BitBirth
BitBirth affiliate membership is tied to the purchase of at least one $50 to $2000 matrix cycler position.
Conclusion
BitBirth markets itself on the premise participants can "2-10X YOUR BITCOIN!"
While this may be true, BitBirth are not transparent about this only being possible through Ponzi and pyramid fraud.
BitBirth's cyclers see affiliates pay a fee and then collect a percentage of fees paid by those placed into the matrix after them.
These can be new or existing BitBirth affiliates.
Once enough placements are made, a commission is paid out and the process repeats itself.
Following the flow of money, new funds are used to pay existing BitBirth affiliates – making it a Ponzi scheme.
Pyramid commissions are paid out when personally recruited affiliates purchase positions, adding an a second layer of fraud.
As with all cycler Ponzi schemes, once affiliate recruitment slows down to will matrix position purchases.
This will see BitBirth's company-wide matrix stall, eventually triggering an irreversible collapse.
Through collected admin fees tied to each position purchase and pre-generated admin positions, the anonymous BitBirth admin will make off with the majority of deposited funds.
A few early adopters will make what's left, with the majority of the BitBirth affiliate-base ultimately taking a loss.