Bitaxles Financial Review: Power Hashing admins get greedy?

There is no information on the BitAxles Financial website indicating who owns or runs the business.
The Bitaxles Financial website domain ("bitaxles.com") was registered on the 27th of June 2016, however the domain registration is set to private.
Source code in the Bitaxles Financial website reveals social network details for Power Hashing: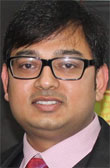 Power Hashing is a recently launched 25 month ROI Ponzi scheme.
Power Hashing was co-founded by Amit Jaiswal (right), who is based out of Delhi, India.
Alexa currently estimate that 61.1% of all traffic to the Bitaxles Financial website originates out of India.
Read on for a full review of the Bitaxles Financial MLM opportunity.
The Bitaxles Financial Product Line
Bitaxles Financial has no retailable products or services, with affiliates only able to market Bitaxles Financial affiliate membership itself.
The Bitaxles Financial Compensation Plan
The Bitaxles Financial compensation plan sees affiliates invest between $50 to $2000 on the promise of a monthly ROI.
The ROI amount received on each investment is determined the following Monday. Determined ROI amounts will either be 30%, 50% or 100% of funds invested.
A Bitaxles affiliate can also boost their monthly ROI by 10% by "completing daily tasks".
Once the ROI has been accumulated, Bitaxles affiliates can put in a withdrawal request to access funds.
Bitaxles affiliates are able to withdraw between $50 and $2000 a day.
Note that before funds can be withdrawn, a Bitaxles affiliate must re-invest what they initially invested or more (up to $2000 per investment).
Referral Commissions
Referral commissions are available on funds invested by recruited affiliates, paid out via a unilevel compensation structure.
A unilevel compensation structure places an affiliate at the top of a unilevel team, with every personally recruited placed directly under them (level 1):

If any level 1 affiliates recruit new affiliates, they are placed on level 2 of the original affiliate's unilevel team.
If any level 2 affiliates recruit new affiliates, they are placed on level 3 and so on and so forth down a theoretical infinite number of levels.
Bitaxles Financial cap payable unilevel levels at five, with commissions paid out as follows:
level 1 (personally recruited affiliates) – 10%
level 2 – 5%
level 3 – 3%
level 4 – 2%
level 5 – 1%
Note that in order to qualify for commissions on levels 2 to 5, a Bitaxles Financial affiliate must recruit and maintain ten active Bitaxles Financial affiliates.
Using this same unilevel compensation structure, Bitaxles Financial affiliates also receive a referral commission when their affiliates re-invest (mandatory):
level 1 – 5%
level 2 – 2.5%
level 3 – 1.5%
level 4 – 1%
level 5 – 0.5%
If a Bitaxles affiliate has re-invested over $10,000, they receive an additional 0.05% from level 6 onwards (unlimited depth).
Joining Bitaxles Financial
Affiliate membership with Bitaxles Financial is free, however affiliates must invest between $50 and $500 to participate in the income opportunity.
Conclusion
Bitaxles Financial is yet another MMM Global "provide help, get help" Ponzi scheme.
As per the company itself, here is how newly invested funds are distributed:
20% of commitment amount will go to the admin and the remaining 80% will be distributed on each participant.
The use of newly invested funds to pay off existing investors makes Bitaxles Financial a Ponzi scheme.
As with all Ponzi schemes, once Bitaxles Financial runs out of invested fund to pay out the scheme will collapse.
Bitaxles Financial uses a cash gifting bitcoin model. When an affiliate signs up, they pledge an amount and then receive a bitcoin address to send pledged funds to.
The system distributes funds based on assigned ROI amounts, with it also verifying mandatory re-investment before honoring withdrawal requests.
Mandatory re-investment will keep Bitaxles Financial afloat longer, however ultimately Ponzi ROI liabilities will still see it collapse.
In addition to keeping funds still trapped in the system, Amit Jaiswal and friends also keep 20% of all funds invested. The use of bitcoin meanwhile means the prospect of victims recovering funds is all but impossible.
Some of the funds invested into Bitaxles Financial will no doubt be channeled into Power Hashing (and vice-versa)… but no matter how many Ponzi schemes you launch, you can't beat mathematics.
As with the collapse of MMM Global, when Bitaxles Financial collapses the majority of investors will lose money.