Binary Global Review: 2×10 matrix bitcoin cash gifting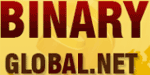 There is no information on the Binary Global website indicating who owns or runs the business.
The Binary Global website domain ("binaryglobal.net") was registered on the 28th of December 2015. The registration was recently updated on November 6th, suggesting this is when the current owner took possession of it.
The registration itself lists Joshua Harris as the owner, with bogus address details in the US.
Given the bogus address details provided, it's a good bet Joshua Harris doesn't exist.
As always, if an MLM company is not openly upfront about who is running or owns it, think long and hard about joining and/or handing over any money.
The Binary Global Product Line
Binary Global has no retailable products or services, with affiliates only able to market Binary Global affiliate membership itself.
Bundled with Binary Global affiliate membership are ad credits, which can be used to display advertising on the Binary Global website.
The Binary Global Compensation Plan
The Binary Global compensation plan sees affiliates gift bitcoin to eachother through a 2×10 matrix.
A 2×10 matrix places an affiliate at the top of a matrix, with two positions directly under them: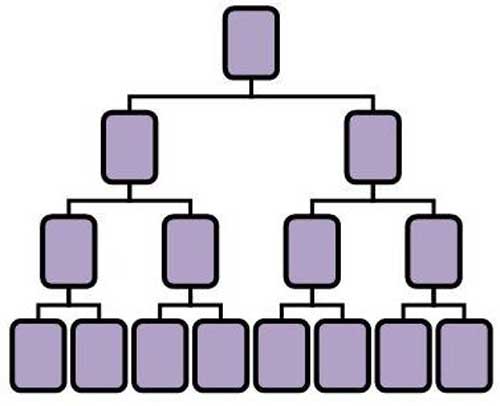 These two positions form the first level of the matrix. The second level of the matrix is generated by splitting each of the two positions into another two positions each.
Subsequent levels of the matrix are generated in a same manner, with a complete 2×10 matrix housing 2046 positions.
Positions in the matrix are filled via direct and indirect recruitment of new affiliates.
A Binary Global affiliate begins by gifting 0.03 BTC to the affiliate who recruited them.
This payment qualifies them to receive 0.03 BTC from two subsequently recruited affiliates.
0.04 BTC is used to "unlock" level 2 of the matrix, with the rest of the Binary Global compensation plan increasing gifting payments among affiliates as follows:
level 1 – gift 0.03 BTC to the affiliate who recruited you and receive 0.03 BTC from two subsequently recruited affiliates
level 2 – gift 0.04 BTC and receive 0.04 BTC from four affiliates
level 3 – gift 0.08 BTC and receive 0.08 BTC from eight affiliates
level 4 – gift 0.14 BTC and receive 0.14 BTC from sixteen affiliates
level 5 – gift 0.7 BTC and receive 0.7 BTC from thirty-two affiliates
level 6 – gift 1.12 BTC and receive 1.12 BTC from sixty-four affiliates
level 7 – gift 1.4 BTC and receive 1.4 BTC from one hundred and twenty-eight affiliates
level 8 – gift 1.8 BTC and receive 1.8 BTC from two hundred and fifty-six affiliates
level 9 – gift 2.1 BTC and receive 2.1 BTC from five hundred and twelve affiliates
level 10 – gift 2.8 BTC and receive 2.8 BTC from one thousand and twenty-four affiliates
Joining Binary Global
Binary Global affiliate membership is tied to a 0.03 BTC gifting payment to the affiliate who recruited you.
Conclusion
BinaryGlobal is a peer-to-peer donation platform for members to help other members in a systematic way.
Under the pretext of giving and receiving donations, Binary Global operate a ten-tier cash gifting scheme.
First and foremost, donations do not entitle you to receive donations. That is cash gifting, pure and simple.
The Binary Global matrix is set up much like a cycler. New affiliates start by gifting 0.03 BTC to whoever recruited them.
The funds they receive are mostly passed up to unlock tier 2 (level 2 of the matrix), and so on and so forth for ten levels.
This mechanism effectively sees the majority of funds gifted between Binary Global affiliates passed up to those who own the very first positions generated.
These positions, unsurprisingly, are owned by the anonymous Binary Global admin(s).
As with all cash gifting schemes, once recruitment of new affiliates dies down so too will gifting payments within the scheme.
As Binary Global's matrices grind to a halt, eventually a tipping point will be triggered wherein the whole scheme collapses.
Do you give refunds?

Your membership is NON-REFUNDABLE. All payments are final.

We cannot refund money to you that has already been paid out to our members (or your Uplines).
At that point any Binary Global affiliates who haven't scammed enough new affiliates to recoup their own gifting payments, loses out. Mathematically this is guaranteed to the be the majority of Binary Global affiliates.