Barrel Review: Texas oil drilling = 7300% annual ROI?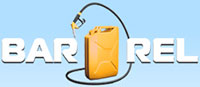 Barrel provides no information on their website as to who owns or runs the business.
The Barrel website domain ("barrel.company") was privately registered on August 10th, 2017.
In the "documents" section of their website, Barrel provides an Arkansas incorporation certificate for "American Barrel LLC".
As per Arkansas Secretary of State records, American Barrel LLC was incorporated on October 13th, 2017.
The incorporation agent is Incorp Services Inc., who provide company incorporation services across the US.
Thus Barrel appears to be a shell company, with no actual physical operations in the US.
Broken English on the Barrel website suggests it was designed by a non-English native speaker.
Alexa meanwhile estimates over 30% of traffic to the Barrel website originates out of Russia (25.7%) and the Ukraine (5.8%).
It is highly likely that Barrel is in fact being operated out of one or both of these two countries.
As always, if an MLM company is not openly upfront about who is running or owns it, think long and hard about joining and/or handing over any money.
Barrel Products
Barrel has no retailable products or services, with affiliates only able to market Barrel affiliate membership itself.
The Barrel Compensation Plan
Barrel affiliates invest USD or bitcoin on the promise of an advertised ROI:
Plan 92 – invest $10 to $1000 (0.0015 to 0.15 BTC) and receive a 140% ROI in 20 days
Plan 92+ – invest $100 to $1000 (0.015 to 0.15 BTC) and receive a 140% ROI in 15 days
Plan 95 – invest $1000 to $10,000 (0.15 to 1.5 BTC) and receive a 160% ROI in 20 days
Plan 95+ – invest $1000 to $10,000 (0.15 to 1.5 BTC) and receive a 160% ROI in 15 days
Plan 98 – invest $10,000 to $50,000 (1.5 to 8 BTC) and receive a 200% ROI in 20 days
Plan 98+ – invest $10,000 to $50,000 (1.5 to 8 BTC) and receive a 200% ROI in 15 days
Plan Diesel – invest $30,000 to $150,000 (5 to 25 BTC) and receive a 500% ROI in 25 days
Plan Diesel+ – invest $100 to $5000 (0.015 to 1 BTC) and receive a 1000% ROI in 50 days
Barrel pay referral commissions on invested funds down three levels of recruitment (unilevel):
level 1 (personally recruited affiliates) – 7%
level 2 – 2%
level 3 – 1%
Barrel affiliates who convince others to cumulatively invest $10,000 or more receive a higher 10% commission rate on level 1 and 3% on level 2.
Joining Barrel
Barrel affiliate membership is free, however free affiliates can only earn referral commissions.
Full participation in the Barrel income opportunity requires a minimum $10 or 0.0015 BTC investment.
Conclusion
Barrel claim to be a
company-importer of petroleum products engaged in the supply of fuel from the Middle East and Africa.

We purchase raw materials from oil companies at wholesale prices then sell it refineries and factories.
If Barrel already has established business operations generating revenue, why do they then need your money?
WHY DO WE NEED FUNDING FROM THE OUTSIDE:

Shale of Texas is rich in hydrocarbons and oil and gas extraction here is the best native activities.

We decided not to stop there and planned new development.

Our main problem is the lease of land for private oil production. Reformatting company in the oil – lead us to a new level in trade.

At this stage we have leased a small plot of land in the South of Texas and received permission Commission on drilling.

Also, we bought the equipment which is now under construction.
First off the "Shale of Texas" doesn't even exist. 
Secondly a company operating out of a PO Box in Arkansas run by persons unknown obviously has no plans to drill in Texas.
A legitimate investment company in the US would have to be registered with the SEC and provide full disclosure regarding potential drilling operations in company filings.
American Barrel is not registered with the SEC – which means they're operating illegally in the US.
Not that it really matters, as Barrel is only really active in Europe, Libya and South America.
That hasn't stopped Barrel's anonymous admins from adding a little geographical misdirection to their scheme though: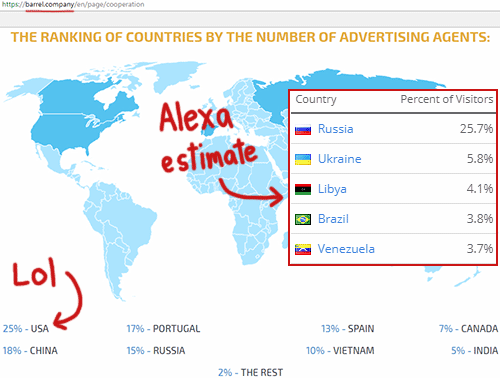 With the US not even making up 3.7% of traffic to the Barrel website, obviously 25% of Barrel investors aren't from the US.
The final due diligence nail coffin for Barrel is the fact that if the company anonymous owners were able to legitimately generate a 500% ROI every 25 days, they'd have no reason to solicit investment from randoms over the internet.
Forget about fictitious plans to drill in Texas and build equipment, Barrel are advertising a 500% ROI every 25 days now.
This means the revenue has to be generated from current import/export business operations, even if they're as fictitious as Barrel's drilling claims.
Barrel's bogus marketing claims dissected and set aside, what you're left with is a typical Ponzi scheme.
New Barrel affiliates invest funds, Barrel use those funds to pay existing investors and when withdrawals exceed new investment, kaboom.
Barrel's anonymous admins make off with the majority of deposited funds, leaving the majority of investors with a loss.