Axxces Review: Edwin Haynes' crypto securities fraud opp

Axxces operates in the trading MLM niche. At time of publication the company is in prelaunch, with Axxces' website redirecting to a "I want to be a founder" marketing campaign".
A countdown on the page suggests Axxces intends to launch in 22 days.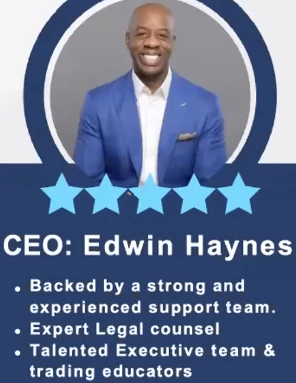 Heading up Axxces is founder and CEO Edwin Haynes.
Haynes is the former Global Master Ambassador for iBuumerang. His departure isn't insignificant.
Haynes association with iBuumerang founder Holton Buggs dates back to Organo Gold, an MLM company Buggs co-founded in 2008.
Haynes was a top earner in Organo Gold. He and Buggs ditched the company to go off and launch iBuumerang in 2019.
Haynes is based out of Texas in the US. It thus follows that Axxces is also based out of Texas.
Read on for a full review of Axxces' MLM opportunity.
Axxces' Products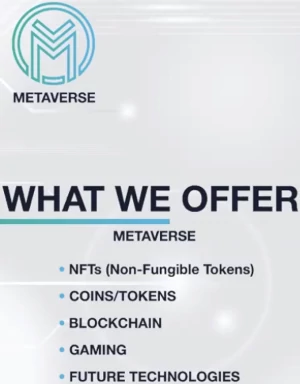 Axxces markets a monthly membership that provides access to a bunch of mostly crypto buzzword promises:
Of what's actually available, Axcess markets trading signals;
Through our membership, we have access to third-party relationships. And your membership will give you access to things like trade ideas.

So whether you take the information, utilize it yourself and just do it on your own, or you take the information and get from the experts on how to do it – you'll be able to utilize a third-party system that we already have access to.
Axcess also markets automated "social trading";
You'll actually be able to go and set up your own account, outside of our company but your Axxces membership will unlock a (referral) code for you, and let's say if you wanted to open a brokerage account.

And you wanted to be able to trade, have a social trader to trade for you. You can look at the returns, see what it is … and you can actually attach that to your account and let it do the heavy lifting. It'll do the trading for you on your behalf.
Axxces' membership retails $299 a month.
Axxces' Compensation Plan
Axxces don't provide specifics of their compensation plan. What we can confirm though is that it's MLM.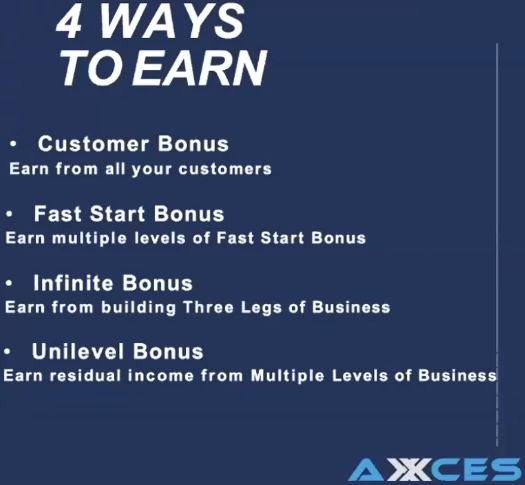 Based on Edwin Haynes' verbal description of Axxces' compensation plan;
the Customer Bonus is paid on monthly membership fees paid by retail customers and recruited affiliates
the Fast Start Bonus is a one-time bonus paid on recruitment of an Axxces affiliate, there appears to be a residual component paid down multiple levels
the Infinity Bonus is either a 3xx matrix or three position wide binary team (trinary), the bonus is paid on sales volume across the trinary team (up to $250,000 a month)
the Unilevel Bonus is paid on monthly membership fee volume paid by "customers", whether that covers both retail customers and recruited affiliates is unclear
A unilevel compensation structure places an affiliate at the top of a unilevel team, with every personally recruited affiliate placed directly under them (level 1):

If any level 1 affiliates recruit new affiliates, they are placed on level 2 of the original affiliate's unilevel team.
If any level 2 affiliates recruit new affiliates, they are placed on level 3 and so on and so forth down a theoretical infinite number of levels.
Finally there's an Elite Bonus Pool offered to Elite tier Axxces affiliates.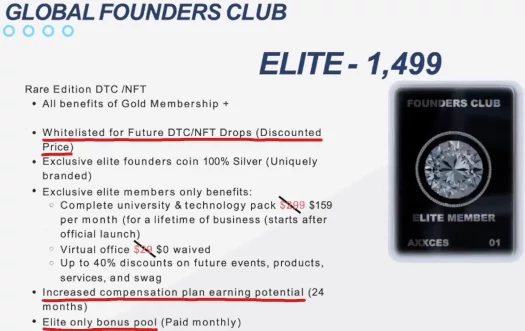 Funding for the Elite Bonus Pool is not disclosed.
Joining Axxces
Axcess affiliate membership is available at two price tiers:
Gold – $299 plus $19, then $179 a month for 12 months, after which $299 a month
Elite – $1499 and then $159 a month
The more an Axxces affiliate spends on membership the higher their income potential.
Axxces Conclusion
I thought Haynes might have left iBuumerang after founder Holton Buggs started funneling distributors into crypto Ponzi schemes.
In researching Axxces and putting together this review though, I quickly realized that wasn't the case. Edwin Haynes wants to be a crypto bro just as much as Holton Buggs does.
That alone is fine. But Axxces introduces securities fraud to the equation.
Axxces' crypto buzzword marketing might run foul of the FTC Act. None of the promised mEtAvErSe nonsense actually exists yet – it's all promises.
What's driving recruitment is the trading, half of which is fine. There's no regulatory concerns with signals that users have to manually act on.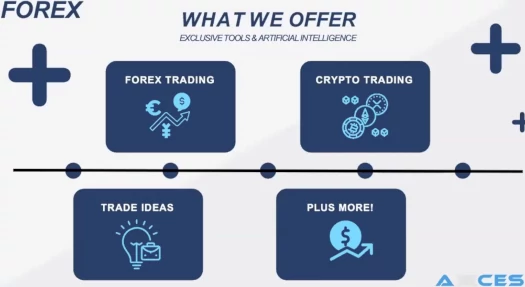 Where Axxces runs foul of securities law is their "social trading".
Let's say if you wanted to open a brokerage account. And you wanted to be able to trade, have a social trader to trade for you.

You can look at the returns, see what it is … and you can actually attach that to your account and let it do the heavy lifting. It'll do the trading for you on your behalf.
An MLM company offering passive returns, no matter how it's set up, constitutes a securities offering.
In order to legally offer securities in the US, Axxces and Haynes are required to register with the SEC.
A search of the SEC's Edgar database reveals neither Axxces or Haynes are registered with the SEC.
This means, at least as far as offering automated trading goes, Axxces and Haynes are or intend to commit securities fraud.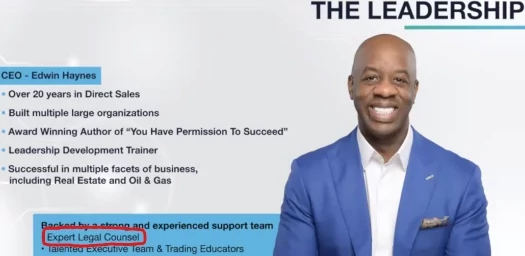 For his part Haynes acknowledges the investment side of Axxcess. In one official Axxces corporate webinar cited for this review, Haynes opened by stating;
Some of the things that I'm gonna talk about could be deemed as an investment.
Other than Axxces affiliate positions being tied to NFTs, marketing suggests future investment opportunities ("NFT drops") are on offer.
Despite the fad mostly having come and gone, Haynes insists NFTs "are about to take over our world".
Our whole entire business model is based on the blockchain and NFTs. You don't full have to understand it but because you're part of our company, you'll be issued an NFT, multiple times in our company day one.
It's difficult to say without further disclosure (marketing a $1499 membership on the promise of a vague service you don't disclose is a potential violation of the FTC Act), but this could entail additional unregistered investment opportunities.
The motive behind investment would need to be considered, and thus far I haven't seen any motive beyond the expectation of profit.
In addition to the usual metaverse grift…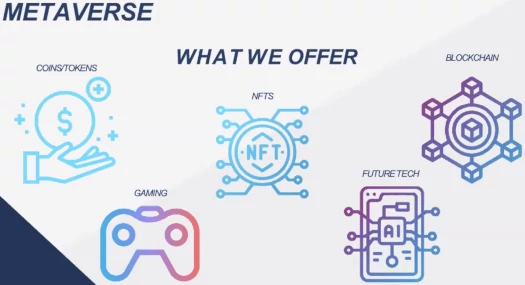 …Haynes also touts an internal token (potentially another securities offering). Axxces' token is to be attached to a gaming platform, which Haynes positively gushes over.
I have already paid for our token to be created.

Instead of playing CandyCrush and all this other stuff, what if we had a game like Axie Infinity, Farmville or things of that nature.

And any time people play the game, our community made money from it?

The goal is, what if our token was the only thing they can transact with in our game? That means now the token becomes more valuable.
Farmville and Candy Crush have nothing to do with crypto. Axie Infinity, long held by crypto grifters as the epitome of play to earn gaming, collapsed earlier this year.
After Axie Infinity's SLP token lost 99% of its pump peak value in February 2022, they partnered up with North Korea for a "hackers!" exit-scam in March 2022.
The "hack" saw $620 million cleaned out.
It's worth noting that, as a game, Axie Infinity was terrible.
As of September 2021, most Axie Infinity players are from the Philippines.

They act as low-wage workers for "bosses" who rent out Axies to them so they can grind in the game on the bosses' behalf.

This arrangement has been called "digital colonialism".
For Edwin and other disconnected crypto bros however, this is the future of gaming.
This model has been described as a form of gambling, and one with an unstable market that is overly reliant on the inflow of new players.
That Edwin Haynes thinks there's a market for this, beyond grifting people in third-world countries with borderline slave wages, isn't unusual among non-gamer crypto bros.
Being that none of this exists though, this is of course secondary to Axxces' social trading securities fraud.
There's also the near guaranteed probability that the majority of subscription holders are Axxces affiliates, dragging the MLM opportunity into pyramid scheme territory.
Pay to play is also a concern, by way of "increased earning potential" based on how much a recruited Axcess affiliate spends.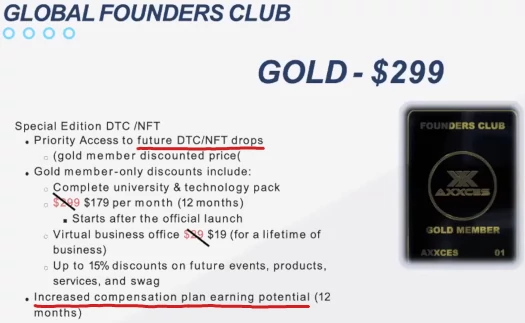 As it stands there doesn't appear to be any retail sales volume requirements. At least not from Haynes' various marketing presentations.
Axxces' compensation documentation remains pending. Recruitment without this crucial due-diligence material being provided to the public is again another potential FTC Act violation.
Between potential FTC Act violations, running headfirst into crypto grifts that have mostly already run their course, and auto trading securities fraud, Axxces presents a boatload of unignorable regulatory compliance issues.
Currently in prelaunch with recruitment open, Axxces is scheduled to launch sometime in August 2022.