Auto Empire Group Review: Join matrix scheme, buy new car?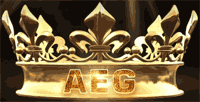 There is no information on the Auto Empire Group website indicating who owns or runs the business.
Formation of Auto Empire Group is credited to "Landford Limited", but who owns or runs that company is also not provided.
International company "LANDFORD LIMITED" presents the innovative project AUTO EMPIRE GROUP.

The staff of "LANDFORD LIMITED" strives to meet the needs of clients in all areas of human life. In our programs we have combined all important segments of human life; we give everyone the opportunity to materialize his own desires.

We are creating new standards of life, offering our partners to realize any needs while having a possibility to choose among the preferable investment methods.
Landford Limited would appear to be registered in Belize (a known tax-haven), with "certification of incorporation" provided on the Auto Empire Group website.
The Auto Empire Group website domain ("abcsmart.biz") is registered to Alex Schwarz. An address in Germany is also provided.
Whether or not Schwarz owns Landford Limited, ABC Smart and Auto Empire Group is unclear. On his Google Plus profile Schwarz writes
I develop innovative business projects and medium social networks. I am working now for Landford Limited as IT Professional.
ABC Smart appears to be an income opportunity within itself. Affiliates are charged 10 EUR to enter a series of matrices, which are filled via the recruitment of new affiliates.
I wasn't able to peg any other MLM opportunities to Schwarz, indicating that ABC Smart and Auto Empire Group are his first MLM ventures as an executive.
Of note is that Schwarz Google Plus "friends" appear to all be of Russian descent. I also spotted a large number of promotional material for both ABC Smart and Auto Empire Group in Russian.
If Schwarz himself isn't Russian, then it would certainly seem that the company has strong ties to the country, either via management or its affiliate-base. The German domain registration address and Belize registration would appear to be smoke and mirrors.
Read on for a full review of the Auto Empire Group MLM business opportunity.
The Auto Empire Group Product Line
Auto Empire Group has no retailable products and services.
Affiliates sign up with the company and then purchase positions in a series of "plans".
The Auto Empire Group Compensation Plan
The Auto Empire Group compensation plan revolves around affiliates purchasing 250 EUR matrix positions.
The purchase of a position provides entry into what they call a "Silver Matrix".
This Silver Matrix is a 2×2 matrix. A 2×2 matrix places an affiliate at the top of the matrix with two positions directly under them (level 1):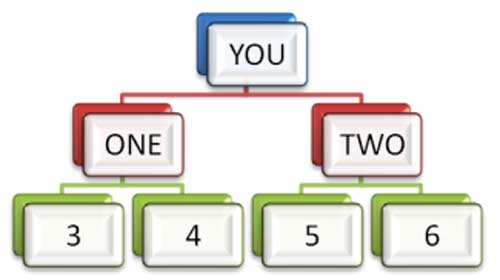 In turn, these two positions then branch out into another two positions to make up the second level of the matrix.
Positions in the matrix are filled when recruited affiliates purchase matrix positions. As the bottom four positions of the matrix fill, the affiliate who owns the top position is paid 250 EUR and given entry into a Gold Matrix.
The Gold Matrix functions the same as the Silver Matrix, paying out 500 EUR and providing entry into a Platinum Matrix.
The Platinum Matrix is the final matrix, paying out 7500 EUR once the bottom row is filled and re-entry into another Platinum Matrix.
There is also a cheaper (25 EUR) feeder matrix, which has three tiers like the primary set of matrices outlined above. The Platinum Matrix in the feeder system pays out 750 EUR and provides entry into the main program's Silver Matrix.
Joining The Auto Empire Group
Affiliate membership with the Auto Empire Group is tied to the purchase of a matrix position.
Affiliates can join either by purchasing a 25 EUR position in the feeder Silver Matrix or 250 EUR in the main Silver Matrix.
Conclusion
With nothing being sold to retail customers, commissions tied to the recruitment of new affiliates and all revenue paid out sourced from affiliates, Auto Empire Group functions as a pyramid scheme.
The concept appears to be to push the idea that people will use the scheme to purchase a luxury car, however this is just cover for what is otherwise your typical recruitment-driven scam.
Affiliates buy-in for either 25 or 250 EUR and then set about recruiting new affiliates who do the same. Once they and those they've recruited have recruited enough affiliates (who have in turn purchased matrix commissions), commissions are paid out.
As more recruitment takes place an affiliate works their way up the three (or six) matrix levels, with the idea being that they eventually cycle in and out of Platinum Matrices. Each time this happens money is sapped from affiliates in the matrices below.
Over time Auto Empire Group becomes top-heavy, with too many affiliates on the gravy-train at the Platinum Matrix level bleeding the lower levels dry.
As recruitment at the lower levels dries up, eventually the matrices across all levels begin to stall and ultimately the scheme suffers an irreversible collapse.
It's somewhat strange that Auto Empire Group has been built of the ABC Smart domain (it's hosted on a subdomain). This suggests that ABC Smart (a much cheaper replica of Auto Empire Group) was launched earlier and has already collapsed.
No doubt Auto Empire Group will suffer the same fate, at which point a new scheme will be launched.
Different name, different entry cost, same matrix-based pyramid scheme.