AI Lance Review: AIC token "staking" model Ponzi

AI Lance fails to provide ownership or executive information on its website.
AI Lance's website domain ("ailance.app"), was privately registered on May 8th, 2023.
In an attempt to appear legitimate, AI Lance provides Singapore shell company details for "AI Crypto Quant Strategies PTE. LTD."
Due to the ease with which scammers are able to incorporate shell companies with bogus details, for the purpose of MLM due-diligence shell company registration in any jurisdiction is meaningless.
As always, if an MLM company is not openly upfront about who is running or owns it, think long and hard about joining and/or handing over any money.
AI Lance's Products
AI Lance has no retailable products or services.
Affiliates are only able to market AI Lance affiliate membership itself.
AI Lance's Compensation Plan
AI Lance affiliates invest $50 or more in cryptocurrency into AIC token.
Once invested in, AIC is parked with AI Lance on the promise of advertised returns:
invest 18,000 AIC or more and receive 1.01% a day for 30 days
invest 21,600 AIC or more and receive 1.27% a day for 60 days
invest 25,920 AIC or more and receive 1.43% a day for 90 days
AI Lance pays referral commissions on invested cryptocurrency down three levels of recruitment (unilevel):

level 1 (personally recruited affiliates) – 7%
level 2 – 2%
level 3 – 1%
Joining AI Lance
AI Lance affiliate membership is free.
Full participation in the attached income opportunity requires a minimum $50 investment.
AI Lance solicits investment in various cryptocurrencies.
AI Lance Conclusion
AI Lance is a simple "staking" model Ponzi scheme.
AI Lance solicits investment into its AIC token. AIC is an ERC-20 shit token. These can be set up in a few minutes at little to no cost.
AI Lance created AIC out of thin air and issues it to investors on demand. Outside of AI Lance, AIC is worthless.
AI Lance runs a standard AI trading bot external revenue ruse.
Our AI analyzes data on the cryptocurrency market, predicts its movement and makes a decision to buy or sell assets.
No evidence of AI Lance paying withdrawals with trading revenue is provided.
On the regulatory front AI Lance's passive returns investment opportunity constitutes a securities offering.
This requires AI Lance to register with financial regulators, which is provides no evidence of having done.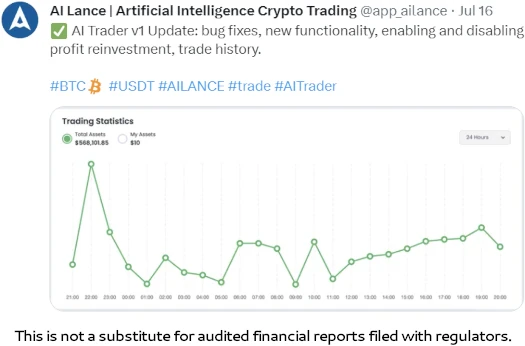 Thus at a minimum, AI Lance is committing securities fraud.
Why is AI Lance committing securities fraud and operating illegally?
As it stands the only verifiable source of revenue entering AI Lance is new investment.
Using newly invested cryptocurrency to pay affiliate withdrawals makes AI Lance a Ponzi scheme.
As with all MLM Ponzi schemes, once affiliate recruitment dries up so too will new investment.
This will starve AI Lance of ROI revenue, eventually prompting a collapse.
The math behind Ponzi schemes guarantees that when they collapse, the majority of participants lose money.