AdMaximo Review: DigAdz v2.0?

There is no information on the AdMaximo website indicating who owns or runs the business.
The AdMaximo website domain ("admaximo.net") was registered on the 26th of March 2015. "Walter Watson" is listed as the domain owner, however the rest of the registration details are private.
Further research reveals AdMaximo affiliates citing Walter Watson as the owner of the business:
The admin is Walter Watson from Sweden. Walter is a self employed entrepreneur who has lots of experiences in the big offline MLM companies as well as online advertising he has been part of for long time.
Trouble is outside of promotion of AdMaximo, Walter Watson doesn't appear to exist.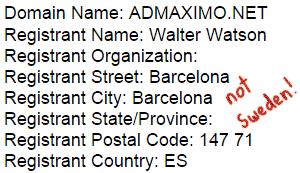 Furthermore, the original domain registration details for the AdMaximo domain listed a fake address in Spain (right).
Meanwhile a Facebook group titled "AdMaximo Company's Official Group" was created by a "Simon Derman" on the 4th of May. This group is linked to from the AdMaximo website itself.
Walter Watson however is not a member of the group. Derman, along with Marius Pedersen however are the primary contributors to the group (promoters):
Pedersen first popped up on BehindMLM as the face of DigAdz, a now-collapsed Ponzi scheme that offered 150% ROIs on $1 investments.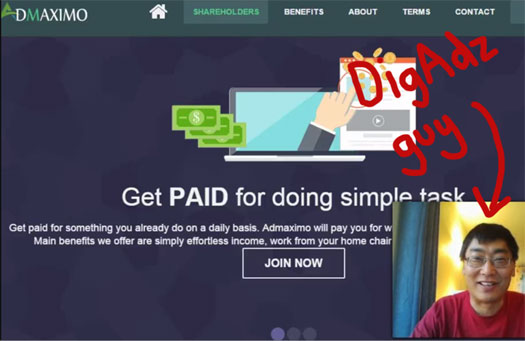 Like AdMaximo, the admin details of DigAdz were murky. Initially all we had to go on was the alias "beejay", who was later revealed to be "Songphon Phapatha". Phapatha purportedly lived in Thailand and was running DigAdz.
Prior to DigAdz Phapatha ran the Ponzi scheme AdBonuz (in which Marius Pedersen was also an insider investor).
Simon Derman meanwhile was also a DigAdz investor.
Whether or not AdMaximo is DigAdz v2.0 is unclear, but what we do know is that at some point, the IP addresses of the servers hosting AdMaximo and DigAdz intersected (they are now hosted on diferent machines):

What also know is that back on the 18th of April Pedersen wrote on his Facebook profile;
$$$$ 2 Exciting Projects Coming Soon! $$$$
And then on the 30th of April he wrote:
New Revshare Program, built for long term business, starting Prelaunch May 4th, have you subscribed my newsletter to get information?
A few days later AdMaximo went into prelaunch.
As always, if an MLM company is not openly upfront about who is running or owns it, think long and hard about joining and/or handing over any money.
The AdMaximo Product Line
AdMaximo has no retailable products or services, with affiliates only able to market affiliate membership with the company itself.
The AdMaximo Compensation Plan
The AdMaximo compensation plan sees affiliates invest $40 on the promise of an advertised $46 ROI: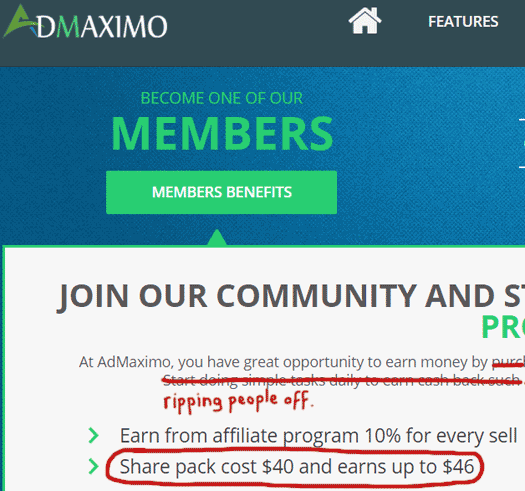 A referral commission of 10% ($4) is also paid on any investments made by personally recruited affiliates.
Joining AdMaximo
Affiliate membership with AdMaximo is $1.95 a month or $9.99 every 180 days.
Investment is required to participate in the AdMaximo income opportunity, bumping initial minimum AdMaximo affiliate membership costs to $41.95.
Conclusion
That the official AdMaximo Facebook page was created by two ex-DigAdz investors is pretty suspicious, even more so when you consider the same host was used. Ditto there being no information available on this Walter Watson person.
And a domain registration listing bogus details in Spain, that was then later covered up with a private registration? What was all that about?
Combining all of that, along with AdMaximo's blatant Ponzi scheme business model equates to boatloads of fraud; Which really, at this point appears to be par for the course in anything Marius Pedersen promotes (this is the third known Ponzi scheme in a row now).
Pertaining specifically to AdMaximo's business model, there's no external funds so the daily revenue-share is simply newly invested affiliate funds being shuffled around to pay off existing investors.
Despite this qualifying AdMaximo as a Ponzi scheme, the admin insists on claiming otherwise:
Is AdMaximo a HYIP, Ponzi, pyramid scheme, or illegal?

We are not an investment site or illegal program.
Yet the AdMaximo "no refunds" refund policy all but gives the game away:
All purchases are Non-Refundable. We share the revenue from your purchase with all members, so we cannot afford to offer refunds.
Does referring to an investment as a "purchase" make it any less of an investment? Of course not.
Especially when elsewhere on the site AdMaximo refer to investments as "Share Packs", and clarify their compensation plan as follows:
You can choose to participate in Profit Sharing opportunity by purchasing 1 or more Share Packs.

Each SP (Share Pack) you have you will recieve (sic) that many shares in profit on that given day.

Your SPs are active until they mature at maximum and give you 115% in return.
Purchases don't mature and pay out a return, investments do.
As with all Ponzi schemes, once new affiliate investment dries up AdMaximo will find itself unable to meet its daily ROI obligations.
Once that happens, the scheme collapses. And in addition to losing their money, investors will also likely be spammed by Pedersen when he and Phapatha launch their next scam:
You agree to maintain a valid email address and your account is only activated once you have verified your email address by clicking a link in an email sent to you.

By doing so you are bound to accept email from AdMaximo which will include system messages and marketing information.
Good times.