Acesse Review: iNetGlobal Ponzi rebooted?

There is no information on the Acesse website indicating who owns or runs the business.
The company's website does have an "about" page, however only the following vague marketing spiel is provided:
Acesse Corporation was founded in 2006 as a small, local Internet service provider and has grown to become one of the top Internet marketing and advertising service providers around the world.
The Acesse website domain lists a Steve Renner as the owner, with an address provided in the US state of Minnesota.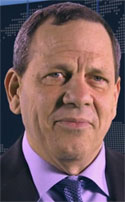 On his LinkedIn profile, Renner (right) claims he founded Acesse back in 2006.
I'm the Founder of Acesse Corporation, a global leader of internet products and advertising services for small businesses.
Why this information is not presented on the Acesse website is a mystery.
As per Renner's LinkedIn bio;
Acesse Corporation has over 500,000 customers in over 200 Countries, and is currently ranked in the TOP 500 most trafficked web sites in the world.

I divide my time between our Minneapolis operations office, our Silicon Valley Technology Center in Redwood City, CA and our Hong Kong office.
The two US addresses mentioned above appear on the Acesse website, but the Hong Kong office is absent.
Further research reveals multiple businesses operating out of the California address, indicating that it is rented virtual office space and/or just a mailbox.
The address in Minnesota however appears to be legit.
Looking at the Acesse website, it's clear that the company primarily targets Asian markets. This is reflected in Alexa's traffic estimates for the Acesse website domain, which lists China as making up 78.8% of visitors.
Taiwan (6.3%), Japan (5.5%), the US (2.4%) and South Korea (1.6%) round out the top 5.
Going by this, I'm going to suggest that the bulk of Acesse's operations are carried out from their Hong Kong office. The "technology center" in California might house some server hardware, but otherwise Acesse pretty much appears to be a Chinese company.
At the time of publication, Alexa rank the Acesse website as 162nd most visited in China (1050th globally).
On his LinkedIn profile, Renner lists two other companies of note: Cash Cards International and iNetGlobal, launched in 2001 and 2008 respectively.
For more on these iNetGlobal we turn to the StarTribune (February 24th, 2010):
Federal agents on Tuesday raided a Renner-owned business in downtown Minneapolis — Inter-Mark Corp. — looking for evidence of an alleged fraud that sources say may have attracted tens of thousands of customers worldwide, including in Canada, China and Russia.

As agents wheeled out carts carrying files and computers from two office suites housing Renner's business, officials said they are investigating a suspected Ponzi scheme run via the Internet.

According to John Kirkwood, the Secret Service's special agent in charge in Minneapolis, the search is "part of the Secret Service's investigation of a suspected Ponzi scheme that is headquartered in Minneapolis and that is operating over the Internet."

Kirkwood added that the Secret Service, under a court order, will seize money in several bank accounts that "are believed to hold proceeds of this alleged fraud."
Some $22 million was returned to iNetGlobal victims in 2011, however no formal charges were laid.
iNetGlobal affiliates heralded the release of funds (to a court-appointed administrator), was heralded as validation of iNetGlobal's business model. The government refused to comment.
In response to the release of funds, iNetGlobal themselves issued the following press-release:
"InetGlobal will use the remaining funds to launch a new and exciting array of products, many of which have been delayed due to the seizure of the funds," the company announced on its Blog.

"What working capital was available was used to service the existing business and to pay for the expensive process required to convince the United States government that iNetGlobal's business is legal."
According to a June 2011 StarTribune article, iNetGlobal was indeed permitted to restart operations – but with the following conditions in place:
According to the agreement Frank approved Thursday, Inter-Mark has made changes. For starters, Renner is no longer associated with the company.

In addition, the company's compensation plan, financial statements and even its Internet products all have been reviewed by outside experts. Inter-Mark was allowed to resume business in July 2010.
At the time Renner was in jail, serving an 18 month sentence for tax fraud related to his Cash Cards International business.
iNetGlobal's business model, which saw affiliates invest $2000 and earn a ROI for clicking ads and recruiting new participants, was clearly operating as a Ponzi/pyramid hybrid. Why the case wasn't pursued further though I can't say for sure.
Today the iNetGlobal website is unresponsive, however a redirect to Acesse does appear in the Google's search results: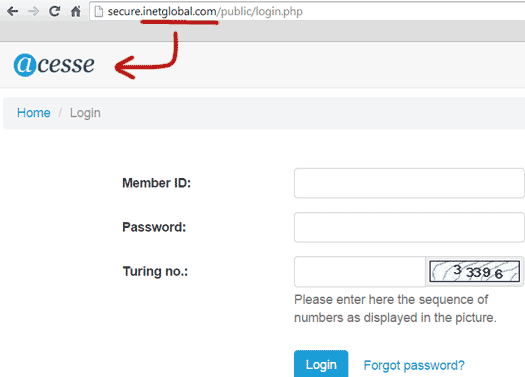 Acesse in its current state today (with Renner again at the helm), would appear to be the rebranding of iNetGlobal.
If iNetGlobal in 2010 was anything like Acesse is today, then one possibility for a lack of further regulatory action is that the company, for the most part, targets the Chinese.
In essence, US regulators might have seen it as their problem. Renner was aready in jail and regulatory co-operation between Chinese authorities and those in the US is always icy. Moreso back in 2010.
In any event, despite iNetGlobal appearing to be an AdSurfDaily clone, nobody went to jail for it and now it appears to be back as Acesse.
Read on for a full review of the Acesse MLM business opportunity.
The Acesse Product Line
Acesse doesn't appear to have any retailable products or services.
A "purchase products" link does appear on the Acesse website, which leads visitors to a page about "v-services".
V-Services are the essential business and communication tools that you need to take your business to the next level!
Below the above text is a button titled "View and Purchase Services!".
If one clicks on the button however, an Acesse affiliate login page appears: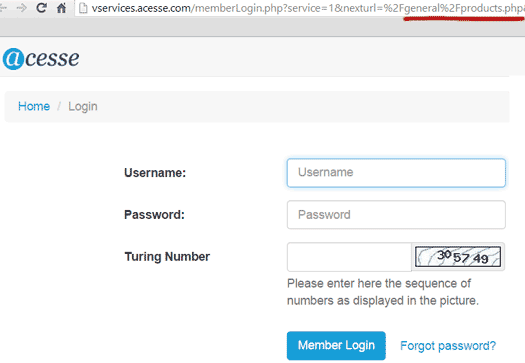 With a lack of pricing and even basic product information provided, this suggests that Acesse's v-services are not meant to be purchased by the general public.
The Acesse Compensation Plan
The Acesse compensation plan revolves around affiliates buying packages and recruiting new affiliates who do the same.
Three packages are offered to Acesse affiliates as follows:
Small Business Package – $559.95
Executive Business Package – $2059.95
Corporate Business Package – $5000
Each package is bundled with a series of advertising credits, which can be used to display advertising to other Acesse affiliates.
Acesse Affiliate Ranks
There are six affiliate ranks within the Acesse compensation plan.
Along with their respective qualification criteria, they are as follows:
Consultant – spend or sell 500 PV a month and recruit two affiliates
Gold Executive – recruit at least 2 affiliates who sign up for autoship, have a downline generating at least 2000 GV a month and spend or sell $20 a month
Platinum Executive – recruit and maintain at least 2 Gold affiliates and 1 Consultant ranked (or higher) affiliate (at least 3 must be on monthly autoship) and spend or sell $30 a month
Diamond Executive – recruit and maintain 2 Platinum affiliates and 1 Gold ranked (or higher) affiliate (at least 4 must be on monthly autoship) and spend or sell $40 a month
Blue Diamond Executive – recruit and maintain 2 Diamond affiliates and 1 Platinum ranked (or higher) affiliate (at least 5 must be on monthly autoship) and spend or sell $50 a month
Black Diamond Ambassador – recruit and maintain 2 Blue Diamond affiliates and 1 Diamond ranked (or higher) affiliate (at least 6 must be on monthly autoship) and spend or sell $100 a month
Note that PV stands for "Personal Volume"and is an affiliates own spend within the company or sales to retail customers.
GV stands for "Group Volume" and is the sales volume of an Acesse affiliate's recruited downline.
Autoship appears to be tied into the spending of advertising by affiliates, with ads costing between 25c and 15c – depending on how much an affiliate invests when they join the company.
Acesse's autoship appears to see affiliates buying advertising which is then shown to other Acesse affiliates.
Daily ROIs
ROI payments are made daily to Acesse affiliates, paying out an advertised dollar amount.
How much of a ROI is paid out to an Acesse affiliate depends on how much they invested in their affiliate membership:
Small Business Package = $1 a day
Executive Business Package = $6 a day
Corporate Business Package = $9 a day
In order to qualify for their daily ROI, Acesse affiliates must view 25 company-supplied ads a day.
Recruitment Commissions
Recruitment commissions in Acesse are paid out via a unilevel style compensation structure.
A unilevel compensation structure places an affiliate at the top of a unilevel team, with every personally recruited affiliate placed directly under them (level 1):

If any level 1 affiliates go on to recruit new affiliates, they are placed on level 2 of the original affiliate's unilevel team. If any level 2 affiliates recruit new affiliates, they are placed on level 3 and so on and so forth down a theoretical infinite number of levels.
In Acesse, payable unilevel levels are capped at twelve, with how many levels an Acesse affiliate is paid down determined by their affiliate rank:
Consultant – 5% on level 1 and 2% on levels 2 to 4
Gold Executive – 10% on level, 3% on levels 2 to 4 and 3% on levels 5 to 7
Platinum Executive – 10% on level 1, 3% on levels 2 to 5, 6% on level 6 and 1% on level 7
Diamond Executive – 10% on level 1, 3% on levels 2 to 6 and 1% on levels 7 and 8
Blue Diamond Executive – 10% on level 1, 4% on levels 2 to 6, 2% on levels 7 and 8 and 1% on levels 9 to 12
Black Diamond Ambassador – 10% on level 1, 5% on levels 2 to 6, 3% on levels 7 and 8 and 2% on levels 9 to 12
Infinity Bonus
The Inifnity Bonus allows an Acesse affiliate to earn beyond the first twelve levels of their unilevel team.
This is done by way of generations, with the system searching for an affiliate at a particular rank beyond level 12, and paying affiliates on the volume between the twelfth unilevel level and this affiliate.
This defines one generation beyond the first twelve levels, with Acesse paying out on up to six generations.
At the Blue Diamond Executive affiliate rank, Acesse pay out on up to 6 generations of Blue Diamond Executives. At the Black Diamond Ambassador rank, Acesse pay out down three generations of Black Diamond Ambassador generations.
Note that generations in any given unilevel leg are calculated independently from the others.
Joining Acesse
Affiliate membership with Acesse is tied to the purchase of an affiliate package:
Small Business Package – $559.95
Executive Business Package – $2059.95
Corporate Business Package – $5000
The primary difference between these levels is income potential via Acesse's compensation plan.
Conclusion
As per one Acesse affiliate's marketing spiel,
Regardless of the package you select, you WILL earn your money back as long as you are committed to viewing 25 Ads per day – that's a commitment of just 15 minutes a day!
We will provide you with the support you need to build your organization and create the Amazing Daily Pay that you would like to earn – whether it is $100 per day, $1,000 per day, $5,000 per day, $10,000 per day or more…

There are already thousands of members on our team making more than $300.00 per day – so we KNOW that is definitely achievable!

In fact, there are a number of members on our team who are already earning over $10,000 per day!!!
A visit to Acesse's website reveals a search engine. The implication here is that Acesse run a search engine to which they've bundled and advertising platform onto.
That however does not appear to be the case.
Research into the Acesse website's source-code reveals the site pulls up multiple spreadsheet templates, in which references to OpenSearch are made:
Baidu, a Chinese search engine, is also mentioned in the code above.
OpenSearch is operated by Amazon and as per their website:
OpenSearch is a collection of simple formats for the sharing of search results.

The web is a big place, and search engines that crawl the surface of the web are picking up only a small fraction of the great content that is out there.

Moreover, some of the richest and most interesting content can not even be crawled and indexed by one search engine or navigated by one relevancy algorithm alone.

Different types of content require different types of search engines. The best search engine for a particular type of content is frequently the search engine written by the people that know the content the best.

OpenSearch helps search engines and search clients communicate by introducing a common set of formats to perform search requests and syndicate search results.

You can use OpenSearch formats to help people discover and use your search engine and to syndicate search results across the web.
And Acesse appear to do just that.
They use OpenSearch to syndicate third-party search results.
So with Acesse having no unique search properties or technology of its own, what does that leave us with?
Not much.
Acesse affiliates buy in for between $559 to $5000, recruit others and receive a daily cut of the funds invested company-wide. Referral commissions on investments made by recruited affiliates are also available, paid out via the unilevel.
This pretty much a resurrection of AdSurfDaily autosurf model, bundled with an irrelevant search platform and based out of China.
Legitimate non-affiliate advertisers aren't going to waste their time with this garbage, as evidenced by the complete lack of retail pricing presented on the Acesse website.
This leaves only newly invested affiliate funds to be paid out to existing investors, in classic Ponzi fashion.
The advertising affiliates purchase is neither here nor there, as serves only to perpetuate the fraud (affiliates are required to view ads to earn their daily ROI).
A pay to play element also existing within the scheme, with the purchase of packages available also tied into the purchase of affiliate ranks (greater income potential):
Executive Business Package ($559.95) – buys an affiliate the Gold Executive rank
Corporate Business Package ($5000) – buys an affiliate the Platinum Executive rank
Given the inherent level of interest Acesse has in China, it's somewhat surprising to see that regulators haven't stepped in. Moreso given founder Steve Renner's history in the US.
One possible reason is that Acesse, in its current incarnation is relatively new. Paying out a maximum $9 a day ($270 every 30 days) on a $5000 investment also means that this is an extremely long-haul investment scheme.
On a single $5000 investment and discounting referral commissions paid out, Acesse investors are looking at 555 days before they start stealing funds from those who invested after them.
I don't believe Acesse has been running its current compensation plan for this length of time yet.
Barring regulatory invention beforehand, as with all Ponzi schemes, once the company starts racking up Ponzi liabilities on its existing investors beyond what they've currently taken in, things will start to fall apart.
Interest in the scheme outside of the affiliate program is zero, meaning whatever affiliates have pumped into Acesse thus far is all they have to pay out.
And that's not an infinite source of funds, yet $9 a day plus referral commissions is exactly what the company is advertising.
I don't know what went down back in 2010 but iNetGlobal was clearly a scam regulators should have shut down for good then and there.
They didn't, and now we've got this mess spreading across Asia.
How much investors have pumped into Acesse is unclear, but if the company's Alexa statistics are anything to go on and Renner's claim of 500,000 "customers" (read: investors), expect a massive Ponzi crash or regulatory intervention sometime over the next 18 months or so.
Update 4th March 2015 – In response to this review, Acesse President Bob Kinsella has been in touch:
The Acesse affiliate's website that you found is not a compliance-approved site. Thank you for bringing it to our attention. The content was not approved by our Compliance Department, nor is it an accurate reflection of our business model.

Compliance has contacted the member and the hosting provider to remove the website ASAP.

Acesse sells advertising packages. People can receive money to offset the cost of their advertising by viewing and rating ads.

In order to ensure that our participants are buying ads for the right reasons, we offer a 12-month refund policy on all initial ad package purchases. We certainly do not sell investments and there is no income guarantee.

It's unfortunate that the website you reviewed contained so many inaccuracies.
I'd originally used Acesse affiliate marketing presentations due to no compensation plan being made available on the Acesse website. The presentations used to write this review were all less than a year old, which I figured made them recent enough.
Kinsella included a copy of an Acesse compensation plan dated February 1st 2015, which is currently not available on the Acesse website.
I've glanced over this February compensation plan documentation and it appears to be significantly different enough to warrant a new writeup. I'll have an updated Acesse compensation plan review up by the end of the week.
Update 21st March 2015 – If you're wondering what happened to the review update, I did indeed write one as planned shortly after receiving an updated compensation plan document from Kinsella.
As I finished the review however I felt the documentation Kinsella sent me was incomplete, so I sent off the following email on March 5th:
Hi Bob, I've put together an updated review based on the compensation plan documentation you sent me.

Would you be able to also provide documentation pertaining to

– packages available to affiliates, including costs and what is provided in each package (I've seen packages up to $10,000 advertised)

– AdView (iPayment)

– iRewards and

– Equity Sharing

On the last three, detailed documentation as to how these three components work and what they pay out would be great. Thanks.
After finishing the review I noticed it was absent of the problematic Ponzi elements detailed in my original review. Yet when I visited the Acesse Marketing website, there was still references to the AdView, iRewards and Equity Sharing components.
Considering these were the elements that suggested Acesse Marketing was operating a Ponzi scheme, I didn't feel comfortable publishing an updated review based on what I felt was incomplete information.
Kinsella replied to my email a few hours later:
Hi OZ,

I'm visiting the Acesse Redwood City office today and I have a couple of planned meetings but I will get back to you.

Thank you for the email.

FYI: Acesse does have an office in Redwood City employing about 30 Technical employees, mostly engineers, and about 10 higher tier customer support.
Since March the 5th, I haven't heard anything further. And that was two weeks ago now.
Whether or not my query was too difficult to answer without admitting that indeed nothing has changed at Acesse I can't say for sure…
…but it certainly looks like it.
My impression is that Acesse are still running their autosurf Ponzi scheme, only they're trying to mask it by separating the documentation for it from their MLM compensation plan.
Pending any further correspondence from Bob Kinsella, I'll leave it at that.