97Metro Review: ViserLab HYIPLab Ponzi scheme

97Metro fails to provide ownership or executive information on its website.
97Metro's website domain ("97metro.com"), was privately registered on June 5th, 2023.
If we look at the source-code of 97Metro's website, we see it's running the template "Metro_HYIP".

Metro_HYIP is a Ponzi script template sold for HYIPLab, a Ponzi backend developed by ViserLab.
ViserLab sells HYIPLab for $199. The Metro_HYIP template costs $97.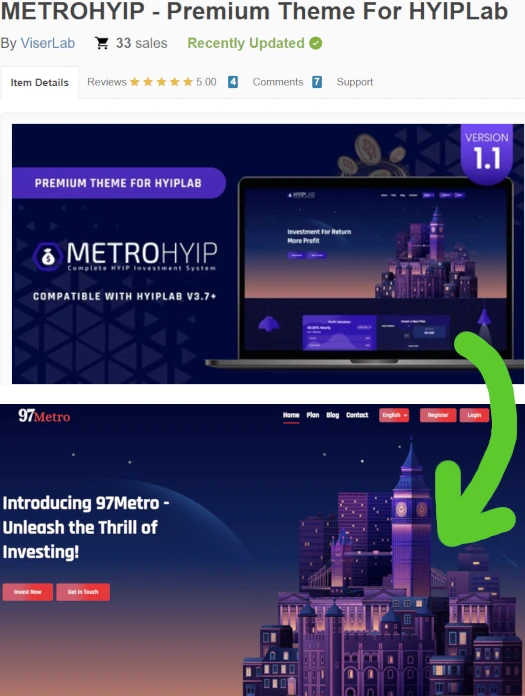 Presumably because they sell software designed to assist criminals with committing financial fraud, ViserLab don't provide ownership or executive information on its website.
As always, if an MLM company is not openly upfront about who is running or owns it, think long and hard about joining and/or handing over any money.
97Metro's Products
97Metro has no retailable products or services.
Affiliates are only able to market 97Metro affiliate membership itself.
97Metro's Compensation Plan
97Metro solicits investment on the promise of advertised returns:
invest $1 to $100,000 and receive 510% over 3000 hours
invest $1 to $500,000 and receive 535.6% over 130 days
invest $1 to $1,000,000 and receive 600% over 20 weeks
invest $1 to $1,000,000 and receive 780% over 6 months
The MLM side of 97Metro pays on recruitment of affiliate  investors.
Referral Commissions
97Metro pays referral commissions on invested funds down ten levels of recruitment (unilevel).

Specific referral commission rates are not provided.
ROI Match
97Metro pays a ROI Match on returns paid down five levels of recruitment.
Specific ROI Match rates are not provided.
Joining 97Metro
97Metro affiliate membership is free.
Full participation in the attached income opportunity requires a minimum $1 investment.
97Metro solicits investment in USD and cryptocurrency.
97Metro Conclusion
Despite existing for barely a few months, 97Metro claims it's
a trusted and reliable platform that specializes in providing individuals and businesses with innovative investment solutions to help them grow their wealth and achieve their financial goals.
Owing to 97Metro running on ViserLab's HYIPLab Ponzi script, we know that's a load of baloney.
As with all MLM Ponzi schemes, once affiliate recruitment dries up so too will new investment.
This will starve 97Metro of ROI revenue, eventually prompting a collapse.
The math behind Ponzi schemes guarantees that when they collapse, the majority of participants lose money.