5 Billion Sales Review: Magic internet money?

5 Billion Sales provides no information on its website about who owns or runs the company.
5 Billion Sales' website domain ("5billionsales.com"), was registered on May 25th, 2021.
The private registration was last updated on October 29th.
5 Billion Sales provides a UK virtual address in their "affiliate terms". This is meaningless.
Whoever is running 5 Billion Sales is doing so through Telegram.
At the time of publication Alexa ranks top sources of traffic to 5 Billion Sales' website as the US (17%), Egypt (8%) and Mexico (8%).
As always, if an MLM company is not openly upfront about who is running or owns it, think long and hard about joining and/or handing over any money.
5 Billion Sales
5 Billion Sales has no retailable products or services.
Affiliates are only able to market 5 Billion Sales affiliate membership itself.
5 Billion Sales' Compensation Plan
5 Billion Sales represents its affiliates will use "services".
Commissions are paid on recruitment of affiliates who pay to use these services.
Service 1
5 Billion Sales charges affiliates $100 a year to use Service 1.
A $5 commission is paid per personally recruited affiliate who signs up for Service 1.
Residual commissions are paid via a unilevel compensation structure.
A unilevel compensation structure places an affiliate at the top of a unilevel team, with every personally recruited affiliate placed directly under them (level 1):

If any level 1 affiliates recruit new affiliates, they are placed on level 2 of the original affiliate's unilevel team.
If any level 2 affiliates recruit new affiliates, they are placed on level 3 and so on and so forth down a theoretical infinite number of levels.
5 Billion Sales caps payable unilevel team levels at sixteen.
A $5 commission is paid annually per affiliate who is recruited into the unilevel team.
The residual $5 commission is contingent on unilevel team affiliates keeping up with their $100 Service 1 fees.
Service 2
Service 2 costs aren't disclosed.
5 Billion Sales states it will pay affiliates $10 per "client" referred to Service 2.
A $200 to $1000 "recurring profit share commission" will also be paid.
Service 2 residual commissions are paid out via a the same sixteen-level deep unilevel team as Service 1 (see above):
a $1 residual commission is paid per unilevel team affiliate who signs up for Service 2
$10 to $50 is paid on the "recurring profit share commission" earned by Service 2 unilevel team affiliates
Joining 5 Billion Sales
5 Billion Sales is allowing affiliates to signup for free during prelaunch.
The company's website states that after prelaunch 5 Billion Sales affiliate membership will cost "$199 to $5B".
Full participation in the income opportunity requires a $100 Service 1 annual fee.
5 Billion Sales Conclusion
5 Billion Sales claims to be a "holding company which operates twenty-five platforms across the web".
Secrecy and MLM don't go together, much the less when you're touting billions of dollars in projected sales.
And with the FTC recently cracking down on ridiculous marketing, 5 Billion Sales sets itself up as a prime target.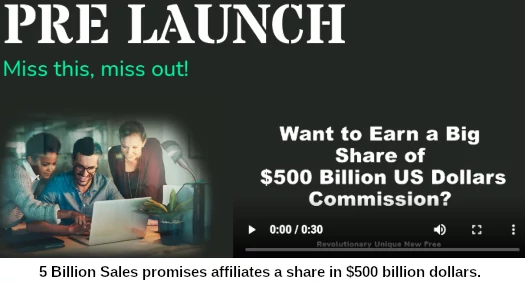 Or at least it would, if there was any viability to the business.
5 Billion Sales pitches two services, both of which are purportedly going to generate "magic internet money".
MAGIC INTERNET MONEY = Overrides from your 16 levels of affiliates.

If you do not build the network, you are going to be doing all the work on your own with nobody in your downline sending you the MAGIC INTERNET MONEY.
Hmm. So what are these services you ask?
We are starting the new wave of digital businesses that take the power from the tech giants and give it to the people.

Our services are unique and revolutionary however the knowledge to bring change to the Internet's web comes from the twelve years of industry experience the existing platforms have.
"Unique and revolutionary" but also a rip off of existing tech giants. Right.
But what exactly are you pitching?
What's service 1? Sorry, we will not reveal the full description of the service until launch date.
I see. And Service 2?
We provide a combination of revolutionary services to web site owners and marketers that will increase their sales by up to 1000x or more.

Clients pay us for results after they've increased sales (Profit Share).

This sales booster can be used on any web site that has at least one product or service that generates a profit or income when sold to include subscriptions and membership.
A sales funnel which, let's be honest, if it was profitable, wouldn't be attached to a cringey hypelord MLM prelaunch.
My own guess as to Service 1 is based on the following marketing;
We pay you to introduce existing Internet users to this revolutionary service.

There are 5 billion people using a similar service generating trillions for tech giants.

We are disrupting the market with a totally unique service that monetizes it!
The only "tech giant" services I can think of with that user-base are social networks and ecommerce platforms.
Supposedly users of Service 1 are going to earn $400 in passive income a year.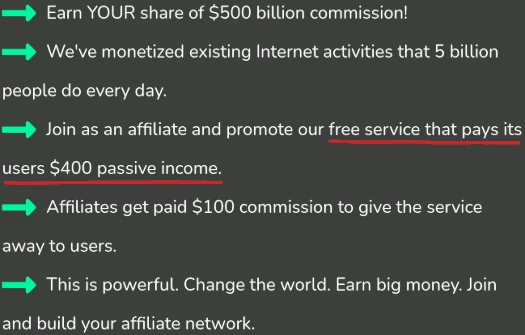 Between a social network and ecommerce platform, I'm leaning towards the former. But not a stand-alone network.
5 Billion Sales' "terms and conditions" suggests a service will be integrated on top of affiliate's existing social media accounts.
As part of the functionality of the Site, you may link your account with online accounts you have with third-party service providers (each such account, a "Third-Party Account") by either:

(1) providing your Third-Party Account login information through the Site; or

(2) allowing us to access your Third-Party Account, as is permitted under the applicable terms and conditions that govern your use of each Third-Party Account.

You represent and warrant that you are entitled to disclose your Third-Party Account login information to us and/or grant us access to your Third-Party Account.

By granting us access to any Third-Party Accounts, you understand that

(1) we may access, make available, and store (if applicable) any content that you have provided to and stored in your Third-Party Account (the "Social Network Content") so that it is available on and through the Site via your account, including without limitation any friend lists and

(2) we may submit to and receive from your Third-Party Account additional information to the extent you are notified when you link your account with the Third-Party Account.

Depending on the Third-Party Accounts you choose and subject to the privacy settings that you have set in such Third-Party Accounts, personally identifiable information that you post to your Third-Party Accounts may be available on and through your account on the Site.

Please note that if a Third-Party Account or associated service becomes unavailable or our access to such Third Party Account is terminated by the third-party service provider, then Social Network Content may no longer be available on and through the Site.

You will have the ability to disable the connection between your account on the Site and your Third-Party Accounts at any time.
Handing over your social network accounts to an MLM company promising billions in commissions, run by randoms pretending to be in the UK.
What could go wrong?
Spam. Lot's of unsolicited spam being sent from your account(s).
We make no effort to review any Social Network Content for any purpose, including but not limited to, for accuracy, legality, or non-infringement, and we are not responsible for any Social Network Content.
How ever 5 Billion Sales is integrated into social networks, or even if they do wind up launching their own FaceBook clone, these type of MLM opportunities inevitably wind up operating as pyramid schemes.
The only commissions paid out wind up being tied to recruitment.
Any time someone has tried to profit share social network advertising fees, users end literally end up making cents. Or nothing at all.
That's kinda what happens when you enter the tech space ass-backwards (marketing ahead of an actual product/service).
Right now 5 Billion Sales is primarily recruiting affiliates in the US. This is a problem because the company's marketing is clearly violating the FTC Act.
Not to mention failure to disclose information about its services, as well as basic company ownership and executive information.
This wouldn't be a problem without the attached MLM opportunity. But if an MLM company is going to tout "earn YOUR share of $500 billion commission!", they need to provide consumers with disclosures.
But Oz, it's free to sign up. I'm not losing anything!
With respect to the FTC Act, that doesn't matter. With respect to potential losses down the track, MLM social network and ecommerce platforms don't make money on the services.
They never have and never will.
Why?
Because the only people that use them are in the income opportunity. They're not there to actually use the service.
Cue attempts to generate revenue from affiliates at some point, commissions paid out on those fees and the inevitable slow-death collapse.
This is your classic pyramid scheme model. And it's what 5 Billion Sales is setting itself up as.
One last thing I want to touch on is identity theft.
5 Billion Sales' registration form requests an address and phone number.
Here's what they do with it:
You and 5 Billion Sales agree that we may access, store, process, and use any information and personal data that you provide following the terms of the Privacy Policy and your choices (including settings).
And here's 5 Billion Sales' privacy policy:
We may share Your personal information in the following situations:

-with service providers

-for business transfers

-with affiliates

-with business partners

-with other users

We may use Your information to evaluate or conduct a merger, divestiture, restructuring, reorganization, dissolution, or other sale or transfer of some or all of Our assets, whether as a going concern or as part of bankruptcy, liquidation, or similar proceeding, in which Personal Data held by Us about our Service users is among the assets transferred.

The Company will retain Your Personal Data only for as long as is necessary.
But Oz, existing services by tech companies do this too!
Unless they're advertising billions in commissions and running an MLM opportunity, it's not a comparable scenario.
That in no way justifies what other companies are doing, but with respect to 5 Billion Sales due-diligence is a "whataboutism" strawman.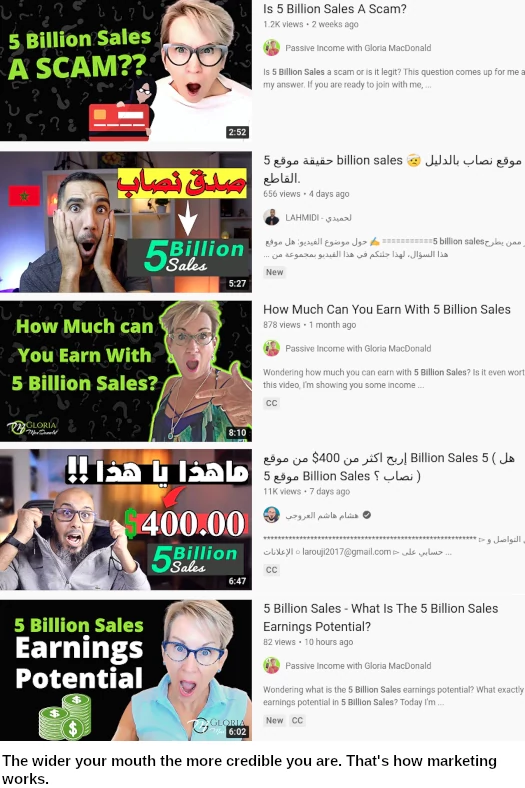 The long and the short of it is you aren't going to earn billions (or even $400 a year) from a company that can't even tell you what they're doing.
The scammers behind 5 Billion Sales are building an email list. To what end hasn't been made clear yet.
I can guarantee it's not going to be worth your time waiting around to find out.