ZetBull pyramid fraud warning from Russia

ZetBull has received a pyramid fraud warning from the Central Bank of Russia.
As per the CBR's May 17th warning, ZetBull exhibits "signs of a financial pyramid".
ZetBull launched late last year and pitches returns of up to 6500%.
ZetBull is a Boris CEO Ponzi scheme, originally fronted by actors from Moscow.
Over the past few months, traffic to ZetBull has collapsed: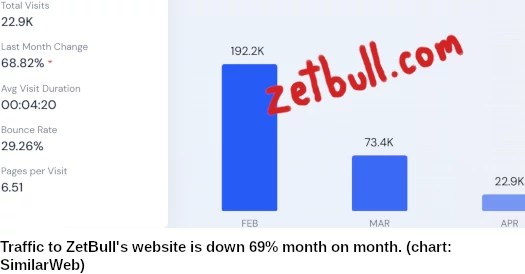 When BehindMLM reviewed ZetBull in September 2021, traffic to ZetBull's website was originating from Egypt, Saudi Arabia and Russia.
Recruitment in those countries has since collapsed, with scammers moving on to France (21%), Kazakhstan (16%), Romania (7%), Argentina (6%) and Cote d'Ivoire (4%).
Of note is traffic from France is down 55% month on month. Romania is down 29%.
Investor complaints on ZetBull's social media suggests the Ponzi scheme collapsed on or around March 2022: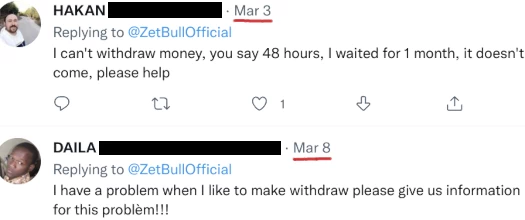 Given the scammers behind ZetBull are in Russia and appear to have avoided recruitment there getting too big, it's unlikely Russian authorities will take further action.