Youngevity hasn't filed financial reports with SEC since 2020

The SEC has initiated administrative proceedings against Youngevity.
The federal regulator took action after noting Youngevity has "not filed any periodic reports since" September 2020.
Youngevity is a publicly traded company under the ticker "YGYI".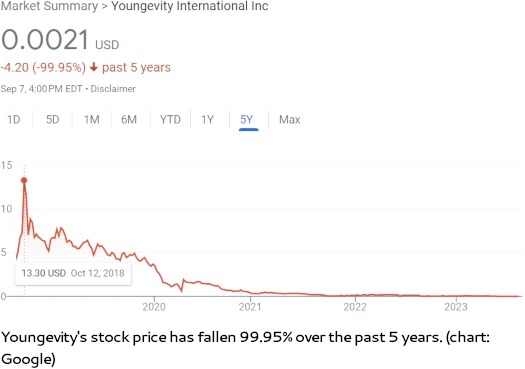 As alleged by the SEC in a September 12th order, Youngevity
is delinquent in its periodic filings with the Commission, has repeatedly failed to meet its obligation to file timely periodic reports, and failed to heed a delinquency letter sent to it by the Division of Corporation Finance requesting compliance with its periodic filing obligations or, through its failure to maintain a valid address on file with the Commission as required by Commission rules, did not receive such letter.

In view of the allegations made by the Division of Enforcement, the Commission deems it necessary and appropriate for the protection of investors that public administrative proceedings be instituted.
The SEC's administrative proceedings will seek to establish whether the SEC's allegations are true. If so, the SEC will then determine whether it's "necessary and appropriate" to take further action against Youngevity.
Youngevity has been directed to file an answer to the SEC's order within ten days. The SEC's Enforcement Division then has 14 days to respond, after which a public hearing will be scheduled.
If Youngevity fails to answer, the SEC will consider them to be in default of the September 12th order.