Yotta Money Hyrbid Review: $10 investment scheme

The Yotta Money Hybrid domain ("yottamoneyhybrid.com") was registered on the 10th of March 2013 but the domain registration information is set to private.
On the company's website however an "Arindam Yinh" appears to be the owner. Further research reveals Yinh allegedly operating out of Mumbai in India.
When queried about past MLM ventures, Yinh replied
Its my first. Trying my luck…
Read on for a full review of the Yotta Money Hybrid business opportunity.
The Yotta Money Hybrid Product Line
Yotta Money Hybrid has no retailable products or services, with affiliates only able to advertise membership to the income opportunity itself.
Upon joining Yotta Money Hybrid, affiliates then purchase positions within the company's compensation plan. Bundled with each position are a series of advertising credits.
The Yotta Money Hybrid Compensation Plan
The Yotta Money Hybrid compensation plan is a combination of a single line cycler and investment scheme.
When an affiliate buys a position in the compensation plan for $10, it is split evenly ($5/$5) between the two compensation plan components.
Cycler Commissions
When an affiliate buys a position in the Yotta Money Hybrid compensation plan, $5 goes into the company's cycler and a position is created for them at the bottom of the queue.
The $5 goes to the top position in the queue, paying out when it accumulates $7.50 (2 new positions are purchased below it).
ROI
The other $5 an affiliate spends to purchase a position in the compensation plan is paid into an investment scheme, paying out a daily 2% ROI over 180 days.
25% of all ROIs paid out must be reinvested back into the scheme.
Referral Commissions
Yotta Money Hybrid pay out referral commissions using a unilevel compensation structure.
A unilevel compensation structure places an affiliate at the top of a unilevel team, with every personally recruited affiliate placed directly under them (level 1).

If any of these level 1 affiliates recruit new affiliates of their own, they are placed on level 2. If any level 2 affiliates recruit new affiliates they are placed on level 3.
How much of a referral commission an affiliate earns depends on what level the purchasing affiliate falls on in their unilevel team:
Level 1 – 5%
Level 2 – 3%
Level 3 – 2%
Joining Yotta Money Hybrid
Membership to Yotta Money Hybrid is free, however affiliates must invest in at least one $10 compensation plan position if they wish to withdraw any commissions or ROIs earnt (including free members).
Conclusion
Taken from the Yotta Money Hybrid website itself, here's a clear summary of the company's business model: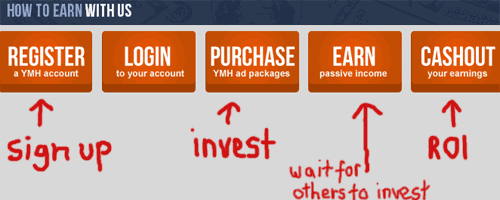 Furthermore when Arindam Yinh was asked whether Yotta Money Hybrid had any "outside income" (other than affiliate investments), here was his response:
Currently NO. but i will be adding more streams and options in future.
Y'huh.
Folks this is about as Ponzi as you can get… and 180 days is a long time to hope new investors are going to keep pumping money into the scheme.