Xseed Prelaunch Review: More info required!
No information is provided on the Xseed website indicating who owns or runs the business. Infact, no information about the business is currently provided at all. Visitors to the Xseed website are only able to "pre-enroll" or watch a marketing video.
The Xseed website domain ("xseedhealth.com") was registered on the 12th of June 2013, however the domain registration is set to private.
Further research reveals that the Xseed Facebook page names a "John de Vries" as Xseed's CEO: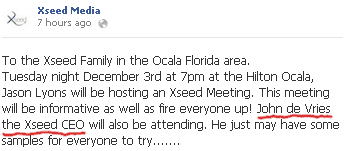 Marketing videos from Xseed Media on Youtube go on to announce that the company is currently in prelaunch, with an expected launch date of January 2014.
In another video, hosted by Jason Lyons (presented as an Xseed affiliate), an office building referred to as Xseed's "worldwide headquarters" in Las Vegas, Nevada is shown: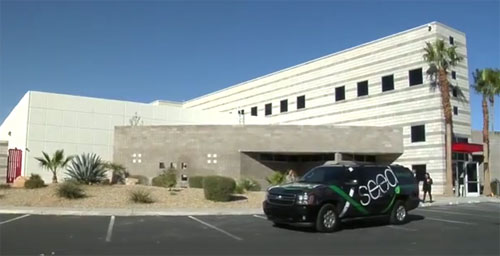 Prior to Xseed, John de Vries (credited as John Devries and listed as Xseed's Director, Secretary, President and Treasurer in official company documents), was the initial master distributor for Nutrie.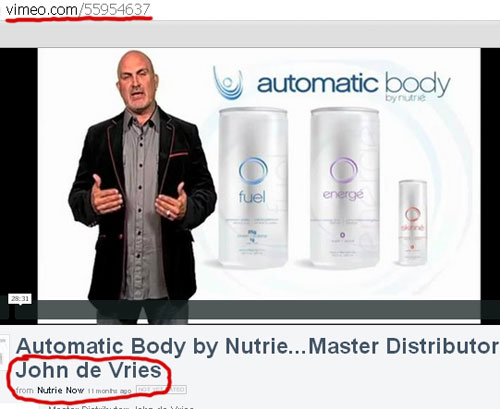 Nutrie, who appear to have official launched earlier this year operate in the health and nutrition MLM niche.
The marketing copy attached to the above Nutrie marketing video provides some additional insight into de Vries' MLM career:
Prior to joining Nutrié, Mr. de Vries was CEO of Crust Gourmet Pizza Bar. He was the lead in developing the hottest and most profitable unit franchise system worldwide.

Prior to Crust Gourmet Pizza Bar, Mr. de Vries was President of Extreme Investment Group, where he provided consulting services to turn around companies, developed business plans, raised capital for startup companies or helped with the refinancing of companies.

He worked with clients ranging from quick service restaurants, payroll companies, Real Estate companies, cosmetic companies, etc. .

Prior to being President of Extreme Investment Group Mr. de Vries became a distributor with Monavie. While at Monavie, Mr. de Vries became the fastest growing distributor in Monavie history, breaking every previous record from growth, to volume, to rank.
Why de Vries left Monavie and his master distributor position at Nutrie is not immediately clear (I wasn't able to find anything specific).
Read on for a full review of the Xseed prelaunch MLM business opportunity.
The Xseed Product Line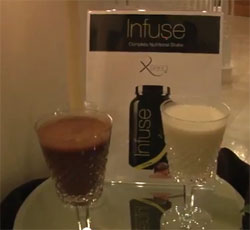 With no information provided on the Xseed website about their products, I had to turn to their affiliate's marketing efforts to learn what it is they plan to sell.
From what I can gather Xseed are going to operate in the health and nutrition MLM niche, which is not surprising considering Nutrie and Monavie operate in the same niche.
Xseed Health has 6 products available at this time. A meal replacement shake, super greens, aox antioxidant & multivitamin, slender weight management, nutritional bars & an energy supplement.
From the company name I gather some seed or the other is a key ingredient, however the above information was all that was available at this time.
The Xseed Compensation Plan
The Xseed compensation plan offers a binary frontend backed by unilevel based residual commissions. Several additional performance bonuses are also offered.
Retail Commissions
Xseed offer pay out a 25% commission on all retail orders placed by non-affiliate customers.
Jump Start Commission
Xseed's Jump Start commission is what you'd typically call a Fast Start Bonus. It pays out on the volume a purchase by a newly recruited affiliate makes.
The Jump Start Commission pays out 50% of the commission to the recruiting affiliate, 30% to their upline (the affiliate who recruited them) and 20% to their upline (3rd level upline).
No specifics on the how much of a Jump Start Commission is paid out are provided in the Xseed compensation plan, however a figure of $100 is quoted  (which would then be split over three levels as per the percentages above), generated off a $500 affiliate joining pack purchase.
Binary Commissions
Binary commissions are paid out on both retail and Jump Start Commission volume.
A binary compensation structure places an affiliate at the top of two binary teams, left and right.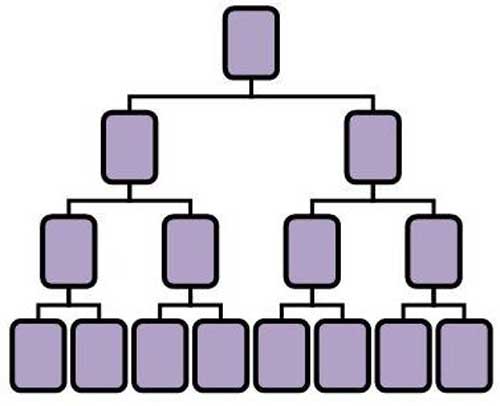 These binary are filled with recruited affiliates, either directly or via the recruiting efforts of an affiliates up and downlines.
As mentioned earlier, retail and Jump Start Commission volume is tracked within both an affiliate's binary teams, with payments being issued on the volume of the weaker of the two teams.
This percentage starts at 10% but can rise to 20% as an Xseed affiliate is promoted.
Note that no affiliate membership rank qualification criteria is provided in the Xseed compensation plan material, however a company conference call I listened to mentioned that rank qualification is unilevel volume and recruitment (3 recruits to max out the plan) based.
Unilevel Commissions
Residual commission in Xseed are paid out via a unilevel compensation structure.
A unilevel compensation structure places an affiliate at the top of a unilevel team, with every personally recruited affiliate being placed directly under them (level 1):

If any of these level 1 affiliates go on to recruit new affiliates, they are placed on level 2 of the original affiliate's unilevel team. If any level 2 affiliates recruit new affiliates they are placed on level 3 and so on and so forth down a theoretically infinite number of levels.
Xseed pay out on seven of these levels, with commissions being paid out on "up to 5%" of the volume generated across these levels.
No specifics are provided, but it is assumed the percentages and amount of levels an affiliate is paid out on goes up according to their Xseed affiliate membership rank.
Check Match Bonus
The Xseed Check Match Bonus is a matching bonus paid out on volume generated within a unilevel team.
The bonus is paid out over affiliate rank generations (typically this involves a generation being defined up until an affiliate of a specific rank is found within an individual unilevel leg), payable up to 10% down a maximum of five generations (subject to an affiliate's membership rank).
Check Match and Unilevel Doubler
The Check Match and Unilevel Doubler, as the name suggests, doubles the commission paid out to an affiliate on their highest earning unilevel level and Check Match generation.
Presumably there is some qualification criteria attached to this bonus, however none are currently provided in the Xseed compensation plan material.
Commissions Insurance
At various affiliate rank levels, Xseed guarantee a minimum commission level via what they call "Commission Insurance".
For Bronze, Silver, Gold, and Platinum Ambassadors we have a new bonus never before seen in the industry.

When certain requirements are met, these levels are eligible for 6 months of security on your income. Thus making sure that you will not earn less than $500, $1000, $1500, and $2500 per month.
Rank Achievement Bonus
As with much of the Xseed compensation no specifics are provided on their Rank Achievement Bonuses, however the company does state they pay out $580,000 in bonuses as an affiliate advances in rank.
Lifestyle Bonus
Xseed's Lifestyle Bonus is a monthly bonus paid out at various affiliate membership ranks.
Starting with the Ambassador rank (requiring 4000 unilevel group volume each month), an affiliate can earn $150 a month. This is increasable to $10,000 a month
Joining Xseed
Other than a $500 affiliate pack purchase, I haven't seen any provided costs for Xseed affiliate membership.
Pre-enrolling during the company's prelaunch to "lock your position in" is free.
Conclusion
Off the bat, prelaunch or otherwise, Xseed need to update their website with information about the company.
Having a splash page which requests people to sign up but doesn't provide them with any information (other than a short marketing video that encourages them to sign up), is just not good enough in today's MLM market.
Product wise I can't say much, other than it seems Xseed is going to compete directly with both Nutrie and Monavie, CEO John de Vries' previous companies. Again, prelaunch or not, if you've finalised your product lineup then not having information (including retail pricing) on your website is just not good enough.
On the compensation side of things, based on what we know, the only red flags I identified was the possibility of recruitment focus due to unilevel-volume based affiliate rank qualification and Jumpstart Commissions.
If there's no retail requirements built into the compensation plan (either volume or customer requirements), I'm not seeing why affiliate's wont just ignore retail and focus on affiliate recruitment.
Sign up 'em up on a package, get your upfront Jumpstart Commission and binary volume, and then so long as they maintain autoship you get paid each month.
One would hope there are some further retail incentives or qualification criteria that Xseed haven't revealed yet, otherwise there might be a potential problem with overall retail volume in the company.
Another red flag is calling a commission guarantee "commission insurance". Uh, yeah… Xseed might want to change that. If for nothing else than to avoid the opportunity being  marketed as "spend $x, get your recruits to spend $y and then enjoy a company guaranteed commission of $z for 3 or 6 months (however long it is)".
It's an interesting concept but I think needs more work on how it's presented and what they're going to call it before the January launch.
Other than that, if they Xseed can strike a balance between retail and recruited affiliate volume, whilst maintaining Group Volume based qualification in the unilevel, this might be worth taking a deeper look into.
First things first though, update your website guys! No MLM company should not be signing up people without disclosing what they plan on charging affiliates come launch.
Footnote: This review is written on information that is currently available on Xseed, both officially and unofficially via their affiliate's marketing efforts. I've done my best to include as much as I can but there's obviously bits of information that is missing.
Pending any major changes to the compensation plan I'll either update this review or write another one from scratch after the January 2014 launch.
Update 10th July 2014 – Following the launch of Xseed and observable differences in their prelaunch and postlaunch compensation plan, I've published an updated BehindMLM review of Xseed.