Womsta Review: App based deal network
Womsta stands for "Word of Mouth Socially Targeted Advertising" and launched in August 2013.
Womsta appear to be based out of Queensland in Australia and state on their website that the company was founded by Warren and Wendy Hickey, however no corporate or management structure is clarified.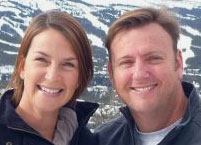 Warren and Wendy Hickey (right) started their MLM career in Monavie, dating back to January 2009 and reaching the rank of "Diamond Executive". On their respective LinkedIn profiles, Wendy lists participation in Movavie up until January 2013, with Warren leaving the company in December 2011.
In addition to Monavie Warren also lists participation as an affiliate in the Numis Network from December of 2011 to the present date.
On the management side of things, Womsta appears to be the first MLM venture for both Warren and Wendy Hickey.
Read on for a full review of the Womsta MLM business opportunity.
The Womsta Product Line
Taken from the Womsta website,
Womsta is a smart mobile App that makes saving money easy for the consumer. Womsta also offers merchants a digital platform from which they can promote their deals and discounts.
In a nutshell, Womsta's retail offering are what they call "deal credits", with deal credits being required to redeem discounts offered by merchants through the Womsta app.
Each Womsta app install (the app is free) comes with five free deal credits, with additional credits sold in "packages":
5 Deal Credits – $6.50 ($1.30 each)
10 Deal Credits – $9.75 (98 cents each)
25 Deal Credits – $16.25 (65 cents each)
Deal credits are also obtainable when by 'sharing deals through Facebook, Twitter, Email or SMS".
The Womsta Compensation Plan
Womsta's compensation plan revolve around the sale of deal credits and attracting merchants to the network.
Womsta Affiliate Membership Ranks
There are nine affiliate membership ranks within the Womsta business opportunity and, along with their respective qualification criteria, they are as follows:
Associate – entry level
Bronze – personally recruit at least 1 new affiliate
Silver – personally recruit at least 2 new affiliates
Gold – personally recruit at least 4 new affiliates
Executive – personally recruit at least 6 new affiliates, at least one of which is a Gold affiliate
Director – personally recruit at least 8 new affiliates, at least one of which is an Executive affiliate
1 Star Director – personally recruit at least 12 new affiliates, at least one of which is a Director affiliate
2 Star Director – personally recruit at least 20 new affiliates, at least one of which is a 1 Star Director affiliate
3 Star Director – personally recruit at least 24 new affiliates, at least two of which are 2 Star Director affiliates
Retail Commissions
Womsta pay out a 30% retail commission on all deal credit packages purchased by an affiliate's retail customers (non-affiliates).
Residual Commissions
Residual commissions in Womsta are paid only on the volume generated by affiliate purchases of deal credits:
20 deal credits – $11 (55 cents each, 1o PV)
125 deal credits – $55 (44 cents each, 10 PV)
250 deal credits – $82.50 (33 cents each, 15 PV)
1000 deal credits – $110 (11 cents each, 55 PV)
Note that PV stands for Product Volume, and is used to calculate an affiliate's monthly residual commissions.
This is done via an 3×12 matrix, which gradually expands in width until an affiliate reaches the 3 Star Director rank and the matrix expands width wise along the first level (maintaining the structure of an addition three positions per each position the level before).
An 3×12 matrix places an affiliate at the top of the matrix with three positions directly under them (level 1).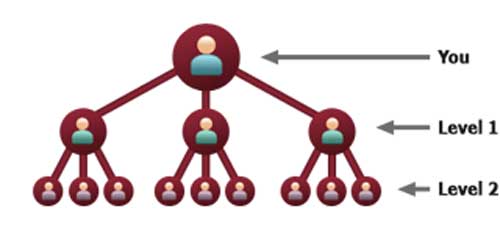 In turn, these three positions branch out into another three positions (level 2) and so on and so forth down a total of 12 levels. Each of these positions represents a recruited affiliate, either via direct recruitment or the recruiting efforts of an affiliate's up and downlines.
As an affiliate increases in membership rank, the first level of their matrix increases, expanding out to a theoretically unlimited number of first level positions, each branching out into an additional three positions per level for 12 levels each:
Associate, Bronze, Silver and Gold – 3 first level positions
Executive – 4 first level positions
Director – 5 first level positions
1 Star Director – 6 first level positions
2 Star Director – 7 first level positions
3 Star Director – 8 first level positions
Residual commission are paid via the matrix, at a rate of 10% of the Group Volume (GV) generated by level 1 affiliates and 5% for the rest of the levels. Remembering that GV is generated by affiliate's in a matrix purchasing deal credits.
How many matrix levels GV is counted from again depends on affiliate's membership rank:
Associate – 1 level
Bronze – 2 levels
Silver – 3 levels
Gold – 4 levels
Executive – 6 levels
Director – 7 levels
1 Star Director – 8 levels
2 Star Director – 10 levels
3 Star Director – 12 levels
Eg. if an affiliates downline generates 500 GV for a month, an affiliate would earn 10% of that which equates to $50.
Residual Commission Matching Bonus
Womsta offer Executive and higher ranked affiliates a matching bonus of up to 20% of the matrix earnings of their downline, paid out down four levels of recruitment.
How many recruitment levels an affiliate is paid out on and how much is determined by their affiliate membership rank:
Executive – 5% on level 1
Director – 10% on level 1 and 5% on level 2
1 Star Director – 15% on level 1, 10% on level 2 and 5% on level 3
2 Star Director – 20% on level 1, 15% on level 2 and 10% on level 3
3 Star Director – 20% on level 1, 15% on level 2, 10% on level 3 and 5% on level 4
Note that when we talk recruitment levels, level 1 refers to personal recruits, level 2 any affiliates level 1 affiliates recruit, level 3 any affiliates level 2 affiliates recruit and level 4 any affiliates that level 3 affiliates recruit.
Deal Credit Bonus
A deal credit bonus is paid out 3 upline levels whenever a newly recruited affiliate purchases a 125 ($50) or 250 ($75) deal credit package.
125 deal credit package – $10 to the recruiting affiliate and $5 to their upline and their upline's upline
250 deal credit package – $15 to the recruiting affiliate and $7.50 to their upline and their upline's upline
Note that an affiliate must be Bronze ranked or higher to qualify for the Deal Credit Bonus.
Merchant Bonus
When a Bronze or higher ranked affiliate brings a merchant into the Womsta network ($365 annually), that affiliate and 2 levels of their upline qualify for the Merchant Bonus.
$80 is paid to the recruiting affiliate
$40 is paid to their upline and their upline's upline
Joining Womsta
Affiliate membership to Womsta is $18.65 payable annually.
In addition to this cost affiliate's are also 'required to make a minimum purchase order of Deal Credits per month of  $10.00 plus GST to remain active'.
As per the Womsta compensation plan material, if an affiliate is not active they are not eligible to earn commissions.
Conclusion
At its core there's nothing wrong with an app that provides access to third-party merchant discount offers. When combined with an MLM style compensation plan and business model however, several red flags arise.
The first is the question of a product. Womsta do indeed have a retail offering in the form of deal credits however within the context of an MLM business opportunity, this falls short in that it's merely providing access to third-party discounts.
Discounts, or access to discounts alone are not a viable product for an MLM company to market. This is because on their own, inherently deal credits are worthless. It is only when they are combined with the income opportunity, specifically the commissions attached to it that deal credits gain any worth.
This lack of value in what the company claims is its product leads itself to an opportunity where the bulk of the revenue is generated by affiliates, purchasing said product simply to participate in the income opportunity.
And this is evidenced by the Womsta compensation plan.
A flat rate 30% of retail deal credit sales volume is paid out as a commission, with only affiliate deal credit purchases being paid out via the MLM side of the compensation plan.
An affiliate's residual earnings are wholly tied into the recruitment of new affiliates, with Womsta stating that
an Associate's commission is determined by their current rank status.
And how do affiliates gain rank promotion?
Associates advance in rank as they personally introduce more Associates to the program which opens the levels in depth from which they can earn; this in turn increases their ability to earn more from the compensation plan.
In essence, the core idea behind residual income in Womsta is to recruit affiliates and get them to spend money on deal credits – giving away those credits to attract new affiliates to the opportunity.
This is further evidenced by the range of deal credit packages available to affiliates (20 to 1000) in contrast to the three packages available to retail customers (5-25).
By design, Womsta appear to wholly expect affiliates to be the primary purchasers of deal credits. Perhaps not that surprising when you consider the company states openly that the best way for an affiliate to remain active is to sit on a monthly autoship order of credits:
To remain active, Associates can opt in to automatically purchase a monthly Credit Package by going on Autoship.

While this is optional, it is obviously the best way to make sure you remain "Active".
Remember that whilst an autoship order might be active, a minimum monthly spend by affiliates on credits is not if they wish to maintain "active status".
In summation, Womsta provides a product that holds little to no inherent value to the end-user (retail customer). Pre-paying for access to third-party merchant discounts makes little sense, unless of course someone is earning a commission on the sale of said access (credits).
As such I'm doubtful of Womsta attracting any significant retail activity. This can be checked by enquiring with a potential upline as to how many retail customers they have purchasing credits against how many recruit affiliates they have.
Anything less than a 1:1 ratio would indicate that Womsta is effectively operating as a recruitment driven pyramid scheme.
By all means make the necessary enquiries before making a final decision on the opportunity. But personally I'd be very surprised to hear of anything other than Womsta being full of affiliates buying deal credits each month, subsequently earning commissions off the purchases made by their downline.