Victory100 Review: Social network manager & 2 tier gifting

Victory100 launched in mid 2013 and are based out of the US state of Texas.
On the management side of things, heading up Victory100 is CEO and President, Kevin Harding.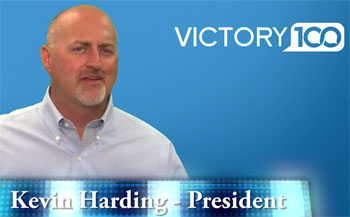 In his Victory100 executive bio, Harding (right) claims he 'entered the network marketing industry after graduating with a business degree'. That was some time back, with Harding entering Sportron International, an MLM company founded by his father, Keith Harding.
Sportron International was launched in 1992 and market a series of health and wellness products. Sportron's primary market appears to be that of South Africa.
Kevin Harding was eventually made President of Sportron, with his father serving as CEO. In Victory100, Kevin is CEO with his father serving as Chairman. Reading between the lines, it would appear Victory1000 is Kevin Harding's attempt to strike out on his own (whilst still maintaining his position at Sportron).
Read on for a full review of the Victory100 MLM business opportunity.
The Victory100 Product Line
Victory100's product offering is a social media management platform called V-Social.
V-SOCIAL is a multi-faceted social media management system. The system includes five distinct sections: INBOX, POST, MONITOR, TRAINING, and CONTENT.
The basic gist of V-Social is a central platform to manage and post content to the user's social network profiles (including automated spam in the form of ready-made "spun" articles).
Victory100 also include some social network training, as well as an article library (which serves as the source for spun articles that can be scheduled to post automatically).
A second personal development product called V-Success is also offered, which provides subscribers access to a series of "personal development training videos", ebooks and infographics.
Unfortunately neither of Victory100's products appear to be available at a retail level, with both being attached to the Victory100 MLM business opportunity (affiliate membership).
Both products are monthly subscriptions, with V-Social costing $44.95 a month and V-Success an additional $100 on top of that.
The Victory100 Compensation Plan
The Victory100 compensation plan revolves around affiliates signing up at either the V-Social or V-Success level (or both), and then recruiting other affiliates who do the same.
As per the Victory100 compensation plan, affiliates must purchase products in order to receive commissions on them:
To earn commissions on a sale, you must own that product.
Commissions in Victory100 are paid out using a perpetual 2-up compensation structure. 100% of the product fees charged are paid affiliate to affiliate, with Victory100 only keeping a $19.95 admin fee.
This equates to a $25 commission on V-Social and $100 on V-Success.
Every 2nd, 4th, 6th, 8th, 10th and every 5th affiliate signed up thereafter is "passed up" to the affiliate who recruited the affiliate who made the sale. The affiliate who made the sale gets to keep every other commission generated (1st, 3rd, 5th, 7th, 9th, 11th and so on and so forth).
In turn, recruited affiliates must also pass up their 2nd, 4th, 8th, 10th and every 5th sale thereafter to the affiliate who recruited them. This process repeats itself down an infinite number of recruitment levels.
Joining Victory100
With commissions tied into the mandatory purchase of Victory100 products, this equates to a defacto affiliate fee of $144.95 and then $44.95 a month to maintain V-Social and an affiliate's position in the compensation plan.
Conclusion
With no retail option available, Victory100 dissolves into an effective cash gifting scheme.
Affiliates purchase a position in the scheme for $144.95 (or $44.95 if they only wish to buy in one tier), and then gift the affiliate who recruited them 100% of their "product fee".
Victory100 themselves only collect a monthly "tech and support fee", with 100% of the "product fee" being gifted among affiliate participants in the scheme.

One could replace V-Social and V-Success with anything, and the end result would be the same. Affiliate money flows in from new affiliates and is then paid out to those who recruited them. With new affiliates then required to recruit new affiliates to receive their own gifting payments.
In line with such schemes, participants are required to buy into the tiers offered in order to qualify to receive payments from recruited affiliates. In Victory100, there are two tiers offered, $25 and $100.
Of note is that in his Victory100 executive bio, Kevin Harding's father, Keith Harding (President of Victory100), is credited with being 'an active member of the Direct Selling Association'. Furthermore, Sportron International is 'an active member of the Direct Selling Association'.
Simply put, these two should know better than to be messing about with thinly-veiled gifting schemes…