Validus collapses, investor withdrawals disabled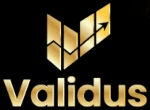 The Validus Ponzi scheme has collapsed.
In an April 20th Telegram group post, Validus informed investors that withdrawals have been disabled.
The ruse behind Validus' collapse is "back office upgrades". Validus is claiming it will take 26 days to perform
a complete security overhaul and payment system update following the success of back office upgrades.
In legitimate business environments, changes are rolled out and tested on a mirrored platform. Once confirmed to be working they are deployed to live servers with little to no downtime.
The actual reason for Validus' collapse is a decline in new investment. Specific dollar amounts can't be provided but we can see SimilarWeb tracking a decline in traffic to Validus' website: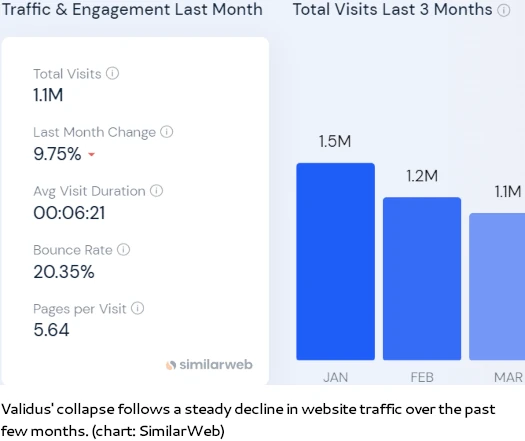 For MLM Ponzi schemes, a decline in website traffic correlates to a decline in new investment.

While it works to separate investors from their money, Validus has dangled May 16th as a potential date for resuming withdrawals.
We expect this work to be completed on May 16, during which time withdrawals will be temporarily suspended.

However, our Gift Wallet remains fully operational and we encourage members to use it during this time.
Validus' "gift wallet" refers to an internal mechanism through which investors can transfer backoffice funds to each other.
This is typically used as a recruitment tool, allowing scammers to accept money direct from their victims.
Once payment has been received, recruiting scammers then dump worthless Validus backoffice funds on their victims through the gift wallet.
Validus' withdrawal liability remains the same but no new money enters the company.
Pending further updates, gift wallet recruitment is now the only way Validus promoters can continue to steal money.
Validus is a Dubai-based Ponzi scheme run by former OneCoin scammers Parwiz Daud and Mansour Tawafi.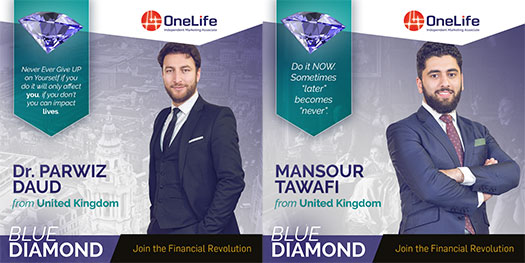 Originally from the UK, Daud and Tawafi fled to Dubai after OneCoin.
Validus' collapse follows regulatory fraud warnings from New Zealand, Australia and Belgium.
At the time of its collapse, SimilarWeb tracks top sources of traffic to Validus' website as France (19%), Colombia (11%), Brazil (10%), the UK (9%) and the Netherlands (7%).