uThriv Review: Product description fail

uThriv launched in late May and operate in the nutrition and personal development MLM niches.
The company is based out of the US state of Georgia and headed up by President and co-founder, Joe Tessin.
According to his uThriv corporate bio,
Joe Tessin has spent his adult life building organizations, leading teams, and coaching individuals as well as consulting with executive management teams.

Most recently Joe has worked as VP of Sales for a network marketing company and that role rekindled his passion for the industry and ultimately caused the spark that is known as uTHRiV. Joe built several network marketing teams over the last decade and was a top income earner in two companies.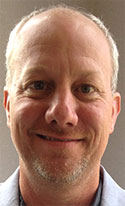 No specific company name are mentioned, however further research reveals that Tessin (right) has been involved in VizConnect.
VizConnect marketed a $50 QR code + video hosting package. Launched in late 2013, the company appears to have gone into decline shortly thereafter. An overly complicated compensation plan no doubt hampered growth efforts.
In September of 2013 Tessin was credited in a VizConnect press-release as an Executive-Director of the company. By January 2014 Tessin had joined VizConnect's management team.
A press-release issued on January 13th reads
VizConnect has announced the appointment of Joe Tessin to the VizConnect leadership team beginning in 2014.

Tessin is a multi-level marketing veteran having served as CEO and coach for Better Days Group, a company specializing in personal one-on-one coaching, group coaching, personal development workshops and team development for various organizations.

Tessin has been working as a consultant and Executive Director for VizConnect's sales team members since early 2013.

Tessin outlined his vision for the VizConnect sales force in 2014.

"We are going to improve communication internally amongst our leadership team and externally with our members," he said.

"We are going to enhance our products with a focus on building our business, and I will continue to be actively engaged in the field to build our business."
What happened there I have no idea, but a month later Tessin was up and running with uThriv.
Whether or not Tessin is still with VizConnect is unclear. It is noted though that his uThriv co-founder and Vice-President, Brian Dee, is credited as VizConnect's "Secretary and Chief Sales Officer".
Regardless of whether Tessin is still involved with VizConnect, through Brian Dee or otherwise the two companies appear to be maintaining close relations.
Another recent VizConnect press-release (which for some reason does not appear on the VizConnect website itself), dated June 3rd 2014, announced a "partnership" with uThriv:
VizConnect has announced a partnership with UThriv to provide white label mobile marketing platforms for both internal and external outreach.

Through a white label partnership with UThriv, VizConnect will provide access to its innovative suite of mobile video marketing products.

"After working with the VizConnect platform for over a year I am pleased to enter into this strategic partnership between our two companies," said Joe Tessin, President of UThriv.
The "Better Days Group" company, mentioned in the second press release above, is a non-MLM personal development coaching company owned and operated by Tessin.
Better Days Group exists to help individuals and organizations have better days EVERY day! We believe that we are all here for a reason, and we are only able to feel truly fulfilled when we are living for that purpose.

We want to help you discover your unique design and develop strategies to make that design come to life.
Prior to VizConnect Tessin was involved in the MLM company ProVisionRx, marketing third-party discounts. In June 2012 Tessin was acknowledged by ProVisionRX for reaching the Executive Training Director affiliate rank.
Read on for a full review of the uThriv MLM business opportunity.
The uThriv Product Line
Getting a grasp of uThriv's complete product range is somewhat confusing.
If you click "products" on the company's website, a page loads up with four tabs: thinking, health, resources and village.
The thinking tab is straight-forward enough, offering a personal development subscription ($39.95), two workshops ($119.95 and $219.95) and something called "Power of a Dream" ($49.95).
No specific product information is available, with the website demanding an affiliate-code be punched in if a visitor clicks on any of the product listings.
The health tab reveals the sale of bottles of a drink. It comes in a 30-day 2oz bottle supply of either 2oz or 30oz bottles ($69.95 and $59.95), and a "Family Pack" ($188.95).
What uThriv's drink is remains a mystery, with once again there being no additional information provided. It wasn't until I looked at the company presentation that I found the following paragraph describing the drink:
We need to make the most of the one life we're given; uTHRiV +5 gets you all the servings of fruit and vegetables you need in one compact, daily shot.
The resources tab lists a "uConnect" product costing $99.95. If I didn't know any better, I'd say this is probably the VizConnect partnership product.
The following spiel from the aforementioned presentation certainly seems to suggest so:
While all of our products are designed to help our Brand Partners earn new income, our BPTK (Brand Partner Tool Kit) comes with the latest mobile to video marketing platform and a ton of collateral to grow their uTHRiV business.
Clicking the village tab brings up a $299 "u-Save" product, which appears to have something to do with energy saving.
Rather than yet again describe the complete lack of information provided, with this being the final product I'll just show it to you:
From the presentation:
Doing our part in our communities to decrease our energy usage actually makes us more efficient in all areas of our life; uSAVE in-home energy management solutions enables our Brand Partners to feel better about their environmental impact.
Your guess is as good as mine.
The uThriv Compensation Plan
The uThriv compensation plan pays affiliates to recruit via a binary compensation structure.
Product sales are tracked via a unilevel compensation structure and affiliates also have access to a Leadership Pool Bonus.
Recruitment Commissions
When a newly recruited uThriv affiliate purchases a product pack, Business Volume (BV) is generated.
How much BV is generated is determined by how much a recruited affiliate spends when they join:
Basic ($199.95) – 100 BV
Starter ($299.95) – 150 BV
Growth ($399.95) – 200 BV
Builder ($499.95) – 200 to 250 BV
This volume is used to then calculate commissions using a binary compensation structure.
A binary compensation structure places an affiliate at the top of two binary teams, left and right: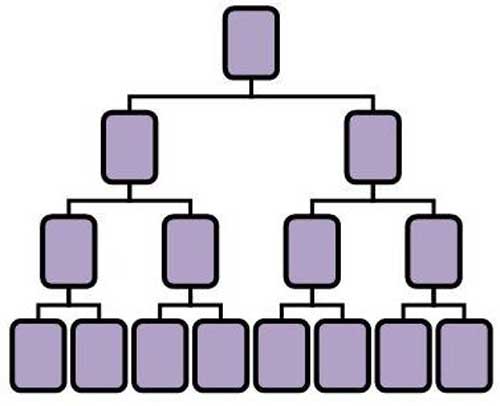 Each team extends down a theoretical infinite depth, with pack sales BV tracked on both sides.
Commissions are paid out using a four step volume matching rule, which is as follows:
200 BV matched on both sides = $50
400 BV matched on both sides = $250
400 BV matched on both sides (again) = $750
1000 BV matched on both sides = $1000
Volume accumilates for the duration of the pay-period (the duration of which is not specified), and flushes either when the pay-period is up or a $1000 commission is paid.
At this point volume on both sides of the binary resets and the process starts again.
A 25% matching bonus on binary recruitment commissions earnt by all personally recruited affiliates is also available.
Product Sale Commissions
When uThriv products are purchased outside of the affiliate joining packs, commissions are paid out using a unilevel compensation structure.
A unilevel compensation structure places an affiliate at the top of a unilevel team, with every personally recruited affiliate placed directly under them (level 1):

In turn, if any of these level 1 affiliates go on to recruit new affiliates of their own, they are placed on level 2 of the original affiliate's unilevel team. If any level 2 affiliates recruit new affiliates they are placed on level 3 and so on and so forth down a theoretical infinite number of levels.
uThriv cap payable unilevel levels at seven, with commissions paid out on the sales volume generated via the purchasing of products (both by affiliates and retail customers).
level 1 – 10%
levels 2 to 6 – 5%
level 7 – 5%
Leadership Pool Bonus
uThriv's Leadership Pool consists of 5% of all company-wide commissionable volume (I believe affiliate recruitment packs are excluded as they count as BV).
The pool is paid out to uThriv affiliates using shares, with affiliates receiving an additional share each time
they receive a $1000 commission via the binary
one of their personally recruited affiliates receives a $1000 commission through the binary or
atheir affiliate downline generates 10,000 CV
There doesn't appear to be any limit as to how many shares a uThriv affiliate can have in the Leadership Pool.
Joining uThriv
Affiliate membership to uThriv starts at $29.95 for basic affiliate membership.
Optional packages are available to affiliates, ranging in price from $199.95 to $499.95:
Basic Product Pack ($199.95) – includes "Power of a Dream" audio series and 30 day supply of uThriv drink
Starter Product Pack (299.95) – as above plus "4 keys to personal success" audio and an additional 15 day supply of uThriv drink (45 days total)
Growth Product Pack ($399.95) – "Personal Growth Pack" collection of audios and 60 day supply of uThriv drink
Builder Product Pack Option #1 ($499.95) – "Personal Growth Pack" collection of audios, "two additional audio teaching series" and a family pack of uThriv drink
Builder Product Pack Option #2 ($499.95) – Power of a Dream" audio series, 3 2oz samples of uThriv drink and "uSave in-home energy management solutions EM box" (??)
Regardless of what joining option is chosen, all uThriv affiliates are also subject to a $19.95 ongoing monthly fee.
Conclusion
Whereas I hit VizConnect hard for a convoluted and ridiculously complicated compensation plan, I'm happy to see uThriv's plan is rather straightforward and easy to get one's head around.
That said, the opportunity is not with its red flags.
First and foremost is the complete lack of retail focus. A product page without any product descriptions? Cmon.
Nobody who is not an affiliate is purchasing any of uThriv's products when they have no clue as to what they actually are. For the purpose of an MLM opportunity review I might dig through an opportunity presentation, but your standard retail customer is going to be left scratching their head and wondering what any of uThriv's offerings are.
Hell, I've researched as much information as I can and I still have no idea as to what their energy-saving product is about.
This is particularly concerning as the binary portion of uThriv's compensation plan is essentially a chain-recruitment scheme. Affiliates buy in with a pack and are then paid to recruit other affiliates who buy in with a pack.
Under this model nothing is being sold to retail customers (non-participants).
Retail commissions are paid out via the unilevel, but so too are affiliate purchases… meaning there's no real incentive to bother with retail customers.
Not when uThriv affiliates are required to 'generate 150 CV every month via personal sales' to qualify for commissions. One could of course try selling uThriv's products to people (who will likely question the value of the products if uThriv themselves can't be bothered describing them), but it's far more likely that the 150 CV is going to be affiliate-funded (self-purchased).
A 150 CV a month retail qualification would ease this, but still leave the problematic nature of paying out recruitment commissions via the binary.
All in all uThriv kind of feels like a half-assed effort to combine VizConnect's product offering with some other random stuff Joe Tessin and Brian Dee had access to.
The pricing of VizConnect's "white-label" service at $99.95 in particular made no sense to me, considering VizConnect themselves are offering their service for $50 a month (I'm assuming uThriv's version is also offered via monthly subscription).
The personal development stuff obviously comes from (or at the least is inspired by) Tessin's Better Days Group business. Who's providing the energy drink or energy-saving stuff I can't say, but they seem to have just been sourced from anonymous third-parties.
Approach with caution.