US Business World LLC drops JD Coin, reboots with VOZ Coin

US Business World LLC has dropped its JD Coin pump and dump scheme.
In its place is VOZ Coin.
US Business World's original business model saw affiliates invest $150 to $1500 and receive the equivalent in JD Coin.
Sold as "direct representative" and "blockchain learning" packages, US Business World has since upped minimum and maximum investment amounts:
Bronze Plus – invest $200 and receive $200 in VOZ Coin
Silver Plus – invest $500 and receive $500 in VOZ Coin
Gold Plus – invest $1000 and receive $1000 in VOZ Coin
Platinum Plus – invest $2000 and receive $2000 in VOZ Coin
Silver Basic Package – invest $2500 and receive $2500 in VOZ Coin
Gold Intermediate Package – invest $5000 and receive $5000 in VOZ Coin
Platinum Advanced Package – invest $10,000 and receive $10,000 in VOZ Coin
The packages are bundled with various English language and blockchain courses.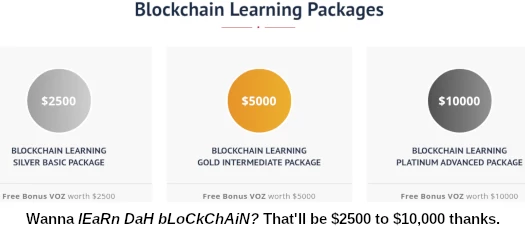 No information about US Business World LLC's MLM business opportunity is provided, so I'm assuming nothing has changed since 2019.
There also doesn't appear to be any changes to US Business World LLC's management:

One thing to note is Bhupinder Singh is now being credited as US Business World LLC's CEO.
This suggests US Business World LLC might have stopped pretending Arthur Tailor is an actual person.
As to why US Business World LLC dumped JD Coin – its public trading chart reveals nothing much was happening:
A bit of action early on. A few abnormal spikes and for the most part just another "go nowhere" shitcoin.
A Voz Coin website was set up through private registration on December 21st, 2020.
Voz Coin is equally as pointless as JD Coin, with the added benefit of not being publicly tradeable.
This means US Business World LLC has complete control over withdrawals and Voz Coin's internal value.
Voz Coin might be dumped on dodgy exchanges at a later date, but for now they're Ponzi points.
US Business World LLC marketing combines the company, JD Coin and Voz Coin with Hydrus7.
Hydrus7 is pitched as a "brainchild of JD Coin".
Hydrus7 is an outright milestone of the fourth-generation blockchain which is poised to solve the issues caused by previous generations of blockchains.

Hydrus7 is based on decentralized ledger and is an open source technology, hence it can be utilized by many companies for their further developments.
Blockchain 4.0 is typical crypto bro malarkey, but this is probably the platform US Business World LLC's shitcoin creates its shitcoins on.
Looking forward, promotion of US Business World LLC across India continues: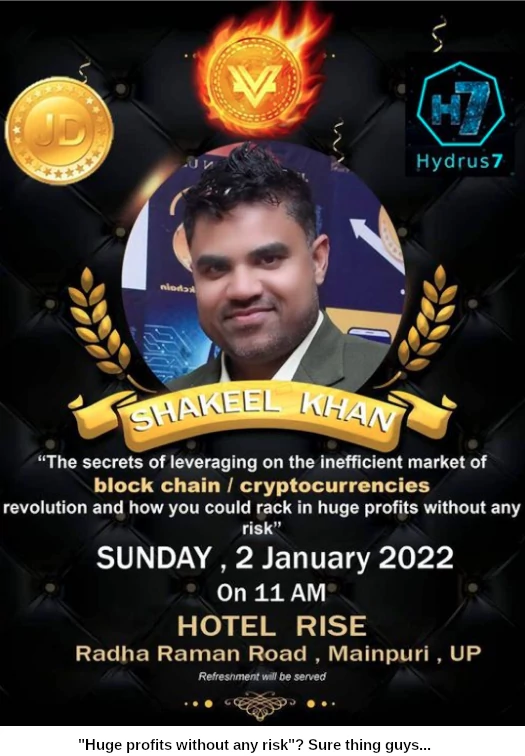 As per Alexa's rankings, US Business World LLC website traffic plummeted throughout 2021.
The company's website rank is currently over 6 million, which for an MLM Ponzi scheme is as good as dead.
Pending the finding of gullible new investors to buy Voz Coin bags, US Business World LLC is on the path to collapse.