Uptown Offers Review: Daily Deals & profit-share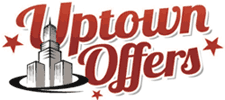 There is no information on the UpTown Offers website indicating who owns or runs the business.
The Uptown Offers website domain ("uptownoffers.com") was registered on the 5th of May 2013, however the domain registration is set to private.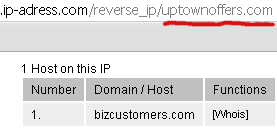 Also hosted on the UpTown Offers hosting server is the website for BizCustomers (domain registration also set to private).
BizCustomers sold customers to affiliates of the failed GoFunRewards MLM opportunity. Earlier this month GoFunRewards shut down their US operations citing legal concerns with their revenue-sharing compensation plan.
Three videos for BizCustomers appear on YouTube under the account "Devon Crawford".
A woman (presumably Crawford) voices the videos, making numerous references to "our business" and "our website".
A woman's voice featured on a recent May 27th Uptown Offers affiliate call, however  it doesn't appear to be the same voice (I'm not 100% sure) as featured on Devon Crawford's BizCustomer videos.
As always, if an MLM company is not openly upfront about who is running or owns it, think long and hard about joining and/or handing over any money.
The Uptown Offers Product Line
Uptown Offers describe themselves as a 'daily deal, online shopping, coupon and rebate community'.
Merchants sign up with the company and are then able to create 'daily deals, sell products and offer coupons', which forms the retail side of the business.
Uptown Offers Direct Sales Opportunity could be just what you have been looking for.

Promote and sell Advertising to Merchants. Promote Uptown Offers, Inc and sell products to Consumers and earn commissions on your Merchants and Merchants sales.
Although not yet available, Uptown Offers also place great emphasis on a branded mobile app:
Revolutionizing the "Daily Deal" Industry

Combine the power of an International Affiliate Network with the Multi-Billion Dollar Daily Deal and Discounting Market To create the world's first "CONSUMER KILLER AP"
Whether the Uptown Offers app actually kills consumers was not immediately clear. One would hope that any bugs present in the app are worked through and remedied by the provided August 2013 launch date.
The Uptown Offers Compensation Plan
Uptown Offers pay affiliates to recruit new affiliates, attract merchants to the network who then provide products and daily deals to customers, as well as residual commissions based on sales volume generated by an affiliate's downline.
Recruitment Commissions
Uptown Offers pays what they call a "Fast Start Bonus" when an affiliate recruits a new paid Uptown Offers affiliate:
300 Fast Start ($300) – $100
600 Fast Start ($600) – $200
900 Fast Start ($900) – $300
1200 Fast Start ($1200) – $400
The higher a new affiliate's membership fees the higher the commission paid out to the affiliate who recruits them.
Daily Deals Commissions
Uptown Offers don't provide specific percentages on Daily Deals commissions offered to affiliates, so I've had to re-engineer the dollar examples provided in order to come up with some straight percentages.
As I understand it, Uptown Offers take 33.33% of revenue generated by a merchant running a Daily Deal.
25% of this 33.33% is paid to the affiliate who brought the merchant into the network.
The affiliate's upline also earns a commission, paid out up 8 levels of recruitment (note that the following percentages are of the sum paid to the affiliate above who earns 25%, but they are in addition to the 25% paid out to that affiliate):
Levels 1 and 2 – 16% (of the 25% paid to the affiliate who brought the merchant into the network)
Levels 3 and 4 – 12%
Levels 5 and 6 – 8%
Level 7 – 4%
Level 8 – 12%
Shopping Commissions
If a merchant signs a 3 or 6 month Daily Deal "agreement" with Uptown Offers, they get 6 or 12 months "free" use of a Uptown Offers online storefront.
Uptown Offers do not disclose what these storefronts cost merchants who do not sign Daily Deals agreements with them in their compensation plan material.
Uptown Offers state that revenue generated by these storefronts is split 90%/10% between merchants (90%) and Uptown Offers (10%).
Uptown Offers then take 60% of the revenue they get and pay it out to affiliates via a 5×8 matrix compensation structure.
A 5×8 matrix compensation structure places an affiliate at the top of the structure, with five positions directly under them (level 1):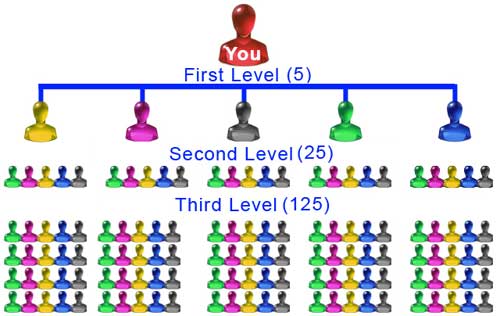 In turn, these 5 positions branch out into another 5 positions each (level 2) and so on and so forth down 8 levels for a total of 488,278 positions.
Each of these positions represents an affiliate recruited into Uptown Offers, with commissions paid out being a percentage of the shopping revenue generated by affiliates (the 60% of the 10% Uptown Offers share).
How much of a percentage is paid out depends on what level of the matrix an affiliate falls on and an affiliate's membership rank:
Free Affiliate – 10% of the 60% Uptown Offers take from shopping revenue sales, no matrix commissions
IPC (50 MPV) – 10% direct commission, 3% on level 1 and 2% on level 2
IAC (75 MPV) – 10% direct commissions, 3% on levels 1 and 2 and 2% on level 3
IAC Manager (100 MPV) – 12% direct commissions, 3% on levels 1 and 2 and 2% on levels 3 and 4
IAC Regional Manager (150 MPV) – 15% direct commissions, 3% on levels 1 and 2, 2% on levels 3 and 4 and 1% on levels 5 and 6
IAC National Director (150 MPV and recruit 3 IAC Regional Managers) – 20% direct commissions, 4% on levels 1 and 2, 3% on levels 3 and 4, 2% on levels 5 and 6 and 1% on level 7
IAC Diamond Director (150 MPV, recruit 3 IAC Regional Managers and 2 IAC National Directors) – 25% direct commissions, 4% on levels 1 and 2, 3% on levels 3 and 4, 2% on levels 5 and 6, 1% on level 7 and 3% on level 8
The Uptown Offers compensation plan doesn't state what MPV stands for, but I believe it's "Merchant Personal Volume", meaning it's volume generated by an affiliates own purchases from merchants or that of retail shoppers or affiliates they personally recruit.
Proft-Sharing Pool
Uptown Offers shares up to 50% of its "net profit" from "retail sales" with affiliates via points-based revenue-sharing scheme.
The company defines "net profit from retail sales" as a "retail purchase made by your customer" (which I believe includes recruited affiliates).
Points in the profit-share can be generated via four methods:
sign up as a paid affiliate (30-120 points)
sign up for monthly autoship (5-20 points)
customer purchases (1 point for every $10 earnt in commissions) or
Daily Deals offered by referred merchants  (10% of revenue earnt on Merchant Daily Deals and 6-24 points residually)
The profit-share is paid out each month, with an affiliate's point totals resetting at the end of the month.
Joining Uptown Offers
Affiliates have five affiliate membership options available to them when signing up to the company:
Free Affiliate (no cost)
300 Fast Start – $300
600 Fast Start – $600
900 Fast Start – $900
1200 Fast Start – $1200
Bundled with paid Uptown Offers affiliate membership are various "featured merchant" products, compensation plan promotion (the more affiliates pay the higher the rank promotion) and profit-sharing points (30, 60, 90 and 120 points respectively).
Conclusion
Before we even get into analysis of the Uptown Offers compensation plan, there's the glaring red-flag of commissions being paid on the paid affiliate membership fees.
As it stands, affiliates can sign up to Uptown Offers, recruit other paid affiliates and generate a commission on each membership sale.
These commissions are completely detached from the rest of the company's offering and when isolated affiliates are clearly being directly paid on the acquisition of new affiliates. In MLM, this fits the definition of a pyramid scheme.
Looking at the rest of the compensation plan, there's a bit of a grey area here with autoship. I didn't touch on it in the compensation plan section of this review but Uptown Offers affiliates are able to sign up for monthly autoship.
With monthly autoship comes an allocation of profit-sharing points and self-qualification for ranks in the compensation plan (which dictates matrix earnings).
This is problematic as it raises the question over the intent of an affiliate's autoship purchase: Are they signed up for autoship each month for the "featured merchant" products or just for profit-sharing points and matrix earnings.
Monthly expiry of points eliminates the typical Ponzi points re-investment aspect of revenue-share style MLM compensation plans of late, however the issue of commissions paid out being mostly affiliate-funded still lingers.
This is a possibility if the number of affiliates generating revenue within the company eclipses that of customers. With autoship purchases generating profit-sharing points, the company is already setting itself up for a challenge in balancing out the source of revenue going into the profit-share.
Finally on the merchant side of things, I'm not really seeing any value here. Daily Deals come at an automatic 33.3% loss to Uptown Offers on top of whatever discount is offered to customers who buy the deals.
Similarly, the storefronts also carry an automatic 10% loss on top of any discounts offered to customers via the stores.
Typically Daily Deals companies operate on razor-thin margins and draw a profit on bulk. Here Uptown Offers are expecting merchants to give up a considerable amount of revenue if they choose to participate in the network.
How attractive that's going to be to merchants is definitely something to consider as an affiliate. Ultimately without merchants there's no daily deals or replicated storefronts so a lack of them will result in customer (non-affiliate participation).
No retail customer participation then turns Uptown Offers into an affiliate-funded scheme. When coupled with the recruitment commissions paid out on the recruitment of paid affiliates, self-qualification in the compensation plan by way of fees and the profit-sharing points an affiliate's own spending generates, there's a lot of grey-area potential within the Uptown Offers business opportunity offering.
Proceed with caution.