United Paycheck Review: AdPort investment scheme
United Paycheck appear to be operating out of Quebec in Canada and name "Kent Williams" as their CEO and founder on their website.
United Paycheck claim Williams
entered the advertising business in 1997, joining Worldwide Advertising Inc. as an executive vice president.

He was responsible for growing this division into the largest operating group, comprised of companies in a wide array of disciplines ranging from advertising, public relations to branding.

He has championed the company's investment in the recruitment and development of talent through several key programs. He was the major growth catalyst for the company during his tenure as vice president.
As far as MLM goes however, I was unable to find any information indicating a a history within the industry.
The United Paycheck website domain ("unitedpaycheck.com") was registered on July 21st 2012 and curiously lists a Kaianne Campbell as the "admin" and "technical" contact for the company.
Who Campbell is and what their relationship to United Paycheck is isn't clear as the name does not appear anywhere on the United Paycheck website.
Read on for a full review of the United Paycheck MLM business opportunity.
The United Paycheck Product
United Paycheck has no retailable products or services. The company claims to be "an online advertising network that acts as an intermediary between publishers (affiliates) and merchant affiliate programs around the world", however appears only to accept money from members for what United Paycheck refer to as "AdPorts".
An AdPort costs $20 and "is a traffic generator that generates a fixed Ad revenue for a stipulated period for advertisers and entrepreneurs".
The United Paycheck Compensation Plan
The United Paycheck compensation plan pays out affiliates investment returns, primarily revolving around the "purchase" of AdPorts by members.
AdPorts cost $20 each and pay out a 30 cent return over 100 days ($30 for a 150% ROI). For every 6 AdPort investments that mature, the company also pays out a bonus $120.
Referral commissions on investments made by members personally recruited are also paid out at a rate of $1 per new investment made.
Note that members are capped at investing in a total of 500 AdPorts at any given time.
Binary Commissions
Apart from the investment returns offered above, United Paycheck also offer members commissions based on a binary compensation structure.
A binary compensation structure places a member at the top of the structure and upon recruiting two new members, a left and right team are created under them (level 1):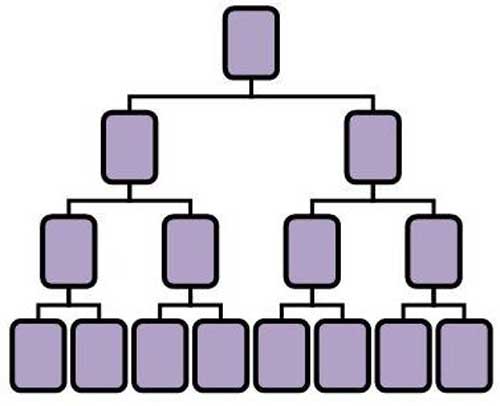 As the member recruits new members they are added to the binary, as well as any new members recruited by these personally recruited members.
Commissions revolve around an investment pairing and are counted in a factor of ten. That is, if a member in the binary buys 10 AdPorts in a day, they generate one point for that side of the binary.
At the end of each day the points on each side of the binary are tallied and paired off, with the affiliate upline earning $2 per paired points (1:1) from both sides.
Eg. Downline A is on the right binary team and buys 10 AdPorts on any given day, generating 1 point.
Downlines B and C are on the left binary teams and also buy 10 AdPorts on that day, generating two points for the left team.
At the end of the month the right binary team has generated 1 point and the left 2 points. The upline affiliate thus earns $2, with the unpaired point from the left binary team flushing.
Joining United Paycheck
Membership to United Paycheck is free, however members must invest in AdPorts if they wish to earn any money.
Conclusion
Curiously, United Paycheck threaten members if they dare to share any information about the company to prospective members or the general public.
The company's "legal" agreement between itself and members requires them to affirm that
1. You are not an employee, by contract or otherwise, of any other Company, and you are not reading any of the United Paycheck website pages in order to reproduce this information for someone else.

2. All the information of the company (other than publicly open documents) is proprietary and confidential and you will not reveal said information to anyone else.
If a member fails to adhere to these clauses, United Paycheck state they
may be referred to the Legal Department for action if (they) are found doing any action in violation of company policy.

The Legal Department has the discretion to close (their) accounts for wrongdoing.
Compensation plan wise, United Paycheck as a legitimate advertising network doesn't make much sense. Typically when advertising and affiliates are involved, a company pays to advertise and the affiliates earn commissions based on a set of conditions (cost per click, number of impressions etc).
In United Paycheck, the advertisers and affiliates are one and the same. Effectively you have a bunch of people putting money into the company and expecting a guaranteed 150% ROI over 100 days.
With all of the money coming into the company being paid by members (looking to receive a ROI), effectively United Paycheck operates as a Ponzi scheme.
Members put money in and members earn a daily ROI paid out of new investments made by other members.
Long-term wise as soon as United Paycheck's daily 30 cent liability exceeds the new investment money coming in the scheme will collapse. Those who have money invested in the scheme and/or who invested last, naturally lose out.