Trillant under fraud investigation in Germany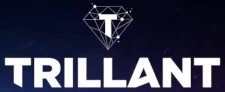 Trillant is under investigation for fraud in Germany.
BaFin disclosed it was investigating Trillant and EUPAC Digital Services Ltd. on November 22nd, 2022.
At the root of BaFin's investigation is Trillant committing securities fraud.
The Federal Financial Supervisory Authority ( BaFin ) clarifies in accordance with section 37 (4) of the German Banking Act ( KWG ) that the operator of the trillant.com website, EUPAC Digital Services Ltd. from Majuro, Marshall Islands, does not have a license under the KWG to conduct banking business or provide financial services.

The content of the trillant.com website and other information available to BaFin justify the assumption that unauthorized financial services are being offered in Germany via the website.

The site advertises so-called tokens called Trillant and Trillon. However, a professional description of these tokens and how they work cannot be found.

Rather, so-called "Paraiba tokens" are said to have been exchanged for Trillant.
Trillant is a reboot of the collapsed Paraiba World Ponzi scheme. BaFin issued a Paraiba World securities fraud warning in June 2020.
Both Paraiba World and Trillant were/are run by German national Erich Ely.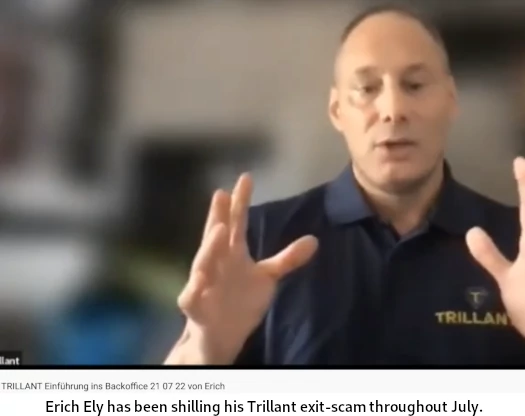 Trillant operates through a "staking" Ponzi model, built around its ERC-20 Trillon token.
invest TRIL for 4 weeks and receive a 1.5% ROI
invest TRIL for 9 weeks and receive a 3.5% ROI
invest TRIL for 26 weeks and receive an 11% ROI
invest TRIL for 52 weeks and receive a 50% ROI
Returns are paid in "Trillon Value Tokens", which appears to be another shitcoin layer within Trillant.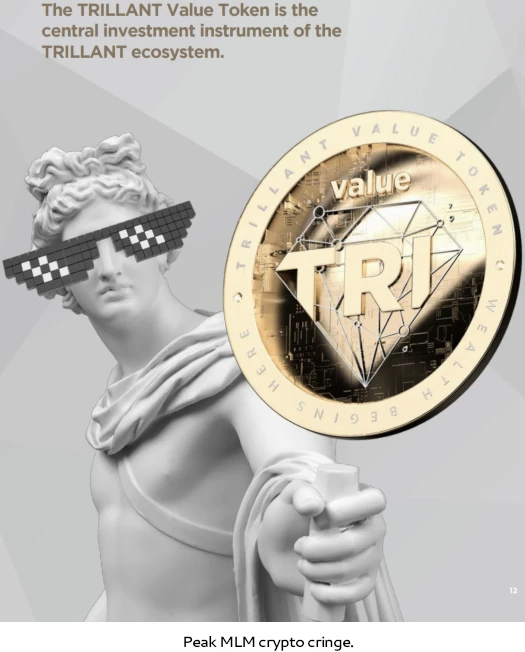 As of May 2023, SimilarWeb tracked top sources of traffic to Trillant's website as Germany (21%, down 25% month on month), the US (19%), Switzerland (16%), Guadeloupe (13%) and Poland (9%).
In addition to Germany, since Paraiba World launched in late 2019 fraud warnings have been issued by Austria and Switzerland.