SEC seeks entry of default against Charles Scoville

The SEC filed its lawsuit against Traffic Monsoon and owner Charles Scoville in July 2016.
To date Scoville has failed to file a response to the suit, prompting the SEC to request an entry of default.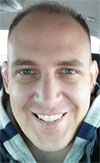 If you're wondering why it's taken the SEC almost four years to request default, it's due to Scoville (right) holding up proceedings.
Right from the get go Scoville's opted for a delay defense, starting with merry-go-round lawyers.
In March 2017 a preliminary injunction was finally granted against Traffic Monsoon. Scoville appealed the decision in April.
Almost two years later, Scoville's appeal was denied in January 2019.
In February 2019 Scoville signaled he intended to take the matter to the Supreme Court.
It wasn't until June 2019 however that Scoville's writ of certiorari was filed.
In November 2019 the Supreme Court rejected Scoville's writ.
While all of this was going on Scoville was arrested for aggravated sexual abuse of a child.
Scoville plead guilty to the attempted sexual abuse of a child in November 2018. Details of the plea have never been made public, but we do know Scoville is currently in prison.
Since the SCOTUS denial, Scoville has lashed out at his lawyers and filed a bizarre god letter with the court.
What he hasn't done though is respond to the SEC's original 2016 complaint.
The last response deadline Scoville was given was February 3rd, 2020 – which he missed.
As at the time of publication the court clerk has yet to record entry of default against Scoville.
Shouldn't be too much longer though, stay tuned…
Update 7th April 2020 – On April 2nd the court clerk recorded an entry of default against Scoville. Later that same day the SEC filed for default judgment.
Update 9th January 2021 – On January 5th 2021 default judgment was granted against Traffic Monsoon and Charles Scoville.