Charles Scoville lashes out at attorneys for court losses

Charles Scoville isn't having a good time.
Currently incarcerated in Juab County Jail, last month Scoville had his Supreme Court bid to legalize Ponzi schemes in the US denied.
Now the lawyers representing him against the SEC want out.
In a December 6th Motion to Withdraw, attorney D. Loren Washburn reveals he's at loggerheads with Scoville over representation.
Following the Supreme Court rejection, Scoville's attorneys pursued settlement discussions.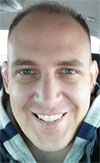 This infuriated Scoville (right), who
faulted counsel for not more forcefully (or at all) raising certain legal issues before this Court and reviewing courts.
Scoville told his attorneys he'd lost confidence in them and directed them to "withdraw from representing him".
Washburn's motion pertains to his representation and that of his colleague Jacob L. Fonnesbeck.
The same day the Motion to Withdraw was filed, the court noted Washburn and his firm Smith Washburn, LLP also represented Traffic Monsoon.
The court has directed Washburn to clarify whether he intends to withdraw representation from Traffic Monsoon as well.
Pending court approval, the withdrawal of Scoville's attorneys leaves him increasingly isolated.
To the knowledge of the undersigned, (Scoville) has not located replacement counsel.

Mr. Scoville did not explain to the undersigned whether he intended to attempt to represent himself or to find a lawyer to substitute in to represent him in the further proceedings of this case.

Mr. Scoville has no current functioning phone number.

Juab County Jail does not accept incoming inmate calls, but arrangements for a call from an inmate can be made.
Looking forward, a scheduling conference has been set for December 17th.
Stay tuned…
Update 29th December 2019 – As per twin December 23rd orders, Smith Washburn, LLP are no longer representing either Charles Scoville or Traffic Monsoon.