Toga Limited loses sham SEC registration

The Toga Limited Ponzi scheme has lost its sham SEC registration.
As part of efforts to dupe investors in Asia, Toga Limited heavily touted its SEC registration in its marketing.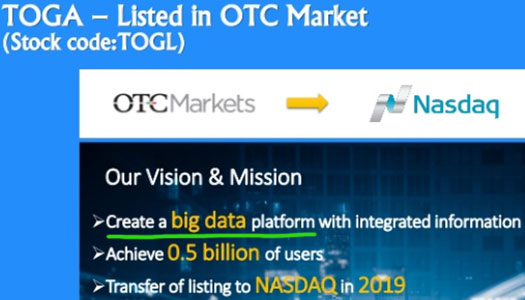 Toga Limited incorporated in Nevada as a shell company. It then used that shell company to register with the SEC as "TOGL".
A legitimate financial company would then file periodic reports, as is required by law.
Being a Ponzi scheme, Toga Limited did file some reports but of course omitted their TC Points Ponzi scheme.
TOGL has failed to comply with Exchange Act Section 13(a) and Rules 13a-1 and 13a-13 thereunder because it has not filed any periodic reports with the Commission since the period ended April 30, 2020.
The above is quoted from an SEC Administrative Proceeding, revoking Toga Limited's sham SEC registration as of September 27th, 2023.
Pursuant to Section 12(j) of the Exchange Act, the registration of each class of Respondent's securities registered pursuant to Exchange Act Section 12 be, and hereby is, revoked.
Toga Limited is a Malaysia-based MLM investment scheme built around TC Ponzi points.

When BehindMLM reviewed Toga Limited in February 2019, we noted Michael Toh Kok Soon (right) presented as founder and President.
While Toga Limited is based out of Malaysia, early on the Ponzi scheme targeted the Philippines.
This prompted the Philippine SEC to revoke Toga Limited's Philippine SEC license in 2020.
Toga Limited tried to circumvent Philippine regulators with Berhad rebranding, only to get banned again.
If it hasn't already, today Toga Limited appears to be on the verge of collapse. Over the past few months SimilarWeb has tracked only a few thousand visits to Toga Limited's website.
Things bottomed out in July 2023, with Toga Limited's website receiving only ~2800 visitors the entire month.
Pending action by Malaysian authorities, how many Toga Limited victims there are and how much they've lost remains unclear.