Tiber River abandons MLM for online retail only

Canadian MLM company Tiber River has informed distributors it is abandoning its MLM opportunity.
Having built a customer base off the back of its distributors since 2012, Tiber River will transition to an online retail model.
For those unfamiliar with the company, Tiber River marketed
eco-friendly products for the skin, bath, body, baby, pets, and home that are handmade in Winnipeg.
BehindMLM hasn't reviewed Tiber River so I can't comment on their compensation plan.
Tiber River hasn't yet publicly addressed shutting down its MLM business. As of January 2nd, Tiber River was still pitching "happy moments, new goals, new achievements and new inspiration" on its FaceBook page.

Tiber River distributors however have been sharing the news on social media:
We are saddened to announce that Tiber River will no longer be a direct sales company.

They are going to online sales and you'll no longer be purchasing these amazing products through me after January.
Tiber River's decision follows what I assume is the most busiest time of year for its distributors. Taking this into consideration, reactions to the announcement are mostly negative.

Tiber River's origins date back to 1999. Founder Adriana De Luca built the business from a home startup, eventually venturing into brick and mortar retail.
As De Luca purportedly struggled to find home/life balance, Tiber River eventually shut down its stores. De Luca then partnered up with Michelle Lalonde and shifted to franchising.
Those plans were soon dropped, with De Luca and Lalonde eventually opting for a party plan MLM model.

Thus far no reason for Tiber River's decision has surfaced.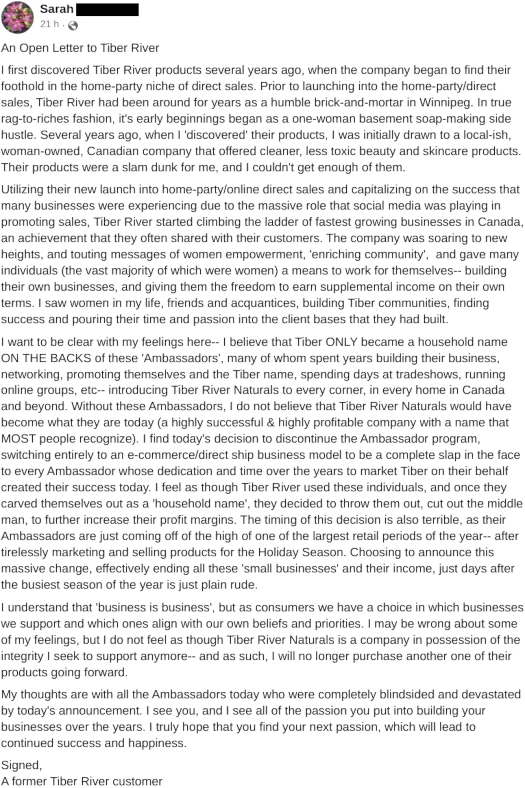 Over the last few years Tiber River has been at the center of "toxic work culture" complaints.
Allegations of a toxic work culture at Tiber River Naturals in Winnipeg have prompted the company to hire an independent firm to launch a workplace assessment.

Dozens of former and current employees of Tiber River Naturals have been sharing their experiences at the company on an Instagram group called 'Not My Tiber.'

The group has posted more than 100 allegations from unnamed past and present Tiber River Naturals employees.
Complaints against Tiber River detailed withheld wages and tips, unpaid overtime, forced unpaid coverage of corporate events and "personal grievances".
One former storefront employee, who wished to remain anonymous, said she often worked nine-hour days without being given a paid break or overtime pay. She could eat lunch, but only while crouched under the front till's counter.

One former storefront manager said she was fired after just three months on the job, after she raised concerns of toxic behaviour by a higher-up. Speaking to the Free Press, the woman said many of the issues stemmed from overzealous management on the corporate end.
Whether these issues contributed to Tiber River abandoning MLM is unclear.
Update 17th February 2023 – Tiber River has announced it is screwing distributors out of their final commission run.