Simply Naturals Review: Sizzling mineral wafers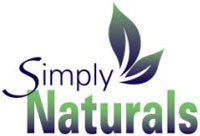 Simply Naturals appears to have launched in 2012 and are based out of Surrey in the United Kingdom.
The company operates in the health and nutrition MLM niche and lists a Peter Willoughby as CEO on their website.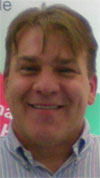 Willoughby (right) is credited with 'almost two decades' of "referral marketing experience" in his Simply Naturals executive bio:
Prior to this he was employed by Kleinwort Benson Corporate Finance specializing in the technology and IT sectors and entered the referral marketing sector in 1997.
Simply Naturals appears to be the only MLM venture Willoughby has headed up, although I'm a little unsure of the specifics.
This Simply Naturals newsletter is dated May 2012 and mentions a "pre-launch special". It's written in an introductory format by Willoughby and implies the company was only recently launched: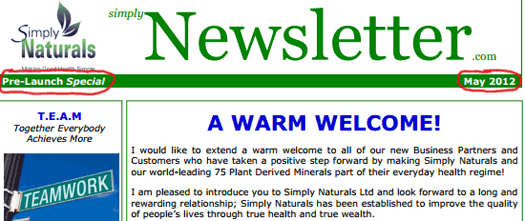 I am pleased to introduce you to Simply Naturals Ltd and look forward to a long and rewarding relationship; Simply Naturals has been established to improve the quality of people's lives through true health and true wealth.

As we enter a new era of health awareness, coupled with ever increasing life expectancy, the quest for good health and wellness has never been so important.
Then there's this "U.S. Naturals" newsletter dated November 2006, in which Elmer G. Heinrich wrote: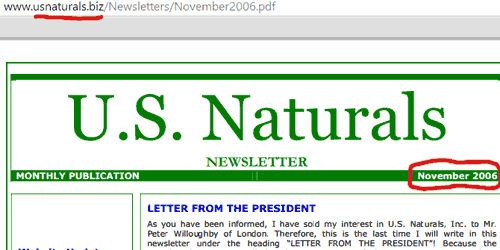 As you have been informed, I have sold my interest in U.S. Naturals, Inc. to Mr. Peter Willoughby of London.
Simply Naturals obviously existed before 2012, so I'm not sure what's going on in that first cited newsletter. It appears Heinrich was running U.S. Naturals as a sister company of Simply Naturals (run by Willoughby). He got out in 2006 by selling his share in the company to Willoughby, and both companies have been under Willoughby's control since.
Again I'm not sure what happened between 2006 to 2012, but there does appear to have been some restructuring that led to a new Simply Naturals "pre-launch". U.S. Naturals meanwhile is still up and running and appears to function as an independent opportunity selling the same products as Simply Natural.
Why Willoughby continues to use two different company names is a mystery to me, I certainly found it confusing. None of this is explained or clarified on either the Simply Naturals or U.S. Naturals websites.
For the purpose of clarification on this review, it should be known that I'm using Simply Naturals' marketing material.
Read on for a full review of the Simply Naturals MLM business opportunity.
The Simply Naturals Product Line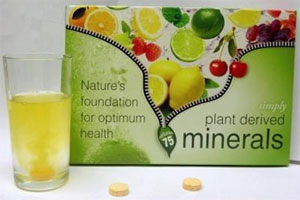 Simply Naturals operate in the health and wellness MLM niche, marketing a range of mineral-based supplements.
The company's flagship product is called "Sizzling Minerals", and is
The world's first and only, great tasting effervescent wafer containing 600 milligrams of 75 Pure Plant Derived Minerals.

Sizzling Minerals is the most important product available for fulfilling the nutritional needs for the entire family.
Sizzling Minerals comes in a box of 30 single-serve soluble wafers for £28.97 and is available in cherry berry, orange, lemon lime and natural flavours.
Other Simply Naturals products include
Plant Minerals Veggie Capsules – bottle of thirty "dried mineral solids" capsules for £26.46
Powdered Minerals – bottle of thirty 'dried mineral solids naturally extracted with contaminant free, pure water from a prehistoric plant deposit' capsules for £26.46
Liquid Minerals – sixty four 15ml bottles of 'the purest and most concentrated plant derived minerals' (senonian juice) for £27.96
Selenium – bottle of sixty 'essential trace mineral and potent anti-oxidant' capsules for £14.96
Vitamin B Complex – bottle of thirty Vitamin B supplement capsules for £8.97
Vitamin C1000 Complex – bottle of one hundred "GMP certified (Vegetarian/Vegan approved) Vitamin C-1000" tablets for £11.96
The Simply Naturals Compensation Plan
The Simply Naturals compensation plan offers affiliates retail commissions, with residual income paid out using a seven level unilevel compensation structure (extendable via an Infinity Bonus).
Shares in a company-wide Bonus Pool are also offered at the two top-tier affiliate membership ranks.
Affiliate Membership Ranks
There are eight affiliate membership ranks within the Simply Naturals compensation plan. Unfortunately Simply Naturals do not provide rank qualification criteria in their publicly available compensation plan material.
Retail Commissions
Simply Naturals offer retail commissions on all retail customer product orders. The Simply Naturals compensation plan states that retail commissions are '30% of available margin volume', which I believe is 30% of the difference between the wholesale and retail price of the products purchased in the order.
Recruitment Commissions
When a Simply Naturals affiliate recruits a new affiliate who purchases a "Business Pack", a recruitment commission is paid out.
An affiliate purchase of "Business Pack 1" pays out £50 commission and "Business Pack 2" pays out £100.
Note that I couldn't find a quoted price for either pack (or even at least what was contained in either pack) anywhere on the Simply Naturals website.
Unilevel Commissions
Residual commissions in Simply Natural are paid out using a unilevel compensation structure. A unilevel compensation structure places an affiliate at the top of a unilevel team, with every personally recruited affiliate placed directly under them (level 1):

If any of these personally recruited level 1 affiliates go on to recruit new affiliates of their own, they are placed on level 2 of the original affiliate's unilevel team. If any level 2 affiliates go on to recruit new affiliates they are placed on level 3 and so on and so forth down a theoretically infinite number of levels.
Simply Naturals cap unilevel commissions down seven levels of recruitment, with how many levels an affiliate is paid out on determined by their affiliate membership rank:
Distributor – level 1
Qualified Distributor – levels 1 to 3
Senior Distributor – levels 1 to 5
Manager and higher – all 7 payable levels
Unilevel commissions are paid out as a percentage of the sales volume generated by an affiliate's unilevel team, with how much of a percentage is earned depending on the level sales volume is generated on:
Level 1 – 30%
Level 2 – 15%
Levels 3 and 4 – 5%
Levels 5 and 6 – 4%
Level 7 – 10%
Infinity Bonus
When a Simply Naturals affiliate reaches the Manager rank, they are paid an infinity bonus on their unilevel team. The Infinity bonus extends payable unilevel commissions down a theoretical infinite number of levels.
The Infinity Bonus is paid out in addition to regular unilevel commissions as a percentage, determined by an affiliate's membership rank:
Manager  and Senior Manager – 2%
Executive – 3%
Senior Executive – 6%
Global Marketing Director – 10%
Note that each of these percentage levels is cumulative, with affiliates paid their percentage share according to their affiliate membership rank. If leftover percentages remain, the system continues to search the upline for the first qualified ranked affiliate until all five percentage levels have been paid out (23%).
If an affiliate is ranked at the Global Marketing Director rank and no other Manager or higher ranked affiliates exist in a particular unilevel leg, they are paid the whole 23%.
Global Profit Share Pool
Simply Naturals' Global Profit Sharing Pool is 'based on a percentage of the global company profits' and is paid out annually.
Senior Executive Director ranked affiliates receive 1 share in the pool and Global Marketing Directors receive 3 shares.
Joining Simply Naturals
Affiliate membership with Simply naturals comes in at £167.99.
Note that if an affiliate opts to purchase a Business Pack, the effective cost of affiliate membership will likely increase (Simply Naturals do not disclose the costs of Business Packs on their website or compensation plan material).
Conclusion
Do you want to be a millionaire?

We could already show you some very impressive earnings figures and projections that would cause you to join immediately. However, we don't need to do that.

Our 'Sizzling Minerals', Mega Health product range, market potential and distributor benefits are more than enough to convince you to join this incredible business.

-Simply Naturals' compensation plan material
Even though they adopting a heavy "lead with the money" approach in marketing the business opportunity, I can't really fault Simply Naturals as overall they offer a reasonably rounded business model.
That said there are some concerns that should be addressed.
On the product side of things I'm a big believer in a balanced diet and as such am would not be convinced to purchase supplements outside of very specific medial reasons.
One cannot deny the supplement market though so if an affiliate is able to find enough customers then Simply Natural's products shouldn't be too challenging to move.
Vitamin B and C supplements might be a bit difficult (competition from local business would be a killer I imagine) but the flagship Sizzling Minerals product and capsule supplements would be easiest to market. Naturally it wouldn't hurt to check the local competition first as shipping is something you'd need to consider when marketing Simply Naturals' products.
Internet marketing is of course possible but I think might be limited. The online supplement market is pretty cut-throat competitive and a replicated affiliate storefront just isn't going to get any passive exposure.
Moving on to the compensation plan, Simply Naturals offer a simple unilevel plan that pays out retail and residuals. I found it easy to understand and there didn't appear to be any obvious slant towards recruitment over retail.
The 30% retail commission on the margin between wholesale and retail is a bit low (usually it's 100%), but with the entire product range being monthly repeat-consumables, that might not hurt too much if enough customers are buying from you each month.
I will note the caveat that the company does not make available the qualification criteria for its affiliate membership ranks. There is a possibility that within this qualification criteria there's an emphasis on recruitment, but without this information I can't make a call either way.
This I have to flag as it's basic compensation plan information that should be made available to the general public. No excuses.
Autoship is offered but there's no inherent commission qualification criteria in the compensation plan tied to it so that's a plus (again no idea on the affiliate ranks).
The Business Packs were a bit of a mystery in that prices aren't provided (even on the Distributor sign-up form), but being a once-off purchase and the only commission tied to recruitment, I felt was an acceptable balance.
£50 and £100 once-off commissions aren't exactly going to leave people focusing solely on affiliate recruitment. That of course also doesn't mean it can be discounted entirely.
Assuming there's no retail requirements in the affiliate membership ranks, I'd still advise checking with a potential upline as to how much of their personal sales volume is from recruited affiliates versus retail customers.
Oh and even though the Simply Naturals compensation plan material makes glittery promises about future shares options as a marketing tool, I'd strongly advise any affiliates against using this in their own personal marketing.
Moreso if you're in the US. Market with the products, not promises of being allocated future shares in the company. Why Simply Naturals themselves do this I can't say but it's certainly an eyebrow-raiser.
Actual virtual "share option certificates" are currently being allocated to affiliates via "regular promotions", with plans to 'register (Simply Naturals) as a PLC status company to prepare for a full stock market listing'.
I don't know what the specific laws are in the UK but this sort of corporate marketing of the business opportunity would most certainly attract the attention of the SEC in the US.
Not so much over Simply Naturals' plans to go public, but in that it calls into question the motivation behind affiliates joining the company. If it's on the expectation of allocated shares increasing in value then there's a problem.
Not helping is Simply Natural's own comparisons to Microsoft in their marketing material:
Just imagine how excited the 10,000 millionaires who work for Microsoft are now after receiving their share option allocations.
That the shares aren't currently pegged to any specific dollar value is something, but why offer the them at all until you've actually gone public?
That aside, market the mineral supplements and keep that as your core focus. And if anyone approaches you about Simply Naturals and starts talking about share options, run!