The Future Trade Ponzi collapses again, TFT Metaweb reboot

The Future Trade Ponzi scheme has collapsed for a second time.
The Russian scammers behind it are hoping to transition to TFT Metaweb.
The Future Trade disabled withdrawals on or around October 13th.
This coincided with new rules requiring investors to recruit two new investors, each of whom invested as much as the recruiting investor.
I.e. You invest $1000. To withdraw anything you need to recruit two investors who each invest $1000 or more.
This naturally prompted widespread backlash from investors, prompting The Future Trade to lock down its social media profiles.
Twenty-four hours after disabling withdrawals The Future Trade announced its third reboot, TFT Metaweb.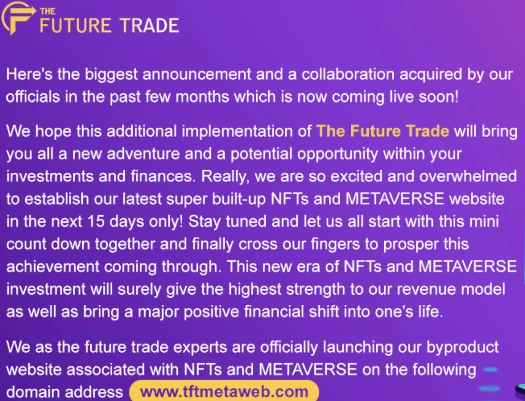 This coincided with another Boris CEO video full of Russian actors.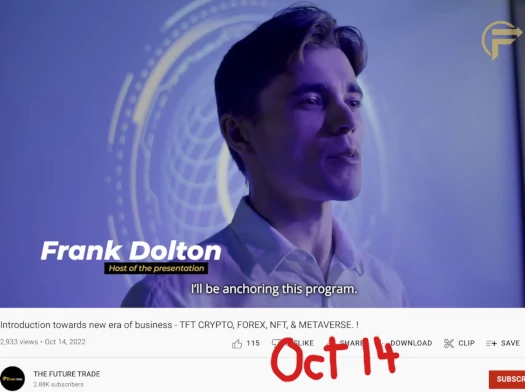 TFT Metaweb operates from the domain "tftmetaweb.com", registered using bogus details on August 23rd.
At time of publication TFT Metaweb's website is counting down to an October 26th or 27th launch.
Business model wise it looks to be the same Ponzi scheme, rebooted with the usual crypto buzzwords.
We hope this additional implementation of The Future Trade will bring you all a new adventure and a potential opportunity within your investments and finances.

Really, we are so excited and overwhelmed to establish our latest super built-up NFTs and METAVERSE website in the next 15 days only!

Stay tuned and let us all start with this mini count down together and finally cross our fingers to prosper this achievement coming through.

This new era of NFTs and METAVERSE investment will surely give the highest strength to our revenue model as well as bring a major positive financial shift into one's life.
The Future Trade first launched in 2020 but flopped shortly after. This eventually prompted a reboot in late 2021, which is The Future Trade iteration that just collapsed.
The Future Trade's website shows a dramatic increase in website traffic between August and September 2022.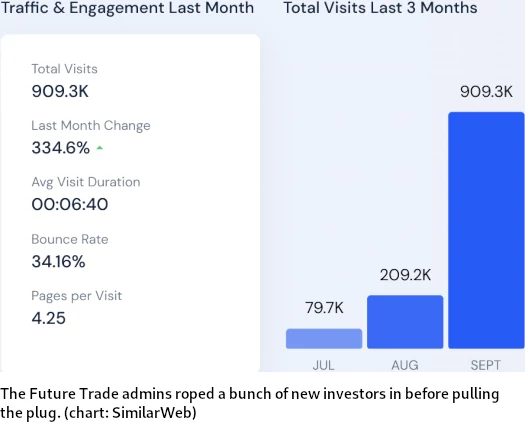 The majority of victims appear to have been recruited from Vietnam, which accounts for 60% of traffic to The Future Trade's website.
Trailing behind is the UAE (10%), France (9%) and Malta (8%).
Total The Future Trade victim numbers and losses are unknown.
Update 21st April 2023 – Sometime between October 2022 and April 2023 TFT Metaweb also collapsed.
As at the time of this update, TFT Metaweb's website is unresponsive.
Update 10th May 2023 – The Future Trade has been rebooted for a fourth time off a new website domain.