WakeUpNow to reboot as Disrupt?

WakeUpNow launched in 2009 and over its six years of operation failed to generate a significant amount of retail sales.
Combining an eclectic mish-mash of third-party products and services, the reality of WakeUpNow was that you signed up as an affiliate, paid a monthly fee and were then paid to recruit others who did the same.
After burning through millions of dollars in losses, the scheme collapsed two months ago with WakeUpNow formally terminating US operations around mid February.
Prior to that there had been speculation the company was going to file for bankruptcy.
Not even three months has passed since WakeUpNow collapsed, with former President Jason Elrod now gearing up to launch "Disrupt".
Aptly named considering how many lives WakeUpNow going under disrupted, the naming of Elrod's new company is probably not going to be appreciated by ex-WakeUpNow affiliates.
At the time WakeUpNow announced they were no longer conducting business in the US, said affiliates were owed months of unpaid commissions.
In any event, details of Elrod's new Disrupt opportunity are sketchy, with a website going live briefly earlier this month over at "disruptedlives.com" (Elrod's apparently really keen on the "our former company disrupted a bunch of lives" theme).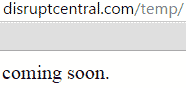 A visit to the site today redirects one to a temporary placeholder page at "disruptcentral.com" (right).
Not much help there, but with a bit of additional research, here's what we've been able to put together.
First off, both the "lifedisrupted" and "disruptedcentral" domains appear to have been acquired in early March, mere weeks after WakeUpNow collapsed.
On the Disrupt website that was briefly live, we've got Jason Elrod and Rea Nichols credits as "founders" of the company: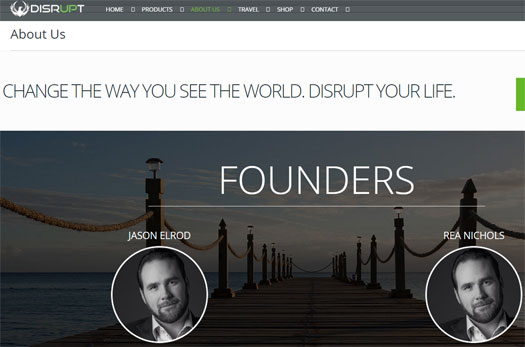 Before you ask, no, they're not the same person. Rea Nichols was a Master Distributor with WakeUpNow.
A sales pitch underneath Elrod's photos above reads:
We started Disrupt with the idea that when people know better, they do better.

It was founded with a strong belief that everyone has the potential to change their lifestyle and focus on making memories, not just money.

We built a company that we would want to hang out with on the weekends. We founded it with people that we wanted to travel the world with. We have reached out and started connecting with new friends and bringing them into our circle.

We know we aren't doing things "the way it's supposed to be done", and we're ok with that. We may never be the biggest company in the world, but we will always be contending for the title of "most fun".

So come find us at beach, a bonfire, or in the mountains. Let's have some fun, make some memories and #LearnLife
"Most fun" hey? Well I suppose making tons of money at the expense of WakeUpNow affiliates who weren't paid was fun for somebody…
No mention of whether Philip J Polich (WakeUpNow's COO) is involved.
On the product side of things Disrupt looks pretty much like WakeUpNow v2.0. Something called "Disrupt Finance" is mentioned, along with "Finance 101", "Wealth Management" and "Taxbot":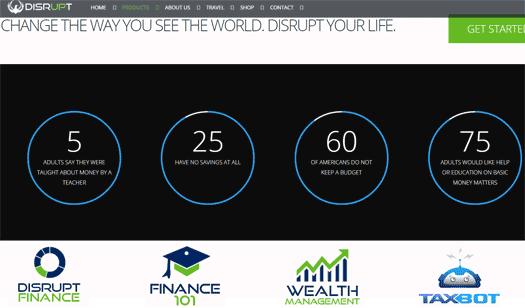 See your money differently. Disrupt Money offers tools and education that will help you shake up your financial life and start controlling your money, and not have your money control you.
Other products niches mentioned elsewhere on the site included travel, business, shopping "and more".
Unfortunately there wasn't any mention of a business model or comp plan on the site, so how that works for now is mystery.
If it's anything like WakeUpNow though, with affiliates signing up to pay monthly fees on stuff nobody outside of the income opportunity is interested in, then this isn't going to well.
Meanwhile how Polich and Nichols intend to front Disrupt with a straight face, considering the dust hasn't even settled on WakeUpNow's collapse and millions were owed in commissions, I have no idea.
Stay tuned…