WakeUpNow to enforce mandatory retail sales quota

It's no secret that I'm a staunch supporter of retail activity within the MLM industry. Indeed, if one were to look at the reviews I write here on BehindMLM it's easy to see that the presence or lack thereof of retail activity is one of the strongest focal points of any MLM company review I publish.
Ideally when talking about retail volume generation within an MLM company, you want the sales to stem out of a genuine perception of value amongst those retail customers purchasing said product. This organic validation not only cements the value of the product in the retail marketplace, but demonstrates sustainability of an MLM opportunity.
Like I said, ideally the above is how you want to be generating retail volume within your MLM company. What happens when this just doesn't happen though?
Well, if you're WakeUpNow you abruptly tell your affiliates that in a few short months, unless they maintain at least seven retail customer subscriptions, they're no longer going to get paid.
I'm not sure exactly when WakeUpNow (BehindMLM WakeUpNow review here) decided to implement the retail customer requirement, however the earliest official mention of it I found was in the WakeUpNow compensation plan, updated July 2013.
In the updated plan, a footnote on every page reads:
Income Disclosure Statement available at wakeupnow.com/ids
All IBOs must maintain a minimum of seven retail customers

Version 07.2013.002
Despite the mention in the compensation plan though, implementation wise it appears the requirement hasn't been pushed through yet.
Research on social media reveals a general consensus that WakeUpNow is planning to implement the requirement come October 1st. The clearest clarification I've seen of this is a video made by WakeUpNow affiliate Hugo Valdez.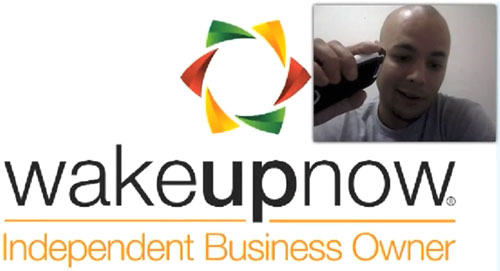 In his video Valdez calls up WakeUpNow customer support and poses as a curious prospective affiliate, asking questions about some upcoming compensation plan changes he's heard about.
After initially claiming that she 'didn't have any information' on the October changes to the WakeUpNow compensation plan [2:29], the rep then eventually confirms that come October, WakeUpNow affiliate's will be required to have seven retail customers to qualify as active (earn commissions):
[2:37] Valdez: From what I'm hearing on October first not am I only going to need the three IBOs to generate that hundred dollars to break even, I'm gunna need an additional seven customers as well. Is that correct?

WakeUpNow Rep: As far as I understand it.
WakeUpNow's retail offering consists of three subscription packages, the lowest being Silver at $24.95. This would mean that in order to earn commissions, a WakeUpNow affiliate would need to have at least seven Silver non-affiliate retail customers.
This is confirmed later in the video by the WakeUpNow support rep, only minutes after she'd claimed she had "no information".
[4:06] Valdez: I'm hearing that the seven customers have to pay a bare minimum of $24.95 a month, not independent business owners, customers alone. And that there's like three different packages that the customers can get. Is that correct?

WakeUpNow Rep: Yes.

[4:32] Valdez: The cheapest package for the customers would be $24.95 a month, is that correct?

WakeUpNow Rep: Yes.
On the call the WakeUpNow rep "with no information" reveals that these changes are going to be made public after a WakeUpNow conference on September 9th.
With the requirements already published as part of the WakeUpNow compensation plan since at least July 2013 however, it appears to be not so much of a policy change as actual enforcement of an existing policy.
What does this reveal about the business?
Well, getting back to my initial comments about what should drive retail sales in a company (product value), it would appear that WakeUpNow's affiliates have failed to thus far generate any significant retail activity within the company.
Why else would they be making it mandatory for affiliates to sign up retail customers otherwise?
Prior to the changes, it was entirely possible to simply focus on signing up new WakeUpNow affiliates and generate commissions of their purchases, a practice the FTC has labelled a tell-tale sign of participation in a pyramid scheme:
Not all multilevel marketing plans are legitimate. If the money you make is based on your sales to the public, it may be a legitimate multilevel marketing plan.

If the money you make is based on the number of people you recruit and your sales to them, it's not. It's a pyramid scheme. Pyramid schemes are illegal.
Looking at the upcoming change from a business standpoint, the change makes little sense as it will almost certainly guarantee that at least 80% of WakeUpNow affiliates will fail to qualify.
As per WakeUpNow's July 2013 Income Disclosure Statement, 80% of the company's current active affiliates failed to generate over $10 in monthly commissions for the month of July 2013.
$10 of course being the payout a WakeUpNow affiliate generates when they sell a WakeUpNow membership subscription to one retail customer.
It's worth noting that WakeUpNow's IDS doesn't include affiliate who left the company in July or are not "active" (which at less than $10 a month in commissions would mean self-qualification via an affiliate's own-purchase of a membership subscription). Ergo the 80% figure provided is realistically higher.
These abysmal retail sales statistics go hand in hand with the proposed retail customer qualification, however the IDS indicates that by and large the vast majority of WakeUpNow's affiliates will not qualify for commissions come October 1st.
Longevity wise it would appear WakeUpNow are quite content to eradicate the bulk of their affiliate-base, which would no doubt lead to a major collapse within the company.
Why are they doing this?
Despite launching all the way back in 2009, if Alexa is anything to by it is only recently that WakeUpNow seems to have taken off.

Given that we know over 80% of affiliates failed to recruit a single retail customer in July (which according to Alexa is around the time WakeUpNow took off), that leaves affiliate recruitment and membership subscriptions as the primary source of revenue generation.
And it doesn't take a genius to figure out what would happen if a regulator was to step in and go over WakeUpNow's books.
The problem?
Demonstratively WakeUpNow's membership subscriptions have failed to gain any retail traction for four years running now. In mandating a minimum retail sales requirement the company is effectively blaming its affiliates for not generating the sales, and planning to force them to do so.
Take out the attached income opportunity though and it appears nobody wants to buy a WakeUpNow membership subscription. I guess come October 1st we're going to see just how unretailable WakeUpNow's product line really is.
Stay tuned…