De La Rosa & Crosby preliminary injunction granted

A sign of what's to come on May 2nd?
Following a hearing on April 25th and despite responses being filed in protest by both Randy Crosby and Santiago De La Rosa, on the 30th of April the Massachusetts District Court granted a preliminary injunction against the two.
Relying on TelexFree's business model and evidence collected from YouTube and the defendants personal efforts to promote TelexFree, the SEC successfully convinced a Judge that both Santiago and De La Rosa were
directly or indirectly engaged in violations alleged in the complaint (securities fraud)
likely to repeat said violations
likely to dissipate and conceal assets which could be subject to an order of disgorgement or an order to pay a civil monetary penalty in this action
As such, the granting of a preliminary injunction against the duo was "in the public interest" and granted.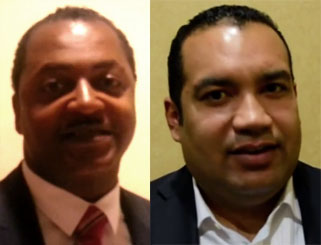 Entered on April 30th, the preliminary injunction sees Crosby and De La Rosa (right)
have their business operations halted, including the receiving of any money via fraud
have their funds and assets (including bank and payment processor accounts) frozen and
be required deposit all funds available to them in the US into an SEC controlled bank account within 7 days
repatriate all funds located outside the United States (including any and all funds or assets that were obtained directly or indirectly from investors and/or "promoters"), and deposit those funds into the SEC controlled bank account
be prohibited from opening new bank accounts and
be restrained from destroying, mutilating, concealing, altering, disposing, or transferring custody of any items, including but not limited to any books, records, documents, correspondence, contracts, agreements, assignments, obligations, tape recordings, computer media or other property relating to their misconduct
Additionally, De La Rosa has been ordered to
sell his three cars; a 2014 BMW X5 XDrive, 2013 Land Rover Range Rover Sport HSE and 2010 BMW X5 XDrive
provide an affidavit or declaration under penalty of perjury that he has sold the cars, deposited United States located funds, and has taken
steps to repatriate funds located outside the United States
Following their respective declarations being filed, both De La Rosa and Crosby are then permitted to withdraw just $6000 from the SEC controlled account (with a deadline set of May 30th). This appears to be an agreement made between the two and the SEC, the details of which are not public.
Entered in on April 30th, the preliminary injunction against De La Rosa and Crosby is to remain in effect until a final judgement or disposition is made in the case (no date is set).
Looking forward, the SEC have also filed an (updated?) motion for a preliminary injunction against remaining defendants Steve Labriola, James Merrill, Carlos Wanzeler, Joseph Craft, Sannderly Rodrigues de Vasconcelos and Faith Sloan.
The court should convert the April 16 order (the TRO) into a preliminary injunction, because the commission has made sufficient showing that it is likely to succeed on the merits that Merrill, Labriola, Wanzeler and Craft, as officers and insiders of TelexFree, and Rodrigues and Sloan, as leading promoters of TelexFree, have been operating a Ponzi or pyramid scheme in which earlier investors are paid with money received from later investors.
Adding weight to the SEC's motion is the observation by the agency that 'a pattern of recent transfers to the defendants and their agents' has taken place, along with a 'failure to comply with the' existing temporary restraining order (TRO was granted April 16th).
The SEC are alleging that all defendants have breached the TRO.
(The TRO) froze the assets of all defendants.

After a period of inactivty, the TelexFree website has been up and running again since April 25th. It appears that TelexFree and/or one or more of the individual defendants may be improperly using investor funds for that purpose.

(The TRO) required defendants to submit a written accounting within 5 days after service of the order.

None of the defendants has done so.

(The TRO) required the defendants to repatriate any investor funds located outside the United States within five days after service of the (TRO) order.

Wanzeler received more than $7.3 million from TelexFree in late December 2013 and wired $3.5 million to the Oversea-China Banking Corporation in Singapore on January 2nd, 2014.

TelexFree LLC sent $10,389,000 to an entity known as TelexFree Dominicana SRL on April 3rd 2014.

To the Commissions knowledge, neither defendant has repatriated those funds to the United States.

(The TRO) prohibited the defendants from soliciting new investors or promoters. Nevertheless, two defendants are invoking divine authority for their efforts to drum up new business for TelexFree.

In a YouTube video posted on April 16th, 2014, Rodrigues announced:

"I am never going to stop this. If I say to my network I will never stop this because it's in my blood, DNA.

And who started multi-level was God. If you want to learn, learn. If you want to frown, frown.

God made binary, Adam and Eve, and told them to multiply. For me, it is given by God."

Sloan's website currently contains a March 15th, 2014 update about a March 9 change to the compensation plan. The update includes the comment 'NOTE: It is STILL NOT FINAL… But is Getting BETTER as Jesus said'.

The website also tries to reassure current promoters:

"Legacy promoters will be transitioned to the new plan with specially crafted requirements allowing them the potential to earn even more than the previous plan".
A more detailed picture of TelexFree and management's efforts to stash away what was left of investor funds is also provided:
TelexFree Financial received $4,105,000 from TelexFree Inc. and TelexFree LLC on December 30 and December 31, 2013
Financial statements prepared by Craft indicate that TelexFree made a $2,022,329 "loan" to TelexElectric
Financial statements prepared by Craft indicate that TelexFree made a $500,870 "loan" to Telex Mobile
Merrill received $3,136,200 from TelexFree, TelexFree Inc. and TelexFree LLC on December 26 and December 27, 2013
Wanzeler received $7,317,800 from TelexFree Inc. and TelexFree LLC on December 26 and December 27, 2013
Two companies controlled by Craft received more than $2,010,000 between November 19, 2013 and March 14, 2014
On April 11 (just before TelexFree filed for bankruptcy), Merrill and wife of Wanzeler obtained cashier's checks in the total amount of $25,552,402

This pattern of suspicious transfers is a strong indication that TelexFree and the individual defendants have been, and may continue to be, dissipating or concealing investor funds.
Reading between the lines (the allowance of a $6000 withdrawal in particular), it appears that Randy Crosby and Santiago De La Rosa were the only two defendants willing to adhere to the terms of the TRO. That explains the division of defendants in the case into two separate preliminary injunction hearings.
As I see it, given the preliminary injunction has already been granted against Crosby and De La Rosa, it's pretty much certain the same will be granted on May 7th. I imagine some of the restrictions imposed in the injunction might be harsher too, given the apparent breach of the TRO and continued attempts to conceal Ponzi profits by those involved.
One reason TelexFree, management and Sloan and Rodrigues might be ignoring the Massachusetts action is that they still believe the May 2nd bankruptcy hearing in Nevada is going to result in relief being granted for the company.
That hope appears to be based on the notion that the bankruptcy court will simply ignore two years of Ponzi profiteering, ignore current bankruptcy case-law regarding fraud and award TelexFree bankruptcy protection.
As silly as that might sound, that's sadly the current situation.
Personally I think either the DoJ Trustee application or SEC's change of venue motion is going to be granted, which will just ultimately translate into harsher penalties for TelexFree, it's insiders and Sloan and Rodrigues – as they'll be finally forced to deal with proceedings they've thus far apparently ignored.
Provided the purchase of which doesn't breach the terms of the current TRO, now might be a good time for the named defendants to start stocking up on lube.
It's coming…