Royal JobDesk Review: Royal Ekutir's marketing arm?

If you visit the Royal E-Kutir company website, you're presented with a poorly designed flash-loaded site that doesn't really explain all that much about the company.
Let alone any MLM business opportunity attached to it.
Probably better known as 'Get Job Desk', Royal Job Desk claim to be the 'member referral program' of Royal Ekutir Technology with the company functioning as an independent MLM business.
Read on for a full review of the Royal JobDesk income opportunity.
The Company
Royal Job Desk describe themselves as being
a fast growing midsized Indian IT & Communication System Integration Company in the business of helping clients realise their ambitions by bringing information to life.
Royal Job Desk uses the company name along with Royal Ekutir interchangeably on its website.
Unfortunately though there is no information on the Royal Ekutir website about who owns or runs the business.
And the domain registration getjobdesk.com only raises more questions:
Domain Name: GETJOBDESK.COM

Registrant:
Google Enterprises Private Limited
Gabriel Ben Dann (gabriel.bendann@gmail.com)
A 7, SECTOR 10
NOIDA
Uttar Pradesh,201303
IN

Creation Date: 03-Oct-2011
The names 'Google Enterprises Private Limited' and Gabriel Ben Dann (along with the provided email address' appear only in connection with GetJobDesk.
Meanwhile the domain registration information for royalekutir.com is set to private.
Given the complete lack of information provided on their website and insinuation that Google are somehow running a MLM company, I'm going to go out on a limb here and suggest that the domain registration information provided for getjobdesk.com is completely bogus.
I've had a thorough look and cannot find anything concrete suggesting Google Enterprises Private Limited is a real company (with a connection to Google or not) and that Gabriel Ben Dann is an actual person.
The Royal Job Desk Product Line
Royal Job Desk claim to offer a series of IT based products to their members:
IT Solutions
Offers and Promotions
Merchandise
E – Education Program
And presumably these products and services are offered through Royal Ekutir.
This is kind of curious when you consider the following message scrolls across the top of the Royal Ekutir website:
This is to notify everyone that we have only one official website under the name of www.royalekutir.com .

We are not connected or linked with any other website.
Despite presenting themselves as being one and the same, it's unclear whether Royal Job Desk are providing the above services themselves or acting as affiliates of Royal Ekutir. There is no mention of Royal Job Desk anywhere on the Royal Ekutir website.
Access to the above products and services bundled with Royal Job Desk membership that seems to range in cost from 9,000 to 35,000 rupees ($177-$691 USD).
The Royal Job Desk Compensation Plan
The presentation of the Royal Job Desk compensation plan is highly confusing but as best as I can tell, members are compensated for logging in and viewing advertising and recruiting new Royal Job Desk members.
Note that the Royal Job Desk compensation plan outlines payments in terms of points awarded to members, however I couldn't see anywhere in the compensation plan that actually outlined how much 1 Royal Job Desk point was worth in real dollars.
Viewing Advertising
Royal Job Desk describe this component of their compensation plan as follows:
Earn Points with your JOB DESK

Your JOB DESK is your private working area where you can explore your information and knowledge by surfing our Associates, Traders and Services and the Services of our Promoters.
This I believe pretty much equates to 'watch advertisements from our advertisers'.
In exchange for logging in and doing this Royal Job Desk will reward members with up to 50 points a day.
Members are able to purchase up to ten job desks in total and earn up to 500 Royal Job Desk points a day.
Recruitment Commissions
Royal Job Desk's recruitment commissions are structured around a binary compensation model. This means that underneath a Royal Job Desk member are two teams. The top of the binary compensation structure looks something like this: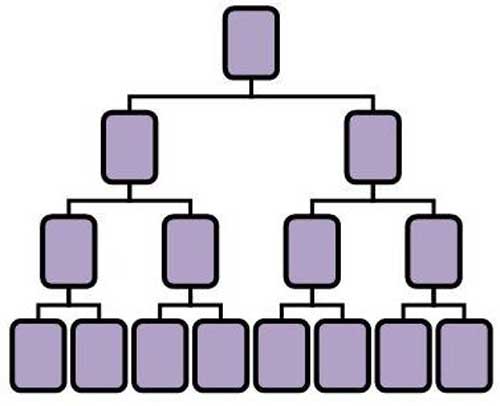 As members are recruited Royal Job Desk pays out a commission on the pairing of members from each side. For each pair of members (1 from the left and one from the right), Royal Job Desk reward members with 1000 points daily.
The Royal Job Desk recruitment commissions are capped out at 100 pairs on either side (100,000 points a day).
There are also recruitment goals offered as bonuses once members have a certain level of members on both their left and right binary teams (eg. 60 members means 60 on the left and right for 120 recruited members total):
60 members = 25,000 points
100 members = 45,000 points
150 members = 100,000 points
600 members = Hundai Eon car
1,000 members = Toyota Innova car
2,000 members = Mercedes car
5,000 members = Toyota Land Rover car
There are also two bonus pools set up to reward members who recruit a certain number of new members themselves within 7 days.
The final recruitment bonus is the Royalty Club Group that is made up of 1% of Royal Job Desk's membership sales. Eligibility to the Royalty Club Group requires the earning of 10 million points with shares in the group being split equally amongst all qualified members.
Joining Royal Job Desk
As mentioned earlier Membership to Royal Job Desk ranges from 9,000 to 35,000 rupees ($177-$691 USD) with different membership levels restricting access to various services offered.
In terms of the compensation plan though, all examples use the 9,000 rupee membership option with no difference being made in terms of commission payouts.
Conclusion
The dubious nature and unclear relationship (if any) between Royal Job Desk and Royal Ekutir is a big red flag from the get go. Especially if the company is masquerading as being owned, approved or affiliated with Google in some way when they are not.
A lack of detailing ownership of the company  is also a red flag and on these two points alone I'd be highly suspicious of handing any money over to Royal Job Desk.
The compensation plan solely focuses on recruitment and is in no way tied into the products or services Royal Job Desk profess to offer access to (through Royal Ekutir or otherwise).
For all intents and purposes, you sign up to Royal Job Desk for 9,000 rupees, watch ads, buy more desks if you want and then recruit others and get them to pay 9,000 rupees for membership too.
That's pretty much how it works.
With no other streams of revenue other than company membership and commissions being paid out primarily for the recruitment of new members, the 'watch advertising' part of the business becomes negligible and Royal Job Desk can be boiled down into a simple recruitment scheme.
Stop recruiting new members and the commissions dry up.
Royal Job Desk do not name any advertisers or clients and given the dubious nature of the rest of the business, it's highly questionable they'd even exist.
How much Royal Job Desk guarantee to pay out daily is also unclear as there is no real dollar value given to the points it rewards members with. Whatever it is though, the long-term sustainability of Royal Job Desk seems highly questionable given the daily reward points being rewarded to members and that memberships are valid for at least a year.
Couple that with the management obscurity and this is probably one MLM opportunity you're going to want to stay clear of.