Rodan + Fields terminates Pool Patrol Paula's distributorship

There's been a recent spate of incidents where white people call the cops on black people not breaking the law in the US.
Due to the technological age we live in, the altercations, seemingly sparked by race, have been caught on camera.
Last Sunday Stephanie Sebby-Strempel, since dubbed "Pool Patrol Paula", took it upon herself to confront and assault a black teen at a South Carolina community pool.
It didn't take long for the internet to realize Sebby-Strempel was a Rodan + Fields distributor.
According to the filed incident report, Sebby-Strempel told two black teenagers they "didn't belong" at the pool. She then called them "punks" and began hurling racial slurs.
Sebby-Strempel allegedly told the teenagers that they "didn't belong" at the pool and had to leave.
The day after the incident…
Dorchester County Sheriff's Office detectives went to serve a warrant for the third-degree assault charge at Sebby-Strempel's address.

The 38-year-old woman allegedly pushed one detective into a wall and bit another on the arm, breaking the skin, according to the incident report, leading to additional charges.

Sebby-Strempel was arrested and is prohibited from contacting the victims in any way, including electronic contact, court documents state.
On her since-deleted/privated Facebook profile, Sebby-Strempel cited herself as a "Level 1 Executive Consultant" Rodan + Fields distributor.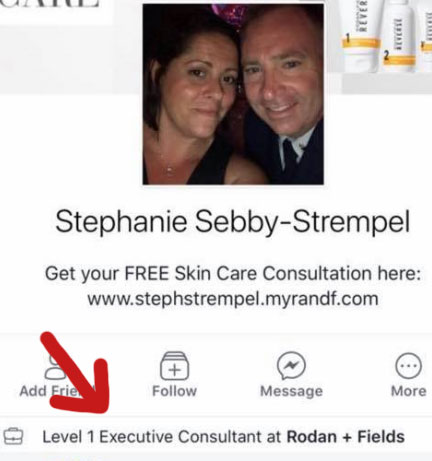 This prompted calls on Facebook for Rodan + Fields to take action.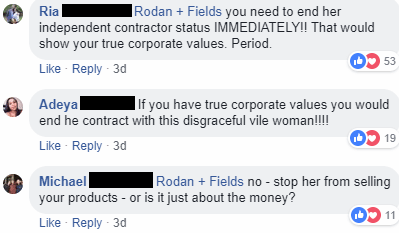 Rodan + Fields corporate initially responded by pointing out Sebby-Strempel wasn't an 'employee, but an Independent Contractor.'

Less than twenty-four hours later, Rodan + Fields announced it had terminated Sebby-Strempel's distributorship.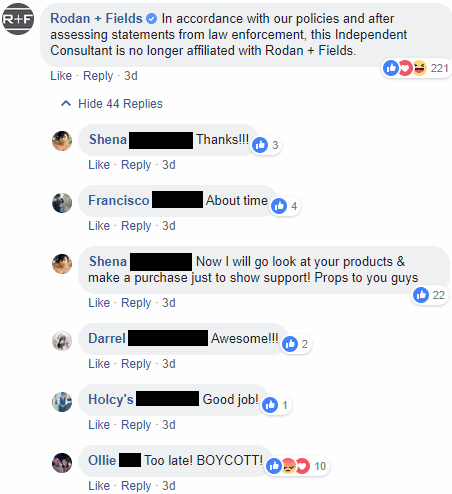 Personally I feel a bit mixed about this one.
To be clear: Stephanie Sebby-Strempel is a racist nutjob who has forfeited any benefit of the doubt.
But she wasn't representing Rodan + Fields at the pool, marketing their products or in any way acting on behalf of the company.
Considering one of the big drawcards of Rodan + Fields, and indeed the MLM industry at large, is the concept of running your own business;
WHY R+F?

BECOME A CONSULTANT

Join our community of entrepreneurs and experience healthier, younger-looking skin, connections with great people, opportunities for personal growth and your own business in the skincare industry.
How is it that "your own business" can be so easily terminated by… another business?
I mean if signing up as a Rodan + Fields distributor truly meant "running your own business", surely Sebby-Strempel's actions would lead to the demise of her business without intervention?
On the other hand I also get the position Rodan + Fields found themselves in.
Either appear to support racism or terminate an "independent" distributor.
My point is I'm not really seeing how this is any different to a company terminating one of its employees for out-of-office conduct.
And in that sense Rodan + Fields' distributors get screwed, because on paper they're not entitled to any employee benefits.
Rodan + Fields distributors take on job security risks that come with being an employee, but Rodan + Fields assume none of the associated corporate responsibilities towards them.
Sounds like a pretty one-sided deal if you ask me.
And if this becomes a trend, where MLM companies start terminating distributors and affiliates for unrelated conduct, might be time for the industry to drop the "own your own business" marketing pitch altogether.