Revision Network Review: Four tier pass-up scheme
Revision Network launched in mid 2013 and are based out of the US state of Nebraska.
That said, the Revision Network Terms and Conditions are bit confusing, with the company stating that
These Terms and Conditions shall be construed in accordance with and governed by the laws of the United States and the State of California, without reference to their rules regarding conflicts of law.
But then in the next sentence,
You hereby irrevocably consent to the exclusive jurisdiction of the state or federal courts in Gage County, Nebraska, USA in all disputes arising out of or related to the use of the Site or Service.
I'm not expert in law but I'd assume trying to apply Californian law in a Nebraskan court might bring with it some issues.
In a marketing video on the Revision Network website ("revisionnetwork.com"), the company claims to be owned by "JPB Publications".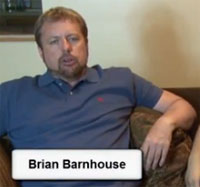 JPB Publications ("jpbpublications.com") claim to be 'the premier resource center for internet and network marketers', with the company having been 'family owned and operated since 2006'.
Heading up JPB Publications is Brian Barnhouse (right). Featured on the JPB Publications website are a series of websites the company owns, which primarily offer network marketing advertising and training services.
Revision Network appears to be Barnhouses first fully fledged MLM company venture.
Read on for a full review of the Revision Network MLM business opportunity.
The Revision Network Product Line
The Revision Network Product Line is four buy-in levels, with each level being bundled with a series of products and services.
Free
No information provided.
Bronze ($19.95)
Bundled with Bronze Revision Network membership is a video series called "Online Money Flow 2.0".
We'll show you exactly how people make money online in their certain niches that they have.
Something called the "Ultimate Quickstart Guide":
If you do any type of networking program or network marketing programs, this Ultimate Quickstart Guide will show you exactly what to do to make sure you get on the right foot, y'know take the right step forward with your network marketing program.
And an existing JPB property, "Best Places to Advertise":
We actually go and place ads and track them to see how our clicks and conversions are doing at the ad sources. Then we show you the actual results of all of our advertising.
Silver ($99.95)
Access to two sets of "audios" and an "Achieve Your Desires" e-course.  "Universal Laws" is one of the audios but I couldn't decipher the name of the second audio as, somewhat ironically, the audio on the on the JPB website "products video" is of extremely poor quality).
Gold ($249.95)
'We teach you how to get sales through direct selling. We do a Powerpoint e-course on that, really teaching you alot'.
There is also a Financial Aid workbook, which the company claims 'teaches you how to manage your money'.
Platinum ($999.95)
Access to a US Freedom Conference and Global Freedom Conference, which are each held annually.
We get the very best success coaches, the best knowledgeable people, multi-billionaire people that come and speak at these conferences, so it's going to be a very valuable learning experience.
The Revision Network Compensation Plan
The Revision Network compensation plan is a hybrid 2-up, 3-up and perpetual 5-up plan.
In a nutshell, each of the four product tiers are essentially buy-in levels, with affiliates being paid 100% of the buy-in at the Bronze level, and 75% at the Silver, Gold and Platinum levels.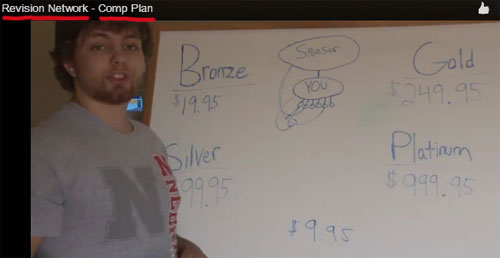 Sales are tracked via a unilevel compensation structure, with an affiliates 2nd, 5th and every 5th sale thereafter passed up to their upline.
In turn, every affiliate they recruit must also pass up every 2nd, 5th and every 5th sale thereafter that they make.
Note that an affiliate must buy into each level if they wish to earn commissions on it. For example, if an affiliate has only bought into the Silver and Bronze levels, they will only earn commissions (and passups) on those two levels.
If anyone they recruit buys in at a higher level (or anyone their downline recruits), those commissions will be passed up to the first affiliate who has bought in at that level.
Joining Revision Network
Revision Network charge a $9.95 affiliate fee to participate in their compensation plan. They do not state whether this is a once-off, annual or monthly fee.
Conclusion
If you're only at the Bronze level and someone that you recruited comes in at the silver level but you don't own that product, then you don't get a commission.

So the only way that you can earn commissions for these higher level products when a person goes up to that level, is if you own that product. So, get all in and make a lot of money.
From the looks of it, JPB Publications have simply rebundled a bunch of their previous offers and services and attached a pass-up compensation plan to it.
In addition to requiring affiliates to buy in at each level if they wish to earn commissions, the above quote, taken from the Revision Network compensation plan video, pretty much spells out a four tier gifting network.
I believe retail is possible if someone doesn't pay the $9.95 affiliate fee but I believe won't be significant due to the nature of the compensation plan.
Affiliates have a far much greater income potential recruiting other affiliates who recruit other affiliates etc. (via passups) than if they focus on retail customers.
As such the company pretty much guarantees it's going to wind up being affiliate heavy. This in turn of course means that you simply wind up with a company full of affiliates directly paying eachother each month.
Due to the company keeping 75% of the Silver, Gold and Platinum levels I wouldn't go so far as to define Revision Network as a gifting scheme, however the Bronze level most certainly fits the definition.
Affiliates buy in at the Bronze level and 100% of their Bronze fee is paid to the affiliate that recruited them (or their upline if it's a pass-up sale).
75% isn't as bad as 100%, but still leaves the door wide open for affiliates paying affiliates based on how many affiliates they recruit and what levels they and their recruited affiliates buy into.
Stop the recruitment and the scheme dies off.