Jason Cardiff incarcerated if Aug 31st deadline not met

Even before their July 24th contempt hearing, the Cardiffs continued to serve up fresh delicious popcorn.
On the eve of their contempt hearing, Defendants Jason and Eunjung Cardiff filed nearly 1000 pages of unsolicited, unexplained exhibits, without leave of court.

What is more, they failed to comply with sealing procedures under the Local Rules for personal identifiers, revealing unredacted social security numbers, birthdates, home addresses, phone numbers, email addresses, and the names of their own minor children on the public docket.

The Court sua sponte seals the document and admonishes Defendants counsel that the failure to comply with all Local and Federal Rules may result in the imposition of monetary or other sanctions upon counsel.
What a tone to set before a hearing that might very well send you to prison.
The Cardiff's contempt hearing went as you might expect. The court rejected all of their arguments and found
the FTC has shown by clear and convincing evidence that the Cardiffs have failed to comply with the Court's TRO and PI.

The Court therefore finds the Cardiffs in contempt of the Court's Orders.
Under normal circumstances the Cardiffs would be sent straight to prison.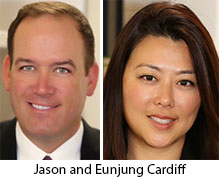 Fortunately for them we aren't living in normal circumstances.
The Court finds incarceration a necessary method by which to coerce compliance with Court's TRO, PI, October 29 Purge Contempt Order, and March 31 Purge Contempt Order.

The Court does not find, however, that the simultaneous incarceration of both Jason and Eunjung is necessary at this challenging time, in the midst of the pandemic.
The court compromised by only ordered Jason Cardiff incarcerated – and then only if he fails to adhere to set conditions by August 31st, 2020.
Those conditions are
producing a detailed account of all of the Cardiff's assets;
turning over said assets to the Receiver; and
paying the Receivership over $200,000 in due mortgage payments and continuing to make mortgage payments until the property is sold.
Will he or won't he? Stay tuned!
Update 8th September 2020 – Despite the Cardiffs filing a notice claiming to have purged their contempt, in a September 4th filing the FTC notes;
The "Notice" they filed with the Court … does nothing except double down on the story this Court has rejected as a lie on multiple occasions.
The FTC has requested the court order Jason Cardiff incarcerated.
The Cardiffs only reveal assets as they are found by the FTC or the Receiver.

The deception and fraud upon this Court have become so repetitious that they are now routine.

Their conduct will not change short of the imposition of coercive incarceration.
A decision on incarceration remains pending.
Update 12th September 2020 – Jason Cardiff has been found in contempt. He has however dodged prison, as long as VPL is able to manufacture masks at a profit.