Pruvit sue ForeverGreen for breach of contract & fraud

There's trouble brewing in the "look at my pee!" ketone MLM niche…
At the center of the controversy are Pruvit, ForeverGreen and non-MLM entity, Axcess Global Sciences.
On August 24th, Pruvit filed a lawsuit against ForeverGreen and Axcess Global, accusing them of breach of contract, fraud.
For those unfamiliar Axcess Global Sciences, they are the
exclusive licensee of ketone technology patented by the University of South Florida.

Axcess stands to profit under the license based upon sublicensing of the technology to others via the receipt of a royalty and other consideration.
Pruvit contend that after rejecting "many offers" to license their technology, Axcess found two viable buyers in Pruvit and ForeverGreen.
Pruvit claim they were first to establish a "binding contract" with Axcess, which they then set about building the Pruvit MLM business opportunity around.
Possibly seeking to play Pruvit and ForeverGreen against eachother, Pruvit claim that Axcess
sought to strike what it believed would be a more lucrative deal with ForeverGreen.

In the ultimate game of unfair competition, Axcess Global and ForeverGreen joined forced to shut PruvIt out of the market place and disparage its name to consumers.
A deal seems to have been struck between ForeverGreen and Axcess, with Pruvit now seeking to regain its 'ability to provide its customers with the technology for which it negotiated'.
Following the signing of a non-exclusive contract between Pruvit and Axcess, Pruvit claim they were
to receive a single serve powder formula utilizing the Licensed Technology within five days of the signing of the agreement.

PruvIt did not receive a formula that utilized the Licensed Technology within the time period agreed.

Axcess Global, then also breached the Agreement by failing to adequately license the Technology to PruvIt, and thereafter licensing the Technology to ForeverGreen for use within the Licensed Territories.

While disputing the existence of the contract, Axcess wrongfully sent a notice of termination to PruvIt, and embroiled themselves in a subterfuge between PruvIt and ForeverGreen.
Pruvit state the damages caused by Axcess and ForeverGreen's conduct is 'likely to exceed $3,000,000'.
In accusations of fruad leveled against Axcess, Pruvit are also unhappy with what was represented to them by Axcess staff:
Axcess, through its agent Rob Rogers misrepresented in a meeting between he and Brian Underwood of PruvIt in Dallas that all negotiations with ForeverGreen had ceased, and Axcess had the authority to License the Products and Processes in the Licensed Territory.

Axcess in emails from Gary Millet to Brian Underwood and others also falsely represented the nature of the Licensed Patents included the right associate nutritional ketosis with the possibility of weight loss.

Axcess promised to PruvIt that it had the right to license the USF technology and that the technology was significant to the general public as a result of its properties with respect to a weight loss campaign.

PruvIt relied on the promise of Axcess about the nature of the Licensed Patents and that it would not undermine PruvIt's ability to utilize those patents.

PruvIt relied upon the promises of Axcess Global to its detriment.
ForeverGreen are on the hook for fraud too, with Pruvit alleging
ForeverGreen committed fraud through its misrepresentations concerning its dealings with Axcess Global.

ForeverGreen published disparaging comments about PruvIt and its rights to the Licensed Technology and Plaintiff's economic interests and ability to provide the technology to its sales force.

ForeverGreen's statements about its access to the patent inventor and the exclusivity of its rights as opposed to those of PruvIt are false and were published with malice.

The false statements were repeated online and through various media without a privilege to do so.
Asserting ForeverGreen was 'well aware that PruvIt had a valid and existing contract with Axcess', Pruvit conclude
Forever Green willfully interfered with that contract and encouraged Axcess to wrongfully terminate its contract with Axcess so that it could obtain rights that are lawfully those of PruvIt.

Forever Green then undertook to assert that PruvIt did not have rights to the Licensed Technology that Forever Green was fully aware were their rights.

With the misrepresentations about the rights of PruvIt, ForeverGreen undertook a pattern and practice of disparagement.

ForeverGreen's interference with the contract between PruvIt and Axcess has caused PruvIt substantial harm and monetary damages.
In a civil lawsuit filed on August 24th in a Texas District Court, Pruvit are seeking
expectancy damages
reliance damages
lost profits
loss of credit
loss of goodwill
exemplary damages
equitable damages
court costs and
attorneys' fees
At the time of publication a summons was executed on both Axcess and ForeverGreen on August 24th, however a response from either party has yet to be filed.
To what extent ForeverGreen have banked their future on Axcess' ketone products I'm not sure, but I do know Pruvit have essentially created their entire business around it.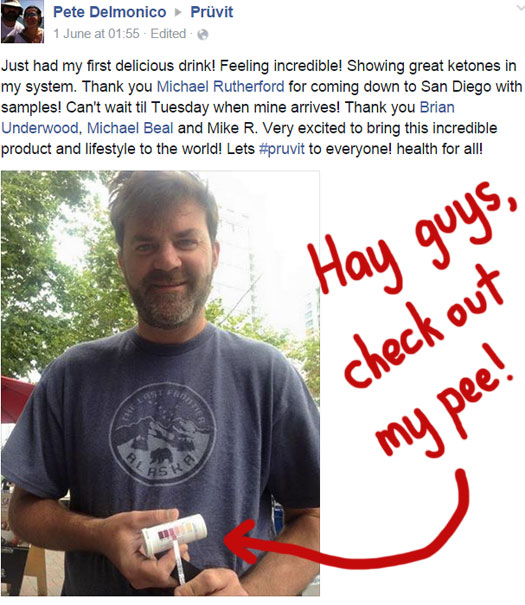 Without access to the ketone products Pruvit are toast. Whether or not ForeverGreen are in the same boat could be interesting, as it puts this case in a position to decide which company survives.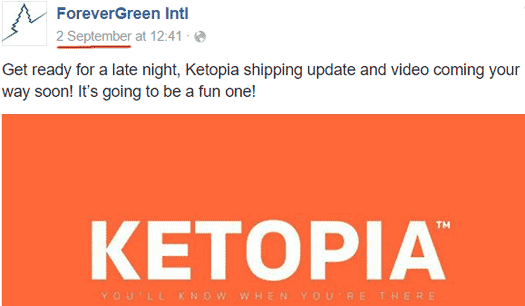 Pruvit seem intent on claiming their territory exclusivity, which would make this an "all or nothing" case.
A compromise might be found later down the track, but with Pruvit already perhaps able to demonstrate ForeverGreen having interfered with their business, perhaps unlikely.
Who will win the MLM ketone pee war remains to be seen…
Footnote: Shout out to Troy Dooly for first reporting this case, a copy of Pruvit's lawsuit along with Dooly's own commentary are available on MLM HelpDesk.