Profi8 Review: i-Divvy Ponzi scheme reboot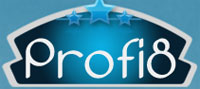 There is no information on the Profi8 website indicating who owns or runs the business.
The Profi8 website domain ("profi8.com") was registered on the 13th of August 2013, however the domain registration is set to private.
Hosted on the Profi8 web server is a banner for "i-Divvy":

Research reveals i-Divvy was launched in October 2013, with the scheme promising investors a 14% weekly ROI. Affiliate investors invested in $1 shares and had to watch three company-supplied ads a day to qualify.
Shortly after launch, the i-Divvy website began to go frequently go offline. Emails sent to affiliates blamed the downtime on DDOS attacks.
By late December i-Divvy collapsed, with an affiliate email explaining why:
We have to close doors for now due to small issues as listed below:

1-Most investors withdrawed their money in the first 3 weeks ( makes it a very little amount of investment for our traders to play with)

2-It would cost us too much on our script to customize it and add a matrix just like we wanted.

3-DDOS and Dedicated server cost a lot.
i-Divvy emails were signed off on by a "Charles Finn" and "Mathew Howard" which, due to the typical generic nature of both names, are likely to be fake.
Following the collapse of i-Divvy, it appears the admin(s) are now back with Profi8.
As always, if an MLM company is not openly upfront about who is running or owns it, think long and hard about joining and/or handing over any money.
The Profi8 Product Line
Profi8 has no retailable products or services. Affiliates sign up to the company and then purchase either "advertising packages" or "matrix positions".
The Profi8 Compensation Plan
The Profi8 compensation plan revolves around affiliates purchasing $1 advertising packages and $6 matrix positions.
Advertising Packages
Profi8's advertising packages function as an investment, offering ROIs of up to 11% a day.
How much of a ROI is paid out depends on how much a Profi8 affiliate invests.
Silver ($10-$500) – 8% ROI daily for 15 days
Gold ($501-$2500) – 9.5% ROI daily for 15 days
Diamond ($2501-$5000) – 11% ROI daily for 15 days
Note that 30% of all ROIs paid out must be reinvested back into the company via $6 matrix positions.
Referral commissions are also paid out on all affiliate investments, paid out down three levels of recruitment:
6% on level (personal recruits)
3% on level 2
1% on level 1
Matrix Positions
Profi8 sell affiliates $6 matrix positions, which are part of a company-wide matrix.
Profi8 use 2×2 matrices, which each contain a total of six positions that need to be filled: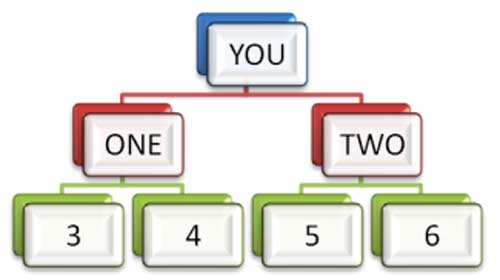 Once all positions in the matrix are filled, the position at the top of the matrix generates a $10 commission. $1 is also paid to the affiliate who recruited the affiliate who bought the position.
Joining Profi8
Affiliate membership to Profi8 is free, however affiliates must invest in advertising packages or purchase matrix positions to withdraw any commissions.
Conclusion
With no retailable products or services, 100% of company revenue generated via affiliates and commissions paid out on funds deposited on the promise of a fixed ROI, Profi8 functions as a Ponzi scheme.
Affiliates invest up to $5000 on the promise of a guaranteed 8-11% ROI over 15 days, with ROIs funded by subsequent affiliate investment.
Amusingly, Profi8's owner believes all of this is perfectly legal because
this program is a private business transaction exempt from the U.S. Securities Act of 1933 and all amendments, or The Securities Exchange Act of 1934 and Regulations, or The Investment Company Act of 1940 and the Rules & Regulations thereof.
A "private business transaction"? Riiiiiight.
The admin also seems to be a bit confused as to what type of business Profi8 is. Also taken from the company's Terms and Conditions:
PROFI8.COM is not an investment program, multi-level marketing program, High Yield Investment Program, randomizer, matrix, pyramid, Ponzi scheme, "get rich quick" scheme, or other similar venture.
Load up the Profi8 website though, and this is what visitors are greeted with on the homepage: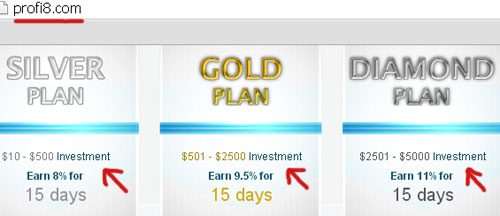 As with all Ponzi schemes, once new affiliates stop investing funds Profi8 will run out of money to pay out existing investors.
Given the 15 day ROI timeframe the company has set itself, investment in the scheme is even riskier than your typical 90-120 day ROI MLM Ponzi scheme.
It also means investors will have virtually no warning when the scheme collapses, at which point the anonymous Profi8 admin runs off with everyone's money.
In i-Divvy, affiliate investors were playing around with $1 investments and the admin(s) abruptly shut the scheme down after just two short months.
Second time around with Profi8 we're talking investments up into the thousands…