OurGV Review: Affiliate malls and revenue share

In researching MLM companies for review I visit hundreds of company websites and whilst most of them are neat and easy to navigate every now and then I run across a company website that initially does my head in.
OurGV is one of those companies.
The OurGV website is a tangled mess of information that is poorly presented and seems to be split over far too many categories to be of any practical use to anyone.
Information presented is disjointed, clicked links continiously open up new windows and there's random Youtube videos thrown in which do on occasion clarify things, but also at times seem disconnected from the text presented on the same page (or make the need for an explanation redundant).
On more than one instance of browsing for information on the OurGV website I  suddenly found myself bumped over to the website A2Success.net, which appears to be a WordPress blog, with no explanation given.
From what I have been able to piece together though OurGV seems to have existed "for ten years", however I'm not sure if that's under the "Our GV" brand or another name.
The company's website domain ("ourgv.com") was registered on the 3rd of February 2002, which seems to support OurGV's founding claims.
The company provides a suite address in the US state of Texas, however this appears to be just virtual office space (a PO Box in Texas is also provided).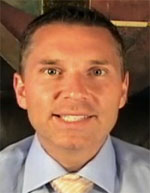 Management wise OurGV is headed up by Chad Schapiro (photo right). On his personal website, Schapiro claims to have
learned the value of hard work and integrity at a young age.

Graduating from a Big Ten University with several business degrees, Chad Schapiro immediately began to put his talents to work running businesses.

Fine tuning his expertise in human relations, and generating profits, Chad Schapiro helped to create the fastest growing privately held company in the United States of America within 5 short years.

Seeing a huge opportunity in technology he began working with companies to develop successful online home-based business models.

Frustrated with an apparent lack of integrity, and ethics, he finally decided to develop his own internet company.

No longer having to worry about someone else letting him and his people down, having complete control resulted in perhaps the most innovative and ambitious internet concept the world has ever seen.
Schapiro then goes on to compare himself to both Bill Gates and Michael Dell, claiming to have an 'unparalleled track record of success for well over a decade'.
Read on for a full review of the OurGV MLM business opportunity.
The OurGV Product Line
OurGV run what appears to be an affiliate based shopping portal that is stocked with third-party products. This portal is easily replicated for the company's affiliates, which they charge $30 a month to do so.
From the looks of it, this doesn't appear to be so much as a mall as affiliate links which point to the merchants own online store (ie. anyone can sign up this way). You can see a functioning OurGV Mall over at ourgvmall.com.
A lot of the links I tried were offered through Commission Junction, which anyone can sign up to as an affiliate. In addition to this, a lot of the shopping links I clicked on simply didn't work (meaning they are probably out of date).
OurGV also market a search toolbar, which appears to be through Yahoo.
As far as the company itself goes, there doesn't appear to be a retail offering within OurGV (although retail customers can shop at an OurGV affiliate's replicated store).
The OurGV Compensation Plan
The OurGV compensation plan primarily revolves around the generation of Business Volume (BV), via both shopping and affiliates paying monthly membership fees.
Generated BV is recorded and then paid back to affiliates via direct rebates and a company wide profit share.
Retail Customers
Retail customers are able to shop at OurGV affiliate replicated storefronts, with OurGV donating 10% of the BV generated via purchases to charity. The rest of the generated BV goes towards the personal volume PV of the affiliate who owns the storefront.
Preferred Customers
Preferred Customers pay OurGV a $49.95 one-time setup fee (which generates 10BV for the referring affiliate). In return for this fee preferred customers then receive a 25% rebate on any BV generated via shopping through an OurGV affiliate's replicated storefront.
OurGV Affiliate Ranks
In addition to the two customer ranks above, there are eight affiliate ranks within the OurGV compensation plan. Along with their respective qualification criteria, they are as follows:
Free Affiliate – entry-level affiliate position
Preferred Affiliate – $100 to sign up and then $30 a month
Premier Affiliate – $500 to sign up and then $30 a month
Co-ordinator / Deluxe Affiliate – $2500 to sign up and then $30 a month or have a downline generating 2500 BV and you personally generating a minimum of 1250 PV a month
Manager –  entire downline generating 5000 BV, 2500 BV generated by an affiliate and their personally recruited affiliates and a minimum of 1250 PV a month
Supervisor – entire downline generating 10,000 BV with 5000 BV generating by an affiliate and their personally recruited affiliates a month
Director –  entire downline generating 20,000 BV with 10,000 BV generated by an affiliate and their personally recruited affiliates a month
Executive Director – entire downline producing 50,000 BV, 25,000 BV generated by an affiliate and their personally recruited affiliates and 2500 PV a month
International Marketing Director – entire downline generating 100,000 BV, 25,000 BV generated by an affiliate and their personally recruited affiliates and 5000 PV a month
Recruitment Commissions
Recruitment commissions are paid out to OurGV affiliates via a one-time payment on new affiliate's joining the company.
Preferred Affiliates receive a 5% commission
Premier Affiliates receive a 15% commission
Coordinator / Deluxe Affiliates receive a 25% commission
Managers and above receive a 30% commission
BV Cash Rebates
BV Cash Rebates are commissions paid out on the generation of BV via shopping through replicated storefronts.
Preferred Affiliates earn a 15% rebate
Premier and Coordinator / Deluxe Affiliates earn a 25% rebate, along with a 15% rebate on any shopping activity generated by any storefronts belonging to free affiliates they've personally recruited
Managers and above earn a 30% rebate, along with a 25% rebate on any shopping activity generated by any storefronts belonging to free affiliates they've personally recruited
Profit Sharing Pool
Profit Sharing is the main focal point of the OurGV compensation plan. The OurGV monthly Profit Sharing Pool is made up of 10% of the global BV generated company wide.
The Profit Share is split up amongst qualifying affiliates depending on how many shares they have.
Free affiliates get one share in the Profit Sharing Pool, however this is paid to charity
Preferred Affiliates receive 1 share
Premier Affiliates receive 2 shares
Co-ordinator / Delux Affiliates  receive 3 shares
Managers receive 5 shares
Directors receive 11 shares
Executive Directors receive 21 shares
International Marketing Directors receive 101 shares
Loyalty Shares
Loyalty Shares count in the Profit Sharing Pool, and are awarded based on total downline volume at a rate of 1 share for every 5000 BV an affiliate's downline generates each month.
Production Shares
Production Shares are additional shares counted in the Profit Sharing Pool, allocated based on business production targets being met.
for every 500 PV generated (1 share)
paying the $30 monthly membership fee (1 share)
paying more for monthly membership ("package 85" or higher) (3 shares)
Matching Bonus
Matching Bonuses are paid out on the revenue generated via sales through affiliate storefronts. The Matching Bonus is only paid out on personally recruited affiliates, with the percentage of matching bonus paid out relative to an affiliate's rank:
Coordinator / Deluxe Affiliates – 10%
Managers – 15%
Supervisors – 20%
Director and above – 25%
Rank Achievement Bonus
The OurGV Rank Achievement Bonuses are cash bonuses, paid out monthly at certain affiliate ranks:
Executive Directors receive $700 each month they are qualified at this level
International Marketing Directors receive a $5000 each month they are qualified at this level
Joining OurGV
Membership to OurGV ranges from free to $2500, with the more an affiliate spends on membership directly tied into the commission rates an affiliate receives.
Free affiliate – no cost
Preferred Affiliate – $100 to sign up and then $30 a month
Premier Affiliate – $500 to sign up and then $30 a month
Co-ordinator / Deluxe Affiliate – $2500 to sign up and then $30 a month
Conclusion
Despite being third-party offers and equating to nothing more than OurGV signing up to affiliate programs and splitting affiliate commissions with its members, the shopping portal side of OurGV seems legitimate enough.
Customers purchase goods and services using OurGV affiliate owned referral links at a retail level, with non-affiliate revenue being generated on each sale.
That said, with OurGV using public affiliate networks such as Commission Junction, I'm not sure why anyone would actually shop through an OurGV affiliate's shopping portal, unless they were participating in the income opportunity as an affiliate.
With that in mind, the big red flag within the OurGV business opportunity is the profit sharing component of the compensation plan.
In particular, the fact that affiliate monthly membership fees and signup fees are included in the monthly profit share – and the fact that the more affiliates spend (either individually or collectively as a downline), the more shares they earn in the profit pool (spend more, earn more).
This naturally has the potential to make the shopping rebate component of OurGV become redundant, as affiliates are wholly able to recruit new affiliates and generate qualifying BV on their initial signup fee and ongoing monthly membership fee.
Recruited affiliates are then also able to do the same, bringing a recruitment pyramid scheme element to the business.
Payment wise if the bulk of the Profit Share Pool is indeed affiliate membership fees, this equates to simple redistribution of affiliate money amongst affiliates and brings OurGV into Ponzi scheme territory.
I did a bit of digging around on what the company's affiliates described their participation in the opportunity and what I found wasn't very convincing. Here's how one affiliate described their OurGV "business":
Im (sic) paying only 30 a month and without moving a finger or doing anything im making 60 a month just from profit sharing.
Although this is obviously testimony from only one affiliate (circa 2008), it strongly indicates that affiliates are able to join OurGV and earn more than they put in each month if they recruit enough affiliates, generating enough shares in the Profit Sharing Pool.
A marketing video for the Profit Sharing Pool featuring OurGV CEO Chad Schapiro was no better, featuring a strong focus on affiliate recruitment:
It (the monthly Profit Sharing Pool share value) gets bigger and bigger and bigger. Imagine next month when more affiliates sign up. Imagine the month after that. Imagine the year after that. Imagine two years from now, three years from now, four years from now.

We already have people making thousands of dollars a month from their profit sharing, but they also have tens of thousands of affiliates that are part of their profit sharing team.

Imagine where you will be! So the point is to hurry up and get started.

The profit sharing is sweeping the world and not only are you and I excited about getting signed up and looking there, but we should probably get everybody that we know, everybody in the world signed up as fast as we can.
As a prospective OurGV member I'd primarily concern myself with trying to establish whether this is the case today, and the most reliable way to do this would be to enquire with your potential upline.
If your upline's monthly commissions are mostly made from rebates generated via retail shopping through their website, then this is an indication that things might have changed in OurGV since 2008. But more importantly it suggests that as an OurGV affiliate you will be primarily focused on driving traffic to your affiliate portal website.
If your upline earns more via the Profit Sharing Pool (membership fees), then you're probably looking at participation in a Ponzi scheme masquerading behind an affiliate sales portal that in reality has no bearing on the compensation plan or commission payout structure.
If this is the case, then despite OurGV purported age as a company (I have no idea how long the current compensation plan has been in effect), I'd be weary of participating in an affiliate funded scheme using the Profit Sharing Pool structure OurGV are paying out with.
When you pay your affiliates out of membership fees and pay them proportionately to how much they've put into the system, sooner or later you're going to find yourself owing more in commissions then is coming in.
When that happens (new investors unable to cover their membership fees via the monthly ROI paid out), the scheme collapses leaving those who just joined out of pocket.
Good luck!